Yes, indeed. It is a Big Fucking Deal.
The value/impact comes not only from what's in the Inflation Reduction Act itself but that the bill actually passed the Senate, despite the notorious Manchin-Sinema one-two franchise (both stayed true-Blue in this particular case) and repulsive Republicans continually acting the shits — again down to a 51-50 vote count with VP Kamala Harris breaking the choke-hold tie:
The tie breaker from Kamala Harris makes it official. The bill is passed. pic.twitter.com/TToX9m2aOt

— Acyn (@Acyn) August 7, 2022
Joe Biden explained in a statement: 'Today, Senate Democrats sided with American families over special interests, voting to lower the cost of prescription drugs, health insurance, and everyday energy costs and reduce the deficit, while making the wealthiest corporations finally pay their fair share. I ran for President promising to make government work for working families again, and that is what this bill does — period.'
Although the IRA lost some of its punch from the original, there's a most-definite clout to the final bill:
While it falls well short of original proposals, this bill includes several major provisions:

• largest climate action in U.S. history
• allowing Medicare to negotiate price of some prescription drugs
• new 15% minimum tax for some corporations
• $300B in deficit reduction

— The Recount (@therecount) August 7, 2022
Nutshell via The New York Times late this afternoon:
The measure, large elements of which appeared dead just weeks ago amid Democratic divisions, would inject more than $370 billion into climate and energy programs. Altogether, the bill could allow the United States to cut greenhouse gas emissions about 40 percent below 2005 levels by the end of the decade.

It would achieve Democrats' longstanding goal of slashing prescription drug costs by allowing Medicare for the first time to negotiate the prices of medicines directly and capping the amount that recipients pay out of pocket for drugs each year at $2,000. The measure also would extend larger premium subsidies for health coverage for low- and middle-income people under the Affordable Care Act for three years.

And it would be paid for by substantial tax increases, mostly on large corporations, including establishing a 15 percent corporate minimum tax and imposing a new tax on company stock buybacks.

Initially pitched as "Build Back Better," a multi-trillion-dollar, cradle-to-grave social safety net plan on the order of the Great Society, Democrats scaled back the legislation in recent months and rebranded it as the Inflation Reduction Act. It was projected to lower the federal deficit by as much as $300 billion over a decade, though it remained to be seen whether it would counter inflation or lower costs for Americans in the long term.

Passage of the measure was a major victory for Mr. Biden and Democrats, who are battling to maintain their slim House and Senate majorities in November's midterm congressional elections. Facing unanimous opposition by Republicans, who have used filibusters to block many elements of their domestic agenda, Democrats took full advantage of the Senate's special budget rules to force through as much of it as they could with the support of all 50 members of their caucus.
And those climate-change provisions which affect people (via engadget, also late this afternoon):
Among the climate change provisions most likely to affect consumers is a reworked federal EV tax credit. The Inflation Reduction Act would provide up to $7,500 in subsidies for electric SUVs, trucks and vans that cost less than $80,000 and cars under $55,000. It would also allow people to claim up to $4,000 when buying a used EV. In both cases, an income ceiling would prevent those who make more than the average American from taking advantage of the legislation.

On top of EV subsidies, the $370 billion in investments set aside by the bill would incentivize the building of wind, solar and other renewable power sources. The act also calls for the creation of a $1.5 billion program that would pay companies that reduce their methane output.
The bill now heads to the House, which will return from recess this coming Friday and is expected to pass it, though, great bullshit whining will come from Republicans.
Joe Biden has always been a real-smooth talker — 12 years ago:
Even with a maybe-slight smile of hope, here we are once again…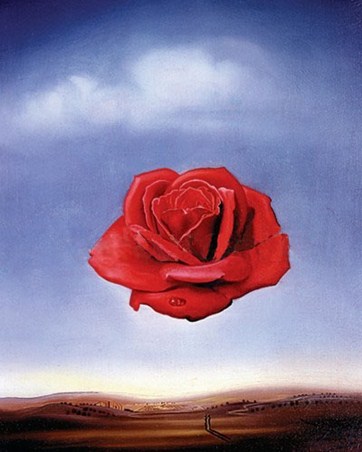 (Illustration out front: Salvador Dalí's 1958 painting, "Meditative Rose," and found here.)