A huge, worrisome crinkle in the nowadays is the never STFU chorus rasping from the T-Rump, nausatingly complicating ferment asshole studies in American political life.
And the stupid shit never ends:
That's not how this works. That's not how anything works. https://t.co/hGg2Zw8391

— Citizens for Ethics (@CREWcrew) August 29, 2022
Some background to this jibberish via the Daily Beast this afternoon:
In recent days, conservatives have latched onto remarks made by Facebook chief Mark Zuckerberg about his social platform's handling of the Hunter Biden laptop story just ahead of the 2020 election. Appearing on Joe Rogan's podcast, Zuckerberg revealed that the Justice Department had warned Facebook to "be vigilant" about "Russian propaganda" in the waning days of the election season.

While Zuckerberg specifically said the feds did not flag the laptop as disinformation, he told Rogan that Facebook did limit the reach of the New York Post's Hunter Biden story on news feeds for a few days as fact-checkers determined whether it was true. Unlike Twitter, however, Facebook users were free to share the article on their pages.

Additionally, a recent survey by Technometrica Institute of Policy and Politics found that 79 percent of respondents believe that Trump would have likely defeated President Joe Biden if voters were told that the contents of the younger Biden's laptop were genuine and not "Russian disinformation," as had been suggested by the intelligence community.
Huge, tremendous bullshit. Not only did some 60-plus court cases come back negative nearly two years ago, along with a shitload of recounts, and all the verdicts were also the same — no large-scale fraud, or any at all.
And there was this from Billy Barr:
— crazeehazy ?? (@crazeehazy1) August 29, 2022
And for a bow to tie itself — the lede in a Susan B.Glasser piece at The New Yorker in early June nails the nail:
Bill Barr did not think much of Donald Trump's lies about the 2020 election. According to his videotaped testimony before the House select committee investigating how those lies resulted in the storming of the Capitol on January 6, 2021, Trump's former Attorney General told Trump this to his face. Among his choice words about various claims by the Trump legal team: "bullshit," "completely bullshit," "absolute rubbish," "idiotic," "bogus," "stupid," "crazy," "crazy stuff," "complete nonsense," and "a great, great disservice to the country." What's more, Barr added, if Trump actually believed the garbage he was spewing about the election, then he had become dangerously "detached from reality."
The absolute honor of the T-Rump is his continued presence on the American political scene — the same old tired lies and bullshit without an ounce of evidence.
Meanwhile, on the asshole(s) being assholes:
Despite it all, here we are once again…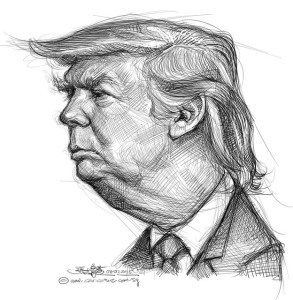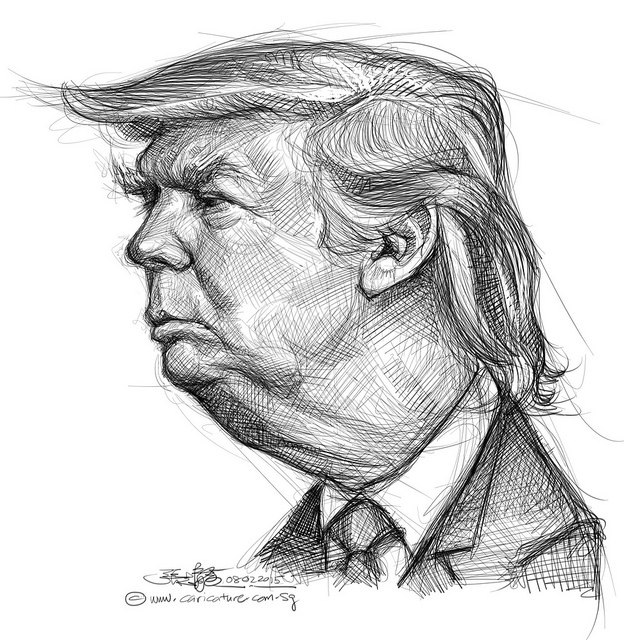 Image out front is my favorite of the T-Rump mugs, though, 'favorite' does not mean in any form or fashion, as in, 'my favorite movie,' or 'my favorite song.' It's more of an anti-appreciation/like.
And aptly titled, 'Basic Shapes,' by caricaturist/illustrator Chong Jit Leong (and found here), it's an image that displays the elemental form of a purloined sociopath — a bloated profile of flatulent bile and arrogant ignorance.