A few degrees under 100 just about mid-day Tuesday here in California's Central Valley — the fevered-heat wave starts this afternoon, though, officially the baking isn't supposed to begin until tomorrow.
A lot of the time reality is a day early.
And a long-ago-like tomorrow, it's been 50 years since the Watergate era — the break-in and subsequent journalism shine — as a couple of those still-thriving journalists from yesteryear, Bob Woodward and Carl Bernstein, are set to be honored for what they accomplished half a century ago. They're also on my own personal journalism timeline, too (h/t tweet Susie):
Fifty years ago, the duo's dogged reporting changed the course of American history and fortified journalism's role in a free society.https://t.co/RdCl3Shb0K

— Poynter (@Poynter) August 29, 2022
Woodward and Bernstein will receive the Poynter Medal for Lifetime Achievement in Journalism this November at a celebration of the fourth estate in Tampa, Fla.
Details from Poynter yesterday:
Fifty years ago, the duo's dogged reporting changed the course of American history and fortified journalism's role in a free society. The story of Watergate was not only the highest expression of journalism's calling as a "first draft of history," but this body of work has stood for generations as a historical record that in America no one — not even the president — is above the law, and that journalists are essential to a working democracy.

As the nation continues to mark the 50th anniversary of the Watergate break-in, Woodward and Bernstein's recounting of the pressures they faced and the journalistic fundamentals they practiced to get the story has been a timely reminder of values that transcend today's tensions in the media marketplace.
Even as society debates the strengths and ills of social media, or witnesses journalists under attack, here is what's undeniable: Woodward and Bernstein found records, knocked on doors, managed multiple sources, told the stories straight — without fear or favor — and in the process changed a nation and inspired thousands of people to become journalists.

"The work of Carl Bernstein and Bob Woodward on that seismic story are the values and craft we preach and teach at the Poynter Institute," said Poynter President Neil Brown.
"The journalism around Watergate stands as a reminder that in a democracy, citizens have a right to know the actions of their leaders and that it takes independent reporting by journalists to shine that light. As we consider democracy and the stories of today, this basic right and the critical work of journalists are worth celebrating.''
The guys have aged fairly well — both were in their late 20s in those golden days. Woodward has enough authored books over the last 50 years to fill a small library. He also carries more than a slight hint of asshole, and both have much TV face-time the last few years to make them journalism celebrities — and more than just media. Bernstein had a wild ride (from his Wikipedia page), and 'became known for dating Bianca Jagger, Martha Stewart, and Elizabeth Taylor,' among others, and even caused a bad case of "Heartburn."
Bernstein is my favorite of the two. I was way-extremely fortunate to have worked in a newspaper newsroom in the mid-1970s at the Montgomery Advertiser, first as a police reporter, later covering the legal system, along with some investigative work — at the height of journalism's most-golden era.
My reporter impressions flowed from Dustin Hoffman's portrayal of Bernstein in "All The President's Men" in 1976, chain-smoking cigarettes and looking constantly disheveled, and exasperated, all with good humor. Shortly after arriving at the Advertiser in April 1975, I knew this was where I belonged — big newsrooms were stocked with crazy, wonderful people, nutty-as-a-fruitcakes, but after my own heart.
And I took to print journalism like a duck to water — broke the story on President Carter nominating Alabama federal judge Frank M. Johnson Jr. as FBI director (a slow recovery off a hernia operation cost him the job), and even interviewed Rosalynn Carter during a '76 campaign stop in Montgomery — which now half-a-century later, I'm much saddened by the state of journalism nowadays.
In data from 2016, newsrooms are way far more empty (the Guardian): 'The stand-out figure is the one showing the steep decline in newspaper jobs, down from nearly 458,000 in 1990 to about 183,000 in March 2016, a fall of almost 60 percent.'
And even newspapers themselves are vanishing — I know from experience. A small bi-weekly I worked at in the late '90s and early 'oughts,' the Times-Press-Recorder, after 129 years covering a five-cites area in south San Luis Obispo County, California, folded and disappeared. Shitty corporate ownership the problem. If so inclined, a final story on its demise here.
A look at journalism from within close to nowadays — from Muck Rack last March:
The average journalist covers 4 beats in 2022. In 2021, the average journalist covered 3 beats.
For the third year in a row, 58 percent of journalists remain optimistic about the profession
44 percent of journalists agree that the way companies share information is outdated — a decrease from last year's 61 percent, indicating that companies are stepping up the way they share information
More journalists say social media personalities and celebrity spokespeople are credible sources for reporting — and fewer find CEOs and company PR pros credible
In that 'beat coverage' item, at the Advertiser I handled only one 'beat' (areas of needed interest like education/police/city hall-politics/sports, etc.), except for this one short period when the newsroom was short a couple of reporters, who were hired fairly quickly. In the '70s, remember, was the heyday.
However, my later time at the TPR found me covering three 'beats,' while also the Special Sections Editor for a couple of years (a situation that's a no-no within journalism — editorial mixing with advertising). Yet we rolled with the times.
And of long ago, splendor in the newsroom — the boys' first big-screen detail:
History or not, once again here we are…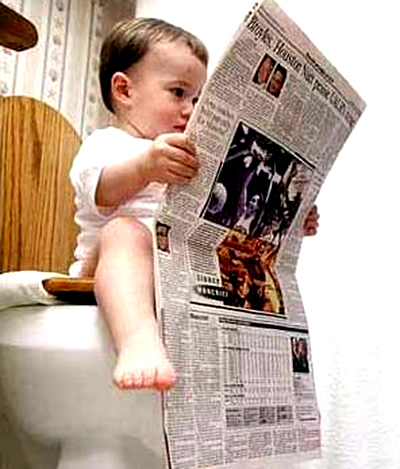 (Illustration out front found here.)