In all the news shit swirling about this Tuesday afternoon, this T-Rump tweet from this morning is pure shamelessness, empty of irony and self-awareness, and mostly, reality:
It you, Donald. It's all you. pic.twitter.com/Qufwt3oKlp

— Rick Wilson (@TheRickWilson) August 30, 2022
T-Rump is one, well-fined piece of shit. Nutshell of today's nut-fest (NBC News):
Former President Donald Trump spent Tuesday morning posting inflammatory messages on social media, including many explicitly promoting the QAnon conspiracy theory.

While Trump has in the past promoted QAnon-inspired accounts and theories, the posts on his Truth Social account were his most explicit, unobscured, QAnon-promoting and QAnon-baiting posts to date.

…

In addition to the QAnon-adjacent posts, Trump shared several conspiracy theories Tuesday on his Truth Social site and he re-posted a picture of Biden, Vice President Kamala Harris and House Speaker Nancy Pelosi, with the words "Your enemy is not in Russia" written in black bars over their eyes.

The posting spree comes one day after Trump posted a message that he should be reinstated as president — "Declare the rightful winner, or hold a new Election, NOW!" — and as he's come under increased scrutiny from federal investigators who executed a search warrant at his Florida resort earlier this month and recovered troves of classified documents.
Madness. Supposedly, he raised a stink this morning, but it could have been a scam from the scammer-in-chief — Truth Social is going under and he needs some shit-flack to keep his tweets (or Truth-social lies) in the conciseness of the MAGA crowd. Supposedly to drive up response — but of the dead devices nowhere.
And to end the particular corner of crazy —  Cat Stevens with a sad, Tuesday tune:
Even in irony, here we are once again…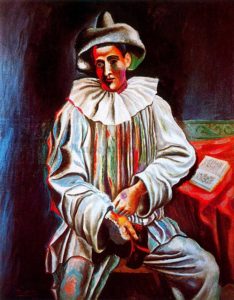 (Illustration out front: Pablo Picasso's 'Seated Pierrot,' found here.)