Although it's still fairly pleasant in the shade this near-noon Wednesday, the direct sunshine is hotter than shit here in California's Central Valley as we encounter another 'heat dome' driving temperatures to triple digits. Not only just us, but the entire SW US will have a boiling Labor Day weekend.
And it will only get worse. Notes David Sweet, meteorologist with the NWS in Oxnard, CA: '"We're looking at a heat wave starting on Wednesday and continuing through at least Monday of next week … During that time, we'll be looking at conditions hot enough to warrant an excessive heat warning."'
According to the NWS, an 'excessive heat warning' is fricking serious: 'The general rule of thumb for this Warning is when the maximum heat index temperature is expected to be 105° or higher for at least 2 days and night time air temperatures will not drop below 75°; however, these criteria vary across the country, especially for areas not used to extreme heat conditions. If you don't take precautions immediately when conditions are extreme, you may become seriously ill or even die.'
Despite the danger, we're in air conditioning country — the big deadly bang is in areas without AC:
"High Risk conditions anticipated across the region. Gustier wind periods, Heat Wave characteristics such as near record or record temps as well as a strong mid-level dry intrusion, intense thermal belts, very flammable live/dead fuels and extended burn periods." #CAwx #FireWX pic.twitter.com/wkMouesqCj

— Michael Steinberg (@MichaelWX18) August 31, 2022
Details via The LA Times this morning:
The extreme temperatures that will bear down on California over the next week are the result of a "heat dome," a phenomenon that typically brings broiling conditions to the state as summer fades into fall. But climate change is worsening the dome's effects and making it more lethal for people who cannot seek relief.

Experts are sounding alarms about what they say is likely to be the worst heat wave of the year so far.

"We've always had these systems, but not as frequently, not as intense and not as long-lasting," said Bill Patzert, a retired climatologist in the Los Angeles area.

From San Diego to Sacramento, the National Weather Service has issued an excessive heat warning or watch through Labor Day, cautioning about the health risks of sustained high temperatures. Experts say the heat wave will also increase the chance of wildfires and power outages and will exacerbate the state's ongoing drought.

"This is going to be a long-duration event," said UCLA climate scientist Daniel Swain.
"And that's sort of characteristic of heat domes — that's partly because they can sort of be self-persisting, self-reinforcing. Once they develop and become particularly extreme, they kind of become hard to dislodge."
And what about those asshole 'domes' and scorching burn:
Swain said "heat dome" is a colloquial term for "a particularly persistent and strong region of atmospheric high pressure during the warm months."

When the high-pressure system moves into an area under certain conditions, it traps heat, similar to an insulated dome. This is what will bring extreme temperatures this week across California and Nevada.

"When you're inside of a high-pressure system, particularly a strong one, you generally have downward motion in the atmosphere, as opposed to upward motion … and that suppresses clouds," Swain said.
"It results in clear skies, so you get more solar radiation, more warming of the surface.

"But beyond that … you get additional warming, because that downward motion itself results in compressional heating."

He called those simultaneous effects the "vicious-cycle feedbacks" of the heat dome: the heat dries out the soil, which eliminates atmospheric moisture, which allows the sun to more easily heat the Earth's surface and so on.

"You can kind of see how that becomes self-perpetuating," Swain said.
"And that's what we're going to see this week into next week over California and Nevada. We're going to see this persistent high-pressure system — this is a pretty extreme heat dome — that's going to accumulate more and more heat as it persists through those processes."
Climate change is making shit worse:
Glynn Hulley, a research scientist at NASA's Jet Propulsion Laboratory who led that study, said his team found that heat waves have become "more frequent, intense and longer-lasting." He said this week's heat wave fits into the "more intense" category, with record-breaking temperatures expected.

"It's the intensity of this one that does fit in with with the trends we see," Hulley said.

While climate change isn't causing heat domes, he said, the contributing factors — like extreme drought and a warmer atmosphere — make the effect more extreme.

"Every year, we tend to break more and more records — not just in Los Angeles but across the planet," Patzert said. "I no longer call it global warming; I call it global heating."
Word.
Adding 'words' to a climate-altering era — from ABC News, also this morning, and a look at the State of the Climate report, published today in the Bulletin of the American Meteorological Society and led by scientists from the National Oceanic and Atmospheric Administration's National Centers for Environmental Information:
"The data presented in this report are clear — we continue to see more compelling scientific evidence that climate change has global impacts and shows no sign of slowing," NOAA administrator Rick Spinrad said in a statement.
"With many communities hit with 1,000-year floods, exceptional drought and historic heat this year, it shows that the climate crisis is not a future threat but something we must address today as we work to build a Climate-Ready Nation — and world — that is resilient to climate-driven extremes."

Greenhouse gas emissions from human activities are the "most significant driver of observed climate change since the mid-20th century," according to the U.S. Environmental Protection Agency, warming the climate as they build up in the atmosphere.

In 2021, the global annual average atmospheric carbon dioxide concentration was 414.7 parts per million (ppm) — 2.3 ppm greater than the amounts measured in 2020, according to the latest State of the Climate report. That marks the highest amount measured since 1958 — the start of the instrumental record — and in at least the last million years, based on paleoclimatic records, the report found.
It was also the fifth-highest growth rate in the modern record.

Two other major greenhouse gases — methane and nitrous oxide — also saw record concentrations last year, according to the report. The annual increase in methane was the highest in the modern record, and the growth rate of nitrous oxide the third-highest, it found.

Last year was the fifth- or sixth-warmest on record, depending on the dataset referenced, with the last seven years (2015-2021) the seven warmest years on record, according to the report.
And on and on, and so forth.
If heavy-duty action isn't soon forthcoming, Pinball be right:
Cat-on-a-hot-as-shit tin roof! Once again here we are…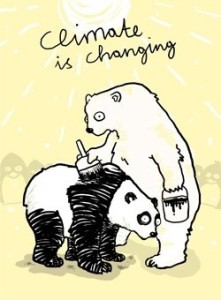 (Illustration out front by Handoko Tjung, found here.)