A quick move past ugly and focus on rain — Annie Lennox and rain.
Instead of news-related shit to bring you way down this Sunday late afternoon, a quick focus on Annie and what an incredible set of pipes she has, especially with my most-favorite song of the last three/four years — an unplugged version with much more heart-felt emotion than the now-getting-close to 40-year-old original.
Here it is with her longtime sideman Dave Stewart, who picks a mean box:
Words in much movement:
Here comes the rain again
Falling on my head like a memory
Falling on my head like a new emotion
I want to walk in the open wind
I want to talk like lovers do
Want to dive into your ocean
Is it raining with you?
And the original, which is so '80s and dated, though, is still a class tune:
And to play us out in this quick Annie serenade is Annie with David Bowie covering wonderfully Queen's  "Under Pressure" — everybody is having a great time, it shows (original here):
Close the show with some poetic wet splashes via Miss Emily Dickinson — "Like Rain it sounded till it curved"
Like Rain it sounded till it curved
And then I new 'twas Wind —
It walked as wet as any Wave
But swept as dry as sand —
When it had pushed itself away
To some remotest Plain
A coming as of Hosts was heard
It filled the Wells, it pleased the Pools
It warbled in the Road —
It pulled the spigot from the Hills
And let the Floods abroad —
It loosened acres, lifted seas
The sites of Centres stirred
Then like Elijah rode away
Upon a Wheel of Cloud.
Rain 'warbled in the road' — warbled?
Yet here we are once again…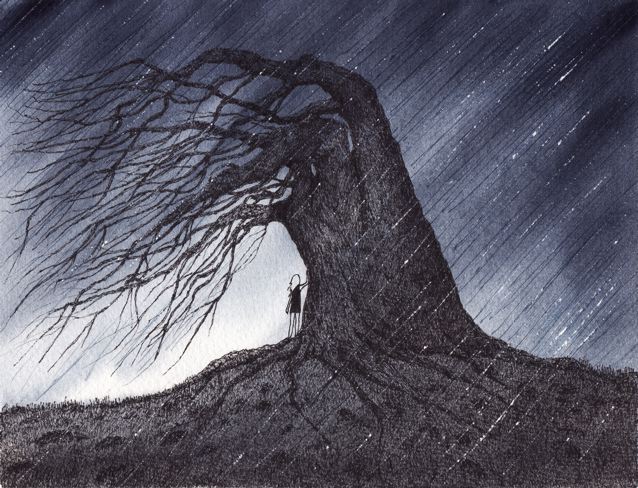 (Illustration out front: 'Shelter in the Storm," found here.)