Super hot — 112 degrees — this late-afternoon Monday here in California's Central Valley, and knowledge we've still got probably another week of this shit, makes the whole scene more blistering.
Weather on the weather.
Also on a hot streak is Joe Biden, swinging back at the nefarious, asshole-lingering Republicans with another go around on how shitty they really are — today's scene was Joe's speech at the Milwaukee Laborfest. Again, heckling, and again some quick-thinking returns:
Biden responds to heckler: Let him go. Everyone is entitled to be an idiot pic.twitter.com/fFbeiHcMAt

— Acyn (@Acyn) September 5, 2022
Nutshell on Joe and hecklers at Deadline this afternoon:
Today in Wisconsin, President Joe Biden responded to the latest in a string of hecklers interrupting his public appearances.
"As I said last week," Biden told the crowd in an appearance broadcast on MSNBC, "we remain in the battle for the soul of America."

The heckler then began shouting out something unintelligible.
"All right. God love ya," replied Biden directly to the man, who was then booed by other attendees and likely set upon by security. Biden was more magnanimous.
"No, no, no … don't — let him go. He's, look, everybody's entitled to be an idiot," said the president. The man eventually was escorted out, per video from the Milwaukee Journal Sentinel.

It's not the first of his speeches of late to be so interrupted.

On Thursday at Independence Hall in Philadelphia, hecklers shouted "F*ck Joe Biden" and "Let's go, Brandon."
The president again supported the protesters' right to free speech.
"They're entitled to be outrageous," he said.
"This is a democracy." He then observed, according to Reuters' Jeff Mason, "Good manners is nothing they've ever suffered from."

In July, Biden was interrupted by the father of mass-shooting victim during a White House event. "Let him talk. Let him talk," he said at the time.
Even as he swings with grace unknown among Republicans, the GOP is truly an asshole bunch — Joe again:
Biden offering an off-ramp for non-maga republicans. Not clear if there are any left https://t.co/3padtIAfsq

— Molly Jong-Fast (@MollyJongFast) September 5, 2022
Further at today's Milwaukee event, Joe chastised asshole Republicans (USAToday):
In his Monday remarks in Wisconsin, Biden referred to some Republicans in Congress as "Trumpies" and said they would pursue policies that would undermine the social safety net.

"But here's the point: The biggest contrast from what MAGA Republicans – the extreme right, the – the "Trumpies" – they want to go to – these MAGA Republicans in Congress are coming for your Social Security as well."
If Joe can keep it up, we'll go places. Republicans don't work well getting slapped back.
Here's Joe's full Milwaukee speech:
Once again here we are…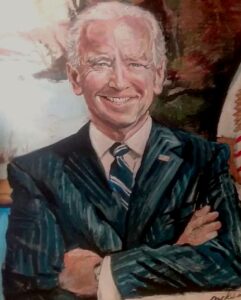 (Illustration out front: 'Joe Biden,' acrylic by Billy Jackson, and found here.)