Sunshine savored by a cool breeze this near-noon Tuesday here in California's Central Valley, a welcomed turnabout from the awful summer heat, especially the blister from the last couple of weeks — temperatures right now in the mid-70s with maybe a high of 85 later on this afternoon.
And of the weather influenced by climate change a new report published today carries with it another set of dire warnings that response to our worldwide heating-up environment is heading in the wrong direction — Shitsville:
"Heatwaves in Europe. Colossal floods in Pakistan. Severe droughts in China, Horn of Africa and USA … This year's #UnitedinScience report shows climate impacts heading into uncharted territory of destruction," says @antonioguterres#UnitedinSciencehttps://t.co/EqS88lXCZH pic.twitter.com/KhQJUK9HZX

— World Meteorological Organization (@WMO) September 13, 2022
According to United In Science 2022, a new multi-agency report coordinated by the World Meteorological Organization, there's a way-big difference between what has been pledged/hoped-to-be-done by the world's richest countries and the actual global-warming reality. And without more ambitious action, weather-related bad shit will only get worse — the last seven years have been the warmest of record, which calls for a reduction of emissions for the next decade to be seven times higher than goals set at the Paris Agreement in 2016.
Serious shit, here.
Further nutshelling of the WMO report via the Guardian this morning:
The past seven years were the hottest on record and there is a 48% chance during at least one year in the next five that the annual mean temperature will temporarily be 1.5C higher than the 1850-1900 average.
Global mean temperatures are forecast to be between 1.1C and 1.7C higher than pre-industrial levels from 2022-2026, and there is a 93% probability that at least one year in the next five will be warmer than the hottest year on record, 2016.
Dips in carbon dioxide emissions during the lockdowns associated with the Covid-19 pandemic were temporary, and carbon dioxide emissions from fossil fuels returned to pre-pandemic levels last year.
National pledges on greenhouse gas emissions are insufficient to hold global heating to 1.5C above pre-industrial levels.
Climate-related disasters are causing $200m in economic losses a day.
Nearly half the planet – 3.3 to 3.6 billion people – are living in areas highly vulnerable to the impacts of the climate crisis, but fewer than half of countries have early warning systems for extreme weather.
As global heating increases, "tipping points" in the climate system cannot be ruled out. These include the drying out of the Amazon rainforest, the melting of the ice caps and the weakening of the Atlantic meridional overturning circulation, known as the Gulf stream.
By the 2050s, more than 1.6 billion people living in 97 cities will be regularly exposed to three-month average temperatures reaching at least 35C.
UN Secretary-General António Guterres response to the report (WMO): '"Floods, droughts, heatwaves, extreme storms and wildfires are going from bad to worse, breaking records with alarming frequency. Heatwaves in Europe. Colossal floods in Pakistan. Prolonged and severe droughts in China, the Horn of Africa and the United States. There is nothing natural about the new scale of these disasters. They are the price of humanity's fossil fuel addiction … This year's United in Science report shows climate impacts heading into uncharted territory of destruction. Yet each year we double-down on this fossil fuel addiction, even as the symptoms get rapidly worse."'
And to increase anxiety are those freaking "tipping points" coming at us (via Science last week): 'Climate tipping points are conditions beyond which changes in a part of the climate system become self-perpetuating. These changes may lead to abrupt, irreversible, and dangerous impacts with serious implications for humanity. … Their analysis indicates that even global warming of 1°C, a threshold that we already have passed, puts us at risk by triggering some tipping points. This finding provides a compelling reason to limit additional warming as much as possible.'
Think so?
Meanwhile, some CGI to scare what's left of our fright-shit:
As hands wring, once again here we are…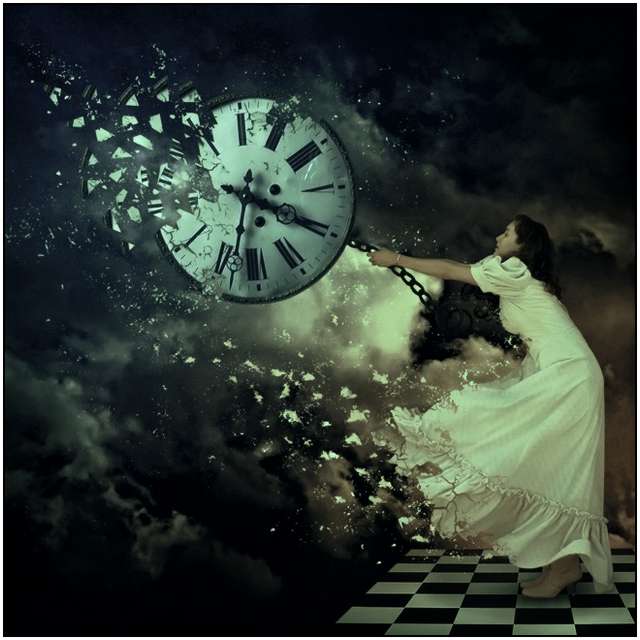 (Illustration out front: 'A Break in Reality,' by Xetobyte, found here.)