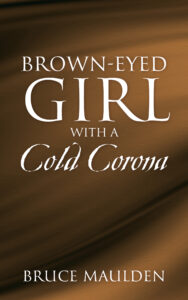 In the flash of time, there's always room for pleading a case for literary sympathy — one more time a request to purchase my novel on Amazon.
Self-published in March, "Brown-Eyed Girl With A Cold Corona" is a tale of what it's like for a middle-aged man to tumble down Alice's rabbit hole in real-time.
A description last month from the first post-plea to please buy my novel: 'Although set in the genre FICTION/Romance/Fantasy, "Corona" can also be labeled as 'Horror' — this guy falls in love with a ghost, and we all know when a 'ghost' is involved, it's 'horror.' In this case, though, the ambiance is not the slasher/gore variety, but more of a delusional, near-erotic dream than anything else. He falls in love with a murder victim after the murder.'
And this plot pulsates through a mid-90s Spring break in a coastal California town.
The book's Amazon/Kindle page is here.
My author's page at Outskirts Press (publisher) is here.
Further info on the book is here and here.
As I've written before, I'm not good with marketing. And not good at all at patting myself on the back. Attributes required to sell my book. When I wrote the first draft in the summer of 1994, it appeared the project would most-likely be ending-up a kind of therapy — it was a weird-ass, heavy-duty, emotional period (divorce, etc.) and seemingly the strange was softened by writing a weird-ass literary work. And as I've explained, the setting, the structure of 'Corona' is/was my own life at the time.
Buy the book — click here to purchase — please, please.
Despite words and words — I'm as these then-boys describe:
Low-brow fiction aside, here we are once again…