In the near-onslaught of news cycles full of doom and woe this past week, I overlooked a nifty, positive note that brought a chuckle — the prophecy from "Community" of six seasons and a movie apparently will come to pass.
One of my most escape-binge sources right now, "Community" in its prime is a heartfelt, way-funny flight from reality within nowadays.
So notes (CNN): '"'Six seasons and a movie' started out as a cheeky line from Community's early seasons and quickly ignited a passionate fan movement for this iconic, hilarious and cool (cool, cool) NBC comedy," said Susan Rovner, the chairman of entertainment content at NBCUniversal Television and Streaming. "We're incredibly grateful that 15 years later, we are able to deliver fans this promised movie."'
'Cheeky' is not the real word in this case — maybe tongue imbedded deep inside insane mouth:
Creator Dan Harmon is back on the project, along with original series stars Joel McHale, Danny Pudi, Alison Brie, Gillian Jacobs, Jim Rash and Ken Jeong. However, Chevy Chase, Donald Glover, and Yvette Nicole Brown are not mentioned in the press release stuff.
The first three seasons are most-excellent, very funny and have some really cool writing and delivery — the fourth season sucks bad, but the fifth and sixth are somewhat near good. Harmon was off this show those two years due to some disputes, apparently with Chevy Chase.
A good detailed piece with background on the series/movie at Vulture from Friday, including this:
#sixseasonsandamovie became a rallying cry for Community fans as the show remained consistently on the bubble for cancellation. When Harmon was replaced as showrunner for season four: #sixseasonsandamovie. When Harmon was brought back for season five: #sixseasonsandamovie. After NBC canceled the show: #sixseasonsandamovie. When Yahoo Screen picked it up for one last season: #sixseasonsandamovie. When the final episode of that sixth season aired, a title card read "#andamovie" after the closing shot.
Great show, many moving parts — this great-switch Hulu ad:
And along with the study group's escapades and shenanigans were potent emotions — well before this year,  the late, great Betty White:
Off a Troy-and-Abed episode tag, this particular one Betty, as an anthropology professor and after drinking her own piss, nearly strangled to death Jeff Winger. Greendale put her on paid leave. Good times — Cool. Cool cool cool.
I highly recommend the series. I binge a couple of episodes just-about every night before sleep — puts me in a relaxed, somewhat happy attitude. As best that can expect in these nowadays.
Six seasons, yes, now a movie, maybe, yet once again here we are…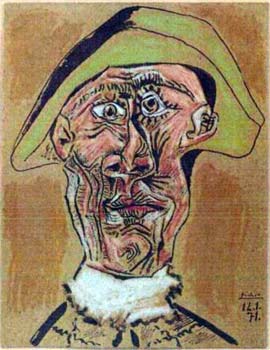 (Illustration out front, 'Tête d'Arlequin,'  by Pablo Picasso, and found here.)