Another warm but comfortable late afternoon here this Tuesday in California's Central Valley — autumn keeps the hope alive of a decent season before winter's gloom arrives with its habitual, and dangerous 'tule fog.'
Whether we'll weather it is another story.
A kind of multileveled news day for events and people, mostly revealing the noticeable blush of cruelty, ignorance, and willfully shamelessness of Republicans as they attempt to strangle democracy next month (or before it they could). The GOPed horse manure is nonetheless septic to most people with any kind of walking-around-sense and the American system. Republicans love them some hypocrites, liars and thugs — and they apparently will vote .
First, however, a couple of stories from my neck of the woods, which have gotten national recognition — last night in the city where I'm located, an 8-month-old baby, her mother, dad, and uncle were kidnapped from their business.
From the local newspaper, the Merced Sun-Star with an update this afternoon:
Merced County Sheriff investigators say a burning truck located in Winton is connected to the kidnapping of a family reported Monday at a Highway 59 business, just south of Merced.

The information is the latest development in the disappearance of 8-month-old Aroohi Dheri, the child's 27-year-old mother Jasleen Kaur, father Jasdeep Singh, 36, and uncle Amandeep Singh, 39.

Sheriff's detectives believe the family members were kidnapped at gunpoint from the business in the 800 block of South Highway 59. No motive has been released, and detectives have released surveillance photos of the alleged suspect.

"We are working with the California Department of Justice, the Federal Bureau of Investigations and other local law enforcement agencies to bring this family home safely," investigators said in a news release Tuesday.

Investigators say the discovery of the burning truck in Winton before noon Monday led to the kidnapping investigation.
The story at CNN; also this afternoon a piece at the Guardian. This from The New York Times: "So far we have no idea why the kidnapping, we have no motivation behind it, we just know they are gone," Sheriff Vernon Warnke, of Merced County, said in a video that his office released on Monday.
Added to that terrible event, was another tale out of another Central Valley town, Stockton, about an hour north from Merced, about halfway from where I'm at to Sacramento — a terrifying episode of serial killing. Or something like that, and it seems to have been going on for months.
Per the Guardian yesterday:
A serial killer may have ambushed five men in central California separately in recent months, shooting them to death alone in the dark, and police are baffled as to why the victims were targeted.

None of the men were robbed or beaten before their killings — which all took place within a radius of a few square miles — and none appear to have known each other, Stockton police officer Joseph Silva said on Monday. The shootings do not seem to be related to gangs or drugs.

Stockton police on Monday announced a $95,000 reward for information leading to an arrest in the killings, which date back to 8 July. Authorities also released a grainy still image of a "person of interest", dressed all in black and wearing a black cap, who appeared in videos from several of the crime scenes.

…

"We don't have any video of anybody holding any gun or actually committing a crime," Silva said in a phone interview on Monday.

Still, the available footage and ballistics evidence link the five killings, he said. All five men were shot by a handgun, though it's not yet clear if the same gun was used in each crime.

"It definitely meets the definition of a serial killer," Silva said. "What makes this different is the shooter is just looking for an opportunity and unfortunately our victims were alone in a dark area."

There may be multiple people involved in the violence. "To be honest, we just don't know," he said. "This person or people who are out doing this, they are definitely very bold and brazen."
A couple of weird-as-shit stories there, huh? Fits in with the times, though, maybe.
Meanwhile, speaking of shit stories, Republicans seem to have immoral histories, but are sanctimonious nowadays when it comes to real life:
Abortion is murder! But also if you're a Republican running for office and you committed murder it's fine, we all make mistakes. https://t.co/g8s7lPL561

— Adam Serwer ? (@AdamSerwer) October 4, 2022
Nutshell as you've probably already inundated with the details — from The Daily Beast last night: 'Herschel Walker, the football legend now running for Senate in Georgia, says he wants to completely ban abortion, likening it to murder and claiming there should be "no exception" for rape, incest, or the life of the mother.
But the Republican candidate has supported at least one exception — for himself.'
And even after Walker's own son called him out for being a thug, hypocrite, and abuser, the top GOP dogs huddled-up close with the message of no big deal — from The New York Times this afternoon:
From the closed-door confines of that church in Atlanta to the corridors of power in Washington, Republicans raced to close ranks behind Mr. Walker on Tuesday, fearing that any break with the former football star could cost the party a seat that is widely seen as central to the Republican Party's chances to take control of the Senate in 2022.

"Full speed ahead in Georgia," declared Steven Law, the president of the Senate Leadership Fund. The group, the leading Senate Republican super PAC, is aligned with Senator Mitch McConnell and has booked more than $34 million in television ads in the state.

"Republicans stand with him," added Senator Rick Scott, the chairman of the National Republican Senatorial Committee.
Of course, they do. Walker is a horror. He's not only what's been shown — a thug, asshole, liar — he's also most-incredibly stupid. Hard to say that, but he's dumber than a stump, and a self-righteous liar about it, too. So really, really believe him when he says: '"I'm not that smart."'
Further north, Mehmet Oz is a wonder:
"Upon being killed, the puppies were allegedly left in a garbage bag with living puppies who were their littermates."

— Chris Murphy (@ChrisMurphyCT) October 3, 2022
Along with the puppies scenario, a nutshell-detail from the Jezebel piece:
Oz, the New Jersey resident who's currently running for U.S. Senate from Pennsylvania, was a "principal investigator" at the Columbia University Institute of Comparative Medicine labs for years and assumed "full scientific, administrative, and fiscal responsibility for the conduct" of his studies. Over the course of 75 studies published in academic journals reviewed by Jezebel, Oz's team conducted experiments on at least 1,027 live animal subjects that included dogs, pigs, calves, rabbits, and small rodents. Thirty-four of these experiments resulted in the deaths of at least 329 dogs, while two of his experiments killed 31 pigs, and 38 experiments killed 661 rabbits and rodents.
And once again, despite accusations of animal cruelty, Oz's opponent, Democrat  John Fetterman, holds just a 6 percent lead. Voters and puppies' deaths might not shift much, the Republican voter has to know they're not getting any kind of bang for their buck. Why do the rank-and-file Republicans vote against their own well-being?
Either they will/would do anything to "own the libs,' or just for the sake of cruelty. Either way makes an ominous, fretful picture.
And finally, let's shift back to the weather — disaster tomfoolery on top of a disaster:
Truly incredible.

Watch for yourself, good samaritans who were voluntarily delivering hurricane relief supplies were forced to pause operations for a @RonDeSantisFL photo-op.

Now his team is calling them liars. #FLPolitics #FLGov https://t.co/ctwhbU0bjw pic.twitter.com/hXDsjARUGV

— Sam Newton (@SamNewton) October 3, 2022
As the full picture of the Hurricane Ian devastation comes to light, and along with the rising death toll, DeSantis will be under a wringer to keep the story afloat that he's not an asshole. A catastrophic disaster like this could really cost politicians their glory — GW Bush and Katrina, for instance.
Despite 17 years, here we are once again…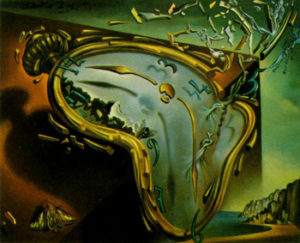 (Illustration out front: Salvador Dali's 'Soft Watch at the Moment of First Explosion,' found here.)