In the zone again today, Joe Biden toured parts of storm-devastated Florida and displayed how to handle a bloated-nasty asshole, while acting like a caring human being with survivors of Hurricane Ian.
Joe pulls not-many punches.
First — an update on that family kidnapping here in Merced, California, I posted yesterday — they seemed to have caught the kidnapper, who tried to off himself before arrest so is in a coma, and police have nothing on the whereabouts of the family.
From the Merced Sun-Star late this afternoon:
Video surveillance footage released by the Merced County Sheriff's Office captures the moment an 8-month-old baby and her family were kidnapped at gunpoint by a masked suspect. The footage, shown to the media Wednesday morning by Merced County Sheriff Vern Warnke, is the latest development in the disappearance of baby Aroohi Dheri, her parents Jasleen Kaur, 27, and Jasdeep Singh, 36, and her uncle Amandeep Singh, 39.

…

A suspect, Jesus Manuel Salgado, 48, remains in custody, although Warnke said he has been sedated after trying to take his own life prior to his capture. Warnke said there are deputies currently with Salgado at a medical treatment facility waiting for doctors to get him to the point where he can cooperate. "Right now we've got to get this person into a position where we can start asking him some questions and hopefully get some answers," Warnke said.
Freaky and frightful. The story is unfolding, and positively, authorities will find the family soon, intact and healthy.
Meanwhile, far to the east, Joe Biden spent some time along Florida's Gulf coast as he visited Ian-wrecked areas — first via a helicopter, and then later on the ground, making good with asshole-turd Ron DeSantis as well as the citizens impacted by the storm.
As noted, sometimes a picture is worth…its weight in humanity:
What a photo.

? @evanvucci / @AP pic.twitter.com/yy4fXEWOEf

— MeidasTouch (@MeidasTouch) October 5, 2022
And not only popped DeSantis but pressed the climate-change application — via the Guardian, also late the afternoon:
Joe Biden has urged action to tackle the climate crisis after surveying by helicopter the devastation wrought in Florida by Hurricane Ian, one of the fiercest storms in American history.

Visiting Fort Myers, which bore the brunt of the damage, the US president shook hands and ostensibly put up a united front with Ron DeSantis, the rightwing Florida governor touted as a potential challenger in the 2024 election.

But Biden did make a pointed comment about climate change's impact on America that drew a contrast with DeSantis, who has previously avoided the term and dismissed such concerns as "leftwing stuff".

"More fires have burned in the west and the south-west, burned everything right to the ground, than in the entire state of New Jersey, as much room as that takes up," the president said.
"The reservoirs out west here are down to almost zero. We're in a situation where the Colorado River looks more like a stream.

"There's a lot going on, and I think the one thing this has finally ended is a discussion about whether or not there's climate change, and [that] we should do something about it."

DeSantis, standing behind the president's left shoulder, shifted his feet slightly and blinked but remained expressionless.
And Joe in his own way made it a BFD:
Dark Brandon: No one fucks with a Biden pic.twitter.com/zdt2SuArKu

— Adam Parkhomenko (@AdamParkhomenko) October 5, 2022
Swear what you will — per Insider:
President Joe Biden was caught on a hot mic dropping an F-bomb in a seemingly-lighthearted conversation with a local mayor during his Wednesday visit to Florida to survey the damage caused by Hurricane Ian.

"No one fucks with a Biden," the president said to Fort Myers Beach Mayor Ray Murphy, in a clip shared on social media.

"Yeah, you're goddamn right," Murphy said in response.

The pair then laughed, shook hands, and parted ways. It's unclear what they were discussing. The comments came after Biden had just wrapped up a joint news conference with Florida Gov. Ron DeSantis.
Onward we go.
Latest on Ian's destruction — from The Washington Post, also late this afternoon:
Yet Ian already is shaping up to be the deadliest storm to pound Florida since 1935. State authorities have documented 72 deaths thus far — slightly under Hurricane Irma's toll in 2017, according to the National Hurricane Center. County sheriffs have reported dozens more, pushing the total to at least 103. That makes Ian more fatal than Hurricane Andrew in 1992.

Ian's storm surge has claimed the most lives, according to the Florida Medical Examiners Commission, which is tallying direct and indirect deaths. Slightly more than half of Ian's victims drowned, the latest data shows, underscoring what experts call a frequently overlooked reality: Water usually kills more people than wind.
And as Joe mentioned, Ian should put a stopper on climate change denial and we '"should do something about it."'
Yeah!
Whether/weather it all, once again here w are…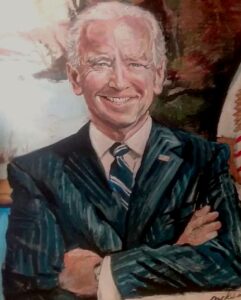 (Illustration out front: 'Joe Biden,' acrylic by Billy Jackson, and found here.)