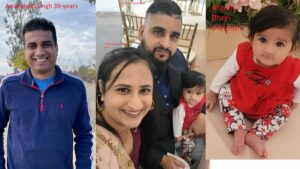 (Image found here.)
Despite posting about the incident earlier this week, I couldn't bring myself to even write about the shitty horror of the entire family being killed, especially including an 8-month-old baby girl. There are horrific crimes, and then there are horrendous crimes, and this is a murderous combination. All mostly old news and this post is really just to tie loose ends — shitty dead ends after hoping against the nowadays version of hope the family would be found safe and sound after being kidnapped on Monday. However, by midweek, shit no!
Add to the elements of ugly is made especially confounding due to the fact supposedly two asshole brothers did the deed, one of whom actually worked for the slain family at their trucking business. Heinous is honorable compared to this shit.
The world right now sucks through a way-small straw.
The latest via NBC News this afternoon:
The brother of a man suspected of kidnapping and killing four members of the same central California family was arrested in connection with the horrific crime, authorities said Friday.

Merced County Sheriff's deputies late Thursday night booked 41-year-old Alberto Salgado into custody on suspicion of criminal conspiracy, accessory and destroying evidence, according to a department statement.

Jesus Manuel Salgado, 48, was apprehended Tuesday after he attempted suicide, officials said. He's been unable to speak to investigators due to his medical condition, authorities have said.

He's suspected of taking infant Aroohi Dheri; her parents, Jasleen Kaur, 27, and Jasdeep Singh, 36; and her uncle Amandeep Singh, 39, on Monday morning.
Not much in detail is available apparently right now, which will most likely change next week. Jesus Salgado supposedly had been in a dispute with the family about a year ago that got '"got pretty nasty"' (USAToday this morning): 'Relatives of the deceased family told investigators that Jesus Salgado, 48, had sent angry text messages or emails to the family about a year ago after working with their trucking business, Merced County Sheriff Vern Warnke told The Associated Press.'
And per CNN:
As Merced County Sheriff Vern Warnke announced the family's bodies had been found Wednesday evening, he said "there's a special place in hell" for the perpetrator.
"The circumstances around this, when we are able to release everything, should anger the hell out of you," Warnke said.
You've probably heard, read, or seen the news stories. It's shitty to hear of shitty happenings in Ukraine, or in Florida, but it kind of close-warps the senses with it happening in your particular area, close to actually being in your own backyard. You feel the circle of crisis closing.
And the whole Merced community is feeling the clenched circle.
Contextual heartbreak — via the Merced Sun-Star:
Merced Councilmember Jesse Ornelas said the community had been closely following the news of the kidnapping and its tragic ending.

"A piece of me was holding out for a happy ending," he said.
"In the back of my mind — this hurts me to say — in this community, we don't have a lot of happy endings. I really wanted a happy ending."

A program manager for Youth Leadership Council, Ornelas said young people have been watching and so have his own children.

Then the news came of the bodies being discovered Wednesday evening.

"I was pissed. I was pissed off at that piece of s—," Ornelas said.
"Even my children were aware of the missing family. I knew I was going to have to tell my kids."

He said he hopes the community, which has been through three difficult years during the pandemic, will find a way to heal following this latest tragedy.
And to cry our way out of this, the recently late, great Loretta Lynn (with Willie Nelson):
When they lay me down someday

My soul will rise, then fly away This old world will turn around I'll be at peace when they lay me down
In mourning of the heart, once again here we are…