In session, the Jan. 6 committee hearing this afternoon continued to impress on American viewers that the Republican party, and especially the T-Rump of turds, are not playing by any kind of rules, ethics, or any form of acting normal. Despite the over-abundance of actual proof T-Runp tried to 'steal' the 2020 election, reweatching the videos of the assault is still a dream-like, near-surreal experience — can that be America?
Yes, it can. Actual conclusions offered today, as I've noted, are mostly already known in brief sketches, such as T-Rump calling fraud weeks/months before the November 2020 election, that he was told by a shitload of aides he lost the election, and he knew the rioters were thug-assholes bent on violence. There were also indications the Secret Service agents might have lied (wow! Lied?) and were too close to the Orange-turded president to be effective.
As an added bonus, the committee voted live on air to subpoena the T-Rump.
Emotional were some unreleased video bites of the attack on the Capitol building, especially Nancy Pelosi taking charge:
Written words on the page — via Crooks&Liars:
Pelosi reached out for help to then-Democratic Virginia Gov. Ralph Northam on the phone.

"Hi, governor, this is Nancy," Pelosi said. "Governor, I don't know if you have been approached about the Virginia National Guard, Mr. Hoyer was speaking to Governor Hogan, but I still think you probably need the okay of the federal government in order to come into another jurisdiction."

Pelosi was watching footage of what was taking place as the Capitol was breached.

"Oh my gosh," she told Northam. "They're just breaking windows; they're doing all, all, kinds of, I mean, it's really, that somebody, they said somebody was shot."

"It's just; it's just horrendous," she added. "And all at the instigation of the president of the United States."
A straightforward, emotional, informative impact, the hearing made it extremely way-clear the T-Rump is a lying, horribly immoral asshole, who even now, is an explosive danger to America. This supposedly last hearing today just played the details of already-known bits of the Capitol building attack, but it's still near-sickening to watch it. Especially undercut with Pelosi's crowd hunkering down in some protective room while shit is blazing around them.
A good, actual-concise accounting of the hearing by tengrain, including a highly-correct picture of Pelosi:
Anyway, it was history in the making and worth every minute. My favorite part has to be the never before seen video of the Democratic leadership in wherever their safe location was, calmly trying to get 1) some help and B) back into the main room at the Capitol so they could finish their business. I have long said that Nancy Pelosi rules as the best Speaker of my lifetime and maybe the best in US history, but when you see this you will also know that she is a stone-cold badass.
Oh, yeah, such as it is — the long version of the clip above, more drama, more emotion:
Insurrection/riot/coup aside, once again here we are…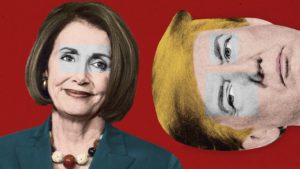 (Illustration out front by Kelly Caminero, and found at The Daily Beast.)