(Illustration: 'Significant Event Note: Oct 27 1980,' gouache on paper, by Jimmy Ernst, and found here.)
Today three weeks from now a major event, more than what the artwork above suggests as 'significant' as we work the ballot box down to the slightest degree — the future of America is held sway in the results. A lot of the news these past few days has been shitty, with polls mainly shifting in favor of Republicans and if that wasn't bad enough, assholes are en masse running for public office even while denying election outcomes if the vote doesn't go their way. Republicans are beyond horrible.
And what bothers me beyond everything is the cruel openness of all this terrible bullshit. Republicans are actually discussing cutting Social Security, and Medicare, and maybe shutting down the government to get those goals realized, even in the face of such action being nationally way-way-unpopular — the GOP agenda, however, is absolutely nothing other than power grabbing is a policy point and pure-nothing on governing.
If we Democrats lose the House and Senate next month (or even one of the two) we're f*cked in such a bad, long-aimed way it's more than a bother. Plus, what makes it so depressing is there's probably a shitload of people who don't understand how important this upcoming election is with like shit is so bad, even if we win, but not in a landslide, ground swell, tsunami way, Republicans nationwide will fight it tooth-and-nail.
A nasty for instance is Kari Lake, a hard-ass MAGA-Republican running for Arizona governor and on the TV Sunday — Aaron Rupar at his most-excellent newsletter Public Notice yesterday noted the shit-end of the political stick:
But the most telling moment came a bit later, when Lake wouldn't even commit to accepting the results of her own election.

"I'm gonna win the election and I will accept that result," said Lake repeatedly, the implication being she won't accept a loss.

"The people of Arizona will never support and vote for a coward like Katie Hobbs," she added, even though polls show the race basically tied.
A bothersome item, too, is those polls. A lot of shit is taken out of context, or doesn't suit the media's interpretation of what's happening — Democrats losing to bothsidesism Republicans, who were observed as 'normal.' BS!
A good example is Steve M's look at The New York Times with their poll created/presented to stay inside the newspaper's "comfort zone."
And also some pollsters and pundits infer the problem with polls running in favor of Republicans is that Democrats peaked too soon — as in back in the summer with the abortion issue — and now must face a sour musical note.
Amy Walter of Cook Political Report yesterday at PBS:
… this is what we're hearing as well when I talk to campaigns and strategists, that the bump that Democrats felt over the summer, I think it was a combination of the decision Roe vs. Wade, the so-called Dobbs decision, the fact that gas prices were going down a little bit, the intense focus on Donald Trump, Mar-a-Lago, January 6, et cetera, gave a really big boost to Democrats.

It increased enthusiasm and it took the focus, at least the media focus, off the economy for a little while. But folks who are now tuning in, which there are a lot of voters who have not been paying attention over the summer. They're tuning in, now three weeks until the election.
Even with those sour notes and everything bothering me, there's some, slight optimism in the polling wind (h/t tweet Digby):
NEW DATA: Congressional Democrats lead their Republican counterparts by 3 points on the generic ballot (48% to 45%) among likely voters, with another 7% undecided three weeks from Election Day.

View more from our weekly #Midterm Tracker: https://t.co/HUsoygqpYz pic.twitter.com/PLmbUoDWL0

— Morning Consult (@MorningConsult) October 18, 2022
Key takeaways from Morning Consult, updated this morning:
Democrats' Generic Ballot Lead Plateaus: Congressional Democrats lead their Republican counterparts by 3 percentage points on the generic ballot (48 percent to 45 percent) among likely voters, with another 7 percent undecided three weeks from Election Day. The figures have been rather consistent over the past couple weeks, after Democrats topped out at a 5-point lead in early October.

Biden's Approval Rating Ticks Up: According to the latest surveys conducted Oct. 14-16, 46 percent of likely voters approve of Biden's job performance (up from 44 percent a week ago), while 53 percent disapprove (down from 54%).

Democrats Hold Enthusiasm Edge: For the fifth week in a row, Democratic voters are more likely than Republicans to say they are "extremely" or "very" enthusiastic about voting in the midterm elections, 63 percent to 58 percent. The 5-point gap is the largest Democratic advantage Morning Consult has recorded in 2022.

Democrats Gain Trust on the Economy: Congressional Republicans are favored over their Democratic counterparts to handle the economy, 46 percent to 39 percent. But that 7-point gap marks a relatively consistent tightening since mid-June, when Republicans had a 16-point advantage on the question.
We have a slight, tiny edge, but, of course, we're dealing with cruel, nasty, insane people. Bod Woodward has an audiobook coming out of all his T-Rump interviews, supposedly eight hours worth — shitty listening assignment.
In a review this morning at CNN, what really stood out for me wasn't the normal horror-shit coming from the T-Rump, shit during the pandemic, even showing off Kim Jong Un's letters, but this seemingly casual explanation expressing the self-centered, narcissistic philosophy proposed nowadays by all MAGA Republicans, which is the entire party: '"I get, I get people. They come up with ideas. But the ideas are mine, Bob. The ideas are mine," Trump told Woodward in a June 2020 interview. "Want to know something? Everything is mine. You know, everything. Every part of it."'
We can only hope for the best. And people don't allow everything in the world to bother them enough to stay away from the ballot box, either by mail, in person, or whatever. Vote the power, but vote!
In all this shit, don't let it bring you down, just find someone who's turning:
Serious as shit, yet here we are once again…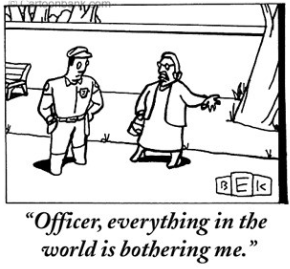 (Illustration out front: New Yorker cartoon by Bruce Eric Kaplan, found here.)