Splashy sunshine on a late-afternoon Monday here in California's Central Valley — a nice turnaround from drizzling rain this morning.
Tomorrow now is just an evening away. We're forecast for more rain on election day, which should do justice to the anxiety building, accelerating over the last week or so. Maybe for months, and from the way it feels, maybe like forever.
And what's odd is there's a shitload of prediction news stories swirling out there (Digby has a good one), but the bottom-line truth is no one knows what will happen tomorrow and in the coming days. One item, though, is crystal clear — if Republicans make gains we're sunk, especially if they take the House, worse even if they take both House and Senate. Horrible, anxiety-inducing thoughts.
Not only with up-close-and-personal shit like abortion, Social Security, and actually governing, but it will also create an even worse situation on what could most likely end mankind: climate change. Of course, it's the immediate front-burner shit that blinds the real horror at hand if GOPers make headway — we need to start working to protect our only living area from collapsing. And quickly.
In a seemingly coincidental moment, the UN's COP27 climate conference started yesterday in Sharm el-Sheikh, Egypt, just as a slew of scientific reports indicated wherein our livable climate is in a really, really frightful way. As UN chief Antonio Guterres said today: '"We are in the fight of our lives, and we are losing … We are on a highway to climate hell with our foot still on the accelerator."'
And as for us Americans and our fateful midterm election tomorrow — we're in an even bigger environmental jam than the rest of the world:
NEW: Climate change threatens 'things Americans value most,' the new national #climate assessment says. By @brady_dennis @chriscmooney and @StevenMufson https://t.co/ygwBBGdnOR

— Juliet Eilperin (@eilperin) November 7, 2022
Details via The Washington Post this afternoon:
Climate change is unleashing "far-reaching and worsening" calamities in every region of the United States, and the economic and human toll will only increase unless humans move faster to slow the planet's warming, according to a sprawling new federal report released Monday.

"The things Americans value most are at risk," write the authors of the National Climate Assessment, who represent a broad range of federal agencies. "Many of the harmful impacts that people across the country are already experiencing will worsen as warming increases, and new risks will emerge."

The congressionally mandated assessment, last issued under the Trump administration in 2018, comes as world leaders gather this week in Egypt for a United Nations climate summit, known as COP27, aimed at prodding nations to tackle the problem with more urgency.

Its authors detail how climate-fueled disasters are becoming more costly and more common, and how the science is more clear than ever that rapid cuts in greenhouse gas emissions are needed to slow the profound changes that are underway.

The draft report, which likely will be finalized next year after a period of public comment and peer review, finds that in a world that has already warmed 1.1 degrees Celsius (2 degrees Fahrenheit) above preindustrial levels, the situation in the United States is even more extreme.

"Over the past 50 years, the U.S. has warmed 68 percent faster than the planet as a whole," the report finds, noting that the change reflects a broader global pattern in which land areas warm faster than the ocean, and higher latitudes warm more rapidly than lower latitudes.

Since 1970, the authors state, the continental United States has experienced 2.5 degrees Fahrenheit of warming, well above the average for the planet.

"The United States — exclusive of Alaska — is warming about two-thirds faster than the planet as a whole," said Zeke Hausfather, a research scientist at Berkeley Earth.

That shift means significant parts of the country now must grapple with growing threats to safe drinking water, housing security and infrastructure. A hotter atmosphere creates a litany of health hazards, makes farming and fishing more difficult and unpredictable and imperils key ecosystems.

"There is no known precedent for a species changing its own climate as quickly as we are changing ours, and there are many uncertainties associated with a rapidly warming world," the document states.
The article goes into particulars about the weather, drinking water, and so forth. Although there's optimism written in the conclusion, the actual facts make it pessimistic as shit.
Just don't cover your eyes, ears, and brain to it — and don't look up:
Crazy weather or not, here we are once again…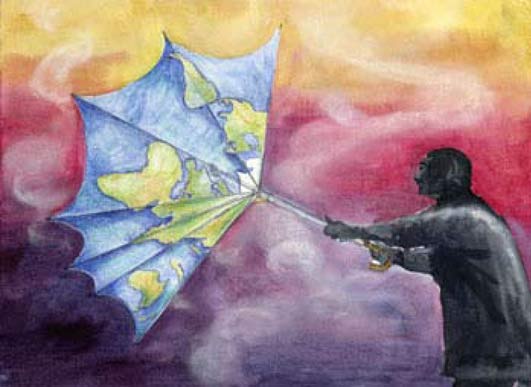 (Illustration out front from the UN's International Children's Painting Competition, and found here.)