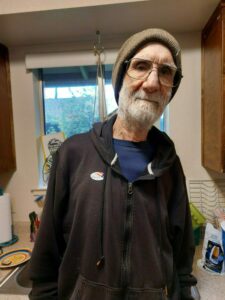 Despite some drizzling rain, I voted this morning — cast my ballot in probably the most-influential election in my lifetime, and the exuberance at the polling station was viable and democracy-laden heartfelt.
The place was crowded and I felt a Democratic flair in the air. Everybody was happy and doing their civic duty. You could sense the urgency, though, which the rain most likely exacerbated, and the grasp of how serious this particular election. My daughter took the pix later.
As a memory, yesterday 50 years ago I voted in my first election. A slight drizzle was present then, too, and I stood in a line to vote for Dick Nixon. One of my more-serious lifetime errors.
However, this election today carries a much heavier weight than that one in the early '70s — no one back then could even imagine America in the current nowadays.
A historical twist with a maybe bad ending.
Here in California's Central Valley — the state's 13th Congressional District — we're near the top of the rung in importance as Assemblyman Adam Gray faces off against Republican John Duarte for the open US House seat. This area leans Democratic, but in these times it's hard to spell out the details. I've seen a shitload of Gray ads in TV, but not much from Duarte. Although Gray appears kind of mediocre, of course, I voted for him anyway, but we'll have to wait and see.
And of course, too, it's going to be a long, long afternoon, evening and early tomorrow waiting to witness any kind of ending to this horrid election. Polls are shit, and everyone is on edge.
The problem is that so much is at stake. And the huge, enormous amount of Americans who are liars, assholes and maybe a bit on the sadist side — Hillary was right, it is indeed a humongous basket of deplorables. If Republicans gain ground the normal, decent folk in this country are in for a nasty shake.
And the rest will just laugh.
Add to the stink, this election cycle has been super, duper expensive (New York Magazine): 'Getting elected to office is an expensive proposition. According to the nonpartisan group OpenSecrets, Democrats, Republicans, and outside PACs spent a total of $16.7 billion this cycle — surpassing the previous record set in 2018 of $14.1 billion.'
Whoa.
So I've voted, and now the agony of the wait.
And even half a century later, once again here we are…