Clear, blue skies and splashy sunshine here in California's Central Valley this near-noon Friday. We're ending the work week on another fine, fall day.
Wonderful weather, especially in comparison right now to western New York with a historic snowfall producing near zero visibility, and creating a sense of environmental guilt with our blue skies and all.
Probably, outside of NY, the top story today is the continuing collapse of Twitter (and maybe, too, the announcement by Merrick Garland of a special counsel to oversee some of the T-Rump's legal shenanigans), and displaying the ludicrous fact Alton Husk is an even worse asshole, douchebag piece-of-shit than we previously figured — he gives the T-Rump a run for his money in any worse-human contest.
Survivor instincts for a train seriously off the rails (The Daily Beast last night):
Hours after new "Chief Twit" Elon Musk issued an "extremely hardcore" ultimatum to work hard or get out, thousands of Twitter employees have beelined for the exits, with the social media company disabling badge access and shuttering its brick-and-mortar spaces for at least the next 72 hours, according to multiple Thursday night reports.

…

Also on Thursday night, according to the managing editor of Platformer, Twitter "alerted employees that effective immediately, all office buildings are temporarily closed and badge access is suspended." No motive was publicly issued, but the tech blog's Zoë Schiffer went on to report that sources had told her new owner Elon Musk and his team "are terrified employees are going to sabotage the company."
Self-centered, ignorant incompetence (sound familiar?) could most likely kill a platform used by so many in the news business, from politics and climate change (my main topics) to everything in between, including such important, diverse subjects as finance and health care (and pandemics).
Due to an asshole (h/t tweet tengrain):
BREAKING NEWS: Twitter headquarters have been locked down due to concerns about a rogue employee sabotaging their systems.

Police sketch artists have produced this composite image of the suspected saboteur, please approach only with extreme caution. pic.twitter.com/568pgGSx16

— April King ? (@CubicleApril) November 18, 2022
Although not a participant on Twitter, I follow a shitload of people and get some early news shit off their tweets. And I use them as 'art' for my blog, setting up the text (usually cut-and-paste from different sources), not only with a kind of preview of what's coming but an added, certain-desired look to the post.
In the olden days of newsroom journalism, the editor would ask if there would be any 'art' with my submitted piece — maybe a photograph of a car wreck, a mug of someone being interviewed, or a picture of a high school play rehearsal for a feature story. 'Art' meant an image (or whatever) used to enhance the written words. Part of the news writing biz.
In that following certain people, known experts, and folks knowledgeable in certain fields of politics, history or whatever, I could get a good grasp of the background and details of all kinds of shit. Mainly because there is a shitload of people tweeting a shitload of shit. Twitter carries a lot of weight.
And I'm not alone in this — most of the blogs I read use tweets as 'art' in amplifying text, sort of a double down on an idea or subject. Many will have to hunt for other sources of such, especially with shit outside of politics, like science and health care,
A good take on this from Columbia Journalism Review this past September — still pertinent right now:
The episode is only one of many skirmishes the new owner of Twitter and one of the world's richest people has had with journalists. Musk is a media paradox who combines both relative accessibility with extreme hostility toward journalists. A frequent and splenetic tweeter, Musk has been happy to sit down for hours with Joe Rogan and for slightly less time with the Financial Times, but his overall disregard for journalism is one of the hallmarks of his public persona. Riled by coverage of Tesla, Musk suggested in 2018 that journalists should be rated by the public and went as far as registering the domain Pravduh.com as an elaborate troll to suggest he would follow through.

Of all the social media platforms currently operating, Twitter is the most embedded in the field of journalism. Not every journalist tweets, or lurks, but a surprising number of journalists use Twitter as a critical part of their jobs. I once asked Dick Costolo, then the chief executive of the company, how it felt to be running the "free press of the twenty-first century." He laughed and replied, "That's not quite how I see it." A lack of adequate competition, coupled with the network effects of scaled global platforms, means that if Twitter becomes unusable for journalists, there remains a gap in the market for a public-facing protocol that makes the public interest part of its mission at the heart of its design and ownership. Until then, journalists who remain on the platform will need to proceed with more caution, blue-ticked or not.
And even long ago in the newsroom, as an editor ponders:
Being social on the media or not, yet here we are once again…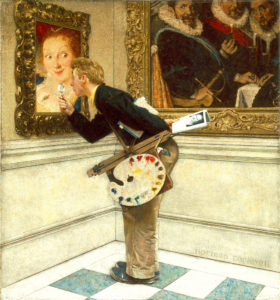 (Illustration out front: 'Art Critic' by Norman Rockwell, found here.)