Chilly and dark-way-too-early this early-evening Saturday here in California's Central Valley — weekend dead end as we approach headlong into the holiday season.
Thursday is Thanksgiving and the starting-pistol-shot for the frenzied run toward year's end.
And a major reason America is in such trouble keeping democracy afloat is the GOP putting party before country. The so-called 'normies' in the Republican party are so shitty about how freedom is supposed to operate. Despite the bullshit, a Republican is still a shitheel Republican.
And Wild Bill Barr is an asshole of the highest order, yet still the gut of the MAGA world:
Hoover: "An ideological progressive vs. someone who orchestrated an attack on the Capitol…you still might vote for him?"

Barr: "Hmm hmm."

They talk about how much they value the Constitution and the Rule of Law, but for Republicans like Barr, it's ALWAYS party over Country. https://t.co/cVpYYmVJpo

— Michael Steele (@MichaelSteele) November 19, 2022
Enough said about that shit.
Closing out this short post comes via one of my most-favorite songs this past couple of years, a cover of the song made popular/famous in the early '90s by 4 Non Blondes, performed by the fabulous husband/wife duo, The Running Mates, and sort of the anthem for my 'Destination' musical series (last one here).
A paean to an era:
And yet despite that, what can really beat the original?
Brotherhood of man or not, once again here we are…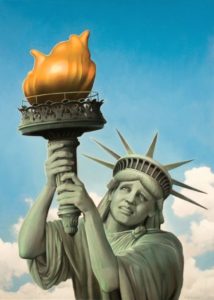 (Image out front by illustrator and portrait painter, Tim O'Brien, and can be found here)