The day after turkey day and although it's still early evening, it's black as shit outside.
In the context of all those mass shootings — the last one earlier this week at a Walmart store in Virginia — carrying guns is a seeming upswing part of America's modern life as more and more people are packing heat. 'his morning gunfire wounded a guy in a Walmart in North Carolina: 'A man shopping in the store added, "It started as a big commotion. Then, 'bang bang.'"'
And packing quickly, too (the New York Times): 'As with a seemingly endless series of recent mass shootings across the country — through a Raleigh, N.C., neighborhood, at an Indiana mall's food court, inside a Colorado nightclub — the employee's ability to purchase the weapon and quickly use it provided yet another grim data point in the nation's ongoing tug of war over gun violence.'
Part-and-parcel for the nowadays:
An estimated 6 million American adults carry a loaded handgun with them daily, double the number who said they carried a gun every day in 2015, a new study found: https://t.co/rVG0e1vgHN

— Lois Beckett (@loisbeckett) November 25, 2022
Details via the Guardian this morning:
An estimated 6 million American adults carried a loaded handgun with them daily in 2019, double the number who said they carried a gun every day in 2015, according to a new study published in the American Journal of Public Health.

The new estimates highlight a decades-long shift in American gun ownership, with increasing percentages of gun owners saying they own firearms for self-defense, not hunting or recreation, and choosing to carry a gun with them when they go out in public, said ??Ali Rowhani-Rahbar, a professor of epidemiology at the University of Washington, and the study's lead author.

A landmark supreme court case this summer overturned a New York law that placed strict limits on public gun-carrying, ruling, for the first time, that Americans have a constitutional right to carry a handgun for self-defense outside the home.

While recent surveys show that nearly a third of American adults say they personally own a gun, the percentage who choose to regularly carry a firearm in public is smaller, with about a third of handgun owners, or an estimated 16 million adults, saying they carried a loaded handgun in public at least once a month, and an estimated 6 million saying they did so daily, the study found.

But public gun-carrying has appeared to increase rapidly in recent years. A 2015 study by the same researchers, using the same methodology, had found that 3 million adults said they carried a loaded handgun daily, and 9 million did so once a month.

Today, the number of adults carrying a gun daily is probably even higher than the 2019 estimate, thanks to a record-breaking increase in gun sales during the pandemic, Rowhani-Rahbar said. "We have every reason to believe this is a trend that is probably going to continue," he added.
Until at least something is done about the proliferation of armed assholes using guns to end arguments, and settle grudges, or just want/need to create horror.
Packing heat or not, once again here we are…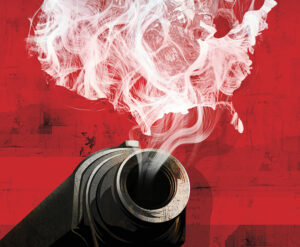 (Illustration out front by Taylor Callery, and found here.)