Dark-thirty and cold already this Saturday evening in California's Central Valley — winter feels closer than just around the corner.
Also closer than they appear, the T-Rump playing denier on his now infamous dinner with knuckle-headed nutcase Ye and Nick Fuentes, one of the biggest pieces-of-racist shit in America, and the fallout that exploded — via Forbes this afternoon:
After news of the dinner blew up, Trump tried to put distance between himself and his guests. In a statement on his social media site Truth Social, Trump said he had no intention of meeting with Fuentes, writing that the dinner was meant to be just him and West. Trump went on to say he "knew nothing about [Fuentes]," and that after a "quick and uneventful dinner," he "left for the airport." Meanwhile, Trump advisers have been scrambling to damage control, with one telling NBC News it was a, "f—ing nightmare."
A lot of blowback, but it didn't stop the orange turd of Mar-a-Lago from a continued blubbering, lying whine:
Can't decide what's the wildest thing here: "who just happens to be black," "by allowing his request" or "which." pic.twitter.com/9c7Vtn8fON

— David Swerdlick (@Swerdlick) November 27, 2022
And this from Ye (in reality, Kanye West): '"I think the thing that Trump was most perturbed about, me asking him to be my vice president. I think that was like lower on the list of things that caught him off-guard."'
Supposedly, the T-Rump said something shitty about Ye's ex (Kim Kardashian) and yelled at him for running for president: '"You're going to lose."'
Crazy shit there.
And just as a reminder there's crazy shit all over:
This might be the most moving, heartfelt, mother-son tribute I've ever read. pic.twitter.com/DEnnvuL08i

— Ron Filipkowski ?? (@RonFilipkowski) November 27, 2022
WTF?
And not a theme song for Greene or the T-Rump:
Yet all this, here we are once again…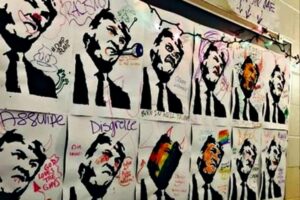 (Illustration out front is of a New York state high-school student exhibit: 'The piece was displayed during student-driven art show at Shenendehowa High School. It consisted of at least 12 identical black-and-white pictures of Donald Trump. There was also a sign above the pictures that read, "Draw on Me." Using markers from the art classroom, some students opted to scribble critical messages and profanities on the pictures' — and found here.)