Rain and cold, blustery wind this early-evening Thursday here in California's Central Valley, an escapade in another indication the winter season is quickly coming into view — today the first phase of a series of storm systems forecast to sweep the state through the weekend.
Summer is now just a wet memory.
Our environmental stock for the rest of today, with a respite supposedly tomorrow and more rain on Saturday. The NWS is usually spot on:
Light precipitation over Merced, Mariposa, and Madera Counties will slowly move southward today. Precipitation should become heavier this evening, before ending tonight. #CAwx pic.twitter.com/BtnMWs2c57

— NWS Hanford (@NWSHanford) December 1, 2022
Although rainy weather can be shitty to move around in, drought-bombed California so-needs the water, and maybe these storms can be a helpful push — but don't get cocky wet.
A wait-and-see prospect — via SFGate just minutes ago:
California water agencies that serve 27 million people will get just 5% of what they requested from the state to start 2023, water officials announced Thursday.

The news of limited water comes as California concludes its driest three-year stretch on record and as water managers brace for a fourth year with below-average precipitation. But if the winter is wetter than expected, the state could boost how much supply it plans to give out — as it did last year when allocations started at 0% and ended the winter at 5%.

Absent an end to the drought, water-saving measures are poised to continue, including calls for people to rip up decorative grass, limit outdoor watering, take shorter showers and run dishwashers only when full. Much of California is in extreme or exceptional drought, according to the U.S. Drought Monitor.

A storm currently bringing snow and rain to the northern end of the state has been welcome news, but people shouldn't get too optimistic, warned Michael Anderson, the state climatologist. Last year two major storms in October and December were followed by months of bone-dry weather.

"Don't get too carried away by any one storm," Anderson told reporters.
In this day and age, don't be carried away by anything.
And despite the rain right now, the immediate future isn't so wet — from Gizmodo earlier this week:
If drought conditions continue into next year, California residents will see water cuts and the energy sector will be affected, too. Central Valley Project facilities include hydroelectric power plants that create energy using the water in large reservoirs. Earlier this year, the U.S. Energy Information Administration found that the state's hydropower capacity decreased due to the historically low water levels in major reservoirs like Lake Shasta.

The American West is withering under the worst drought the country has experienced in over 1,000 years. As of this writing, much of central California is currently experiencing exceptional and extreme drought conditions. Most of the state is experiencing some form of drought. The National Oceanic and Atmospheric Administration (NOAA) predicted in October that the alarmingly dry conditions in the U.S. are likely to continue at least through this winter.
In a contextual form, and to play us out from this rain-swept evening, a couple of songs to amplify the density of rain. And how the environment of soaking wet can be dramatic, and maybe sorrowful.
First, the sad, crying classic per Babbling Brook Benton:
And then Annie Lennox and Dave Stewart get some surreal emotions unplugged in rain falling on our heads:
Umbrella or not, once again here we are…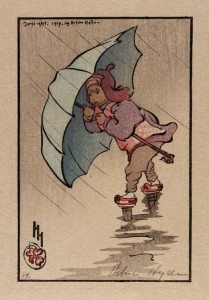 (Illustration out front: 'The Blue Umbrella," (1914), color woodcut on paper, by Helen Hyde, and found here.)