My own personal sounds of the times to be more exact.
In keeping with the sad passing this past week of Christine McVie, I thought to side-swipe the ugly news cycle nowadays this early-evening Sunday and ping back 44-45 years to the mid-1970s, a time seemingly more innocent (though, it way-wasn't) with some of the music I listened to fairly intensely. Although there's a shitload of good stuff from those days, it's just a way-short list of what I remember, and maybe just the ones that has kept a still, lingering impression.
Directly off actual vinyl on my stereo or heard second-hand from the radio — only sources of sounds in them far-distant days. Shit's different now, of course.
McVie was good buddies with Stevie Nicks, who along with Lindsey Buckingham joined Fleetwood Mac in 1975, and helped kick a struggling, already-good band into the musical-history stratosphere, of songs and crazy-ass popularity in the rock universe. Nicks appreciated it, mourning this week: '"A few hours ago I was told that my best friend in the whole world since the first day of 1975 had passed away."'
Nicks with her theme song off that first album as a group, "Fleetwood Mac" (1975) and was a song-fixture on their tour — I saw them in concert in early 1976:
And my favorite Nicks song — I must confess to had a huge crush on her at the time (along with Diane Keaton):
And a song I love even to this day, from "Blood On The Tracks" (1975) — Dylan at his quickly-moving, story-telling best:
Neil Young in what I felt at the time a departure for him  of sorts — "Tonight's The Night" (1975) off the same-titled album:
And a power rocker from Heart off their debut album, "Dreamboat Annie" (1975) — and the magic hands:
Not knowing at the time, I'd eventually find my way to California and discovered you really don't want to leave — title track from "Hotel California" (1976):
Although I actually didn't own Jackson Browne's "The Pretender" (1976), a good friend did and was seemingly always playing it when I visited — title track:
Another class tune, this from Kansas and their "Leftoverture" (1976) — the whole album was way-good:
Although this next song came a year later, off the "Point of No Return" album (1977), and might be considered maybe a late-70s song, 'Dust in The Wind' is still a long-time classic — one of my constant relistens at the time, a lyrical poem set to music:
Continuing somewhat in sequence, Peter Frampton's "Comes Alive!" (1976) spit out a shitload of hits, including this one, my favorite, which I played/heard constantly:
And Al Stewart's "Year of The Cat" (1976) and the title track — another detailed tale:
And to close us out, one of McVie's great torch songs of love's wondrous confusion:
You can take me to the paradise
And then again you can be cold as ice
I'm over my head (Over my head)
Oh, but it sure feels nice

You can take me anytime you like
I'll be around if you think you might
Love me, baby (Over my head)
And hold me tight

Your mood is like a circus wheel
You're changing all the time
Sometimes I can't help but feel
That I'm wasting all of my time
She will be missed, a sweet, talented lady.
Stereo sounds or not, here we are once again…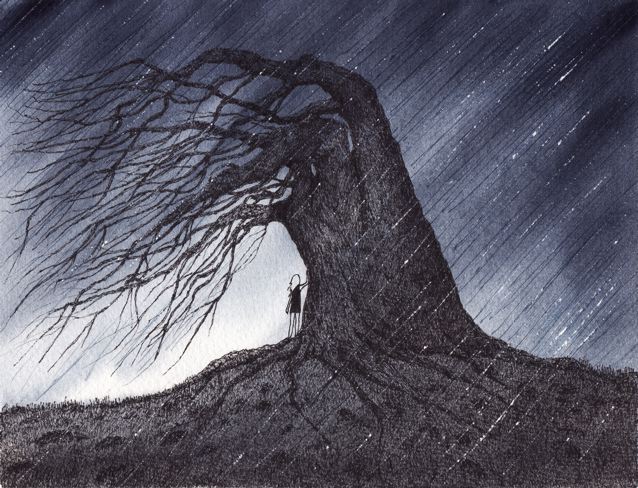 (Illustration out front: 'Shelter in the Storm," found here.)