Overcast and gray this early-evening Tuesday here in California's Central Valley — a ring of winter in the miserable-looking sky.
Meanwhile, back east the T-Rump was hit where it hurts — in the being-a-lying-asshole game. A New York jury this afternoon found two of his companies guilty of 17 counts of tax fraud and other financial crimes, hopefully starting a trend leading to a jail cell for his fat ass.
Although T-Rump himself was not charged in the case — his former head-honcho bookkeeper Allen Weisselberg the fall guy (he's already pled guilty to fraud) — the verdict will nevertheless leave a whiny, nasty mark on the T-Rump's fevered-festered brain.
Legal stickler:
The Trump Organization has been found guilty on all counts of tax crimes.

No individuals beyond former CFO Allen Weisselberg were charged in the case. pic.twitter.com/XCd9om0iKZ

— The Recount (@therecount) December 6, 2022
Despite the verdict, this particular courtroom event is maybe the T-Rump's less notable, but it is just the latest — from Vox late this afternoon: 'Instead, Trump's real legal dangers lie elsewhere. Most notably, new Justice Department special counsel Jack Smith has taken over investigations into Trump's attempts to overturn the 2020 election and into whether Trump mishandled classified information. A district attorney in Georgia is also looking into Trump's attempt to change the state's presidential election outcome. And a separate civil fraud suit from New York's attorney general might be more threatening to his business.'
Nifty nutshell of this afternoon's T-Rump-org-Allen Weisselberg fraud case via the Guardian:
Although Donald Trump was not personally on trial, prosecutors in the case brought by the Manhattan district attorney insisted he was fully aware of the long-running scheme in which they said executives were enriched by off-the-books perks to make up for lower salaries, reducing the company's tax liabilities.

"This was a case about greed and cheating," Alvin Bragg, the Manhattan district attorney, said in a statement celebrating the guilty verdict. "In Manhattan, no corporation is above the law."

The 12-person jury in New York's state court was sent out to deliberate on Monday morning after a six-week trial in which Trump Organization lawyers pinned blame for the fraud solely on the greed of longtime chief financial officer Allen Weisselberg.

Trump, who recently launched his 2024 campaign, assailed the investigation as part of a politically motivated "witch hunt". In a statement on Tuesday, the Trump Organization denounced the verdict, which could carry a fine of up to $1.6m, a relatively negligible sum for such a large company though it could affect future business dealings. A lawyer for the Trump Organization vowed to appeal.
And like T-Rump world being stupid, his defense was idiotic — a good piece on the whole matter by Ankush Khardori at New York Magazine, also late this afternoon, including this snip:
Even setting aside the underlying legal issues and dynamics, I knew Trump's company was in serious trouble when I first read that the trial team included several lawyers who defended Trump in his second impeachment proceeding. This meant that one of Trump's lawyers was Michael van der Veen — the guy who made himself a literal national laughingstock when he told the U.S. Senate that it would have to go to his office in "Philly-delphia" for depositions if witnesses were going to be presented. This was roundly (and justifiably) mocked, but it was just one part of an incredibly bizarre and ineffective defense that only "worked" because the vast majority of Republican senators were evidently prepared to support Trump regardless of what was offered up on his behalf. I was not in attendance at the Trump Organization trial (mercifully), but based on the coverage, the company's defense was replete with similar bungling and clunky theatrics. The defense called just two witnesses, but according to Reuters, the testimony from one of them "appeared to backfire on the defense and bolster the prosecution's case," which is generally something to avoid.
Of course, true to form, T-Rump piled on his former financial lackey, Weisselberg:
Trump issues a statement reacting to the verdict, blaming everything on Allen Weisselberg pic.twitter.com/xA9TiAP1EB

— Ron Filipkowski ?? (@RonFilipkowski) December 6, 2022
T-Rump will suffer the indignity of being a loser — analysis this afternoon via The New York Times:
It is unclear whether Mr. Trump will now face charges, but of all his legal entanglements, including two federal criminal investigations involving his final days as president, none has been as personally embarrassing as the district attorney's inquiry.

In a relatively muted statement, Mr. Trump said he was "disappointed with the verdict" but planned to appeal. He blamed Mr. Weisselberg, saying the case was about his "committing tax fraud on his personal tax returns."

…

The felonies — tax fraud, scheming to defraud, conspiracy and falsifying business records — are hardly a death sentence for the Trump Organization. A company cannot be imprisoned, and the Trump Organization is not publicly traded, meaning there are no financial regulators to punish it or public shareholders to flee from it. The maximum penalty it faces is $1.62 million, a pittance for Mr. Trump, who typically notched hundreds of millions of dollars in revenue during his presidency.

Still, the case will inflict reputational damage on the Trump Organization and the former president, whose identities are inextricably intertwined. While the company is well known for cutting corners, and reporters have extensively documented Mr. Trump's ethical lapses over the years, the verdict branded it as a felonious enterprise — its greatest legal reckoning.

The conviction is the nadir of an already disastrous year for the Trump Organization: Its longtime accounting firm fired it, New York's attorney general filed a fraud lawsuit against it and Mr. Bragg's investigation grinds on.
Fraud, greed, and cheating, once again here we are…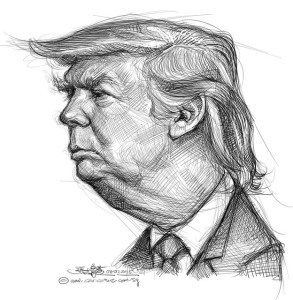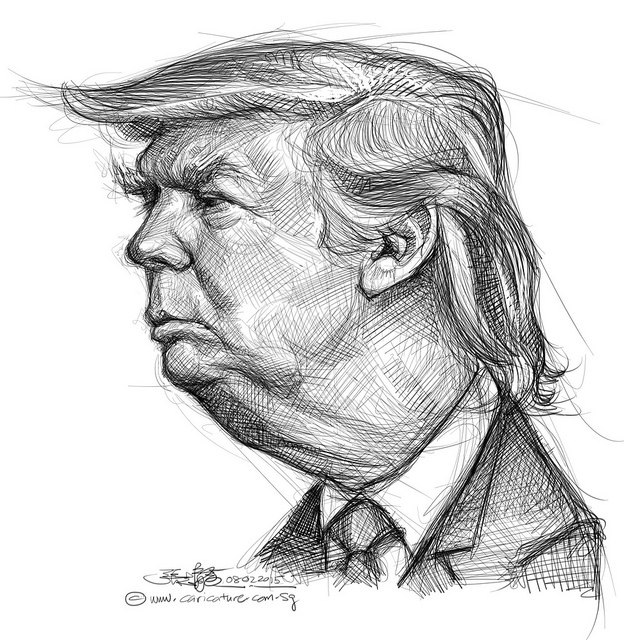 Image out front is my favorite of the T-Rump mugs, though, 'favorite' does not mean in any form or fashion, as in, 'my favorite movie,' or 'my favorite song.' It's more of an anti-appreciation/like.
And aptly titled, 'Basic Shapes,' by caricaturist/illustrator Chong Jit Leong (and found here), it's an image that displays the elemental form of a purloined sociopath — a bloated profile of flatulent bile and arrogant ignorance.