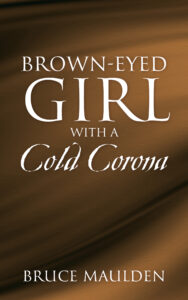 Once again another plea to please, please buy my novel — "Brown-Eyed Girl With A Cold Corona," self-published via Outskirts Press last March, and help an old guy grow older a bit more gracefully.
Or maybe more delightfully, or dexterously — whatever
My author's page at Outskirts is here.
The Amazon/Kindle page is here.
A review blurb:
"Not since the Time Travelers Wife has a story tugged at my heart, f*** with my head, and left me so chilled, haunted and thoroughly impressed. A vivid, romantic and ultimately chilling debut, I sincerely hope this author doesn't stop here. A new, genre bending talent has been unleashed and I personally can't wait to see what he comes up with next."
After 28 years — first draft written in the summer of 1994 — it was a strange trip to the publishing level as the manuscript was stored in a cardboard box for more than two decades.
Time is maybe not the essence anyway, but that's still a long wait no matter how you look at it. The original post on the book being published is here, and included this note:
Now just a matter of wait and see the reaction for readers to this major, long-ago personal project, after such a long time in that before-mentioned cardboard box. How will it come across as a paperback book you can hold in your hand, and maybe too, find later in the used-book section of a second-hand store.
Even at this point, I'm not sure if I've made the right decision in going with self-publishing, vs the conventional literary-agent-to-publisher route, and how will book sales be affected. Questions with no answers right now.
In a current historical note, the word 'Corona' in the title doesn't quite hit me hard as it did a couple of years ago when COVID started its initial run. I was just finishing a brand-new edit of the manuscript — my daughter had the written version made digital (Google docs) — and the whole scene depressed me so bad (death and disease and T-Rump and lockdowns) the virus name prompted me to stop work for months. My novel's entire, continuous storyline is fashioned around a Corona beer. Oddly, simple 'COVID' eventually replaced 'coronavirus' in the media as the go-to word for the pandemic. Weird. And fortunately for my 'Corona' girl.
And did I mention the Amazon/Kindle page as being here?
And the synopsis off the back cover as a further plea to buy:
Life can sometimes alter course in a finger snap. One second existence seems normal, the next, an out-of-step leap beyond the imagination. A night bar-hopping during Spring break on the California coast shifts from the typical to peculiar and strange in scant moments.
As if out of thin air, she was suddenly sitting close, leaning inward at the little table, her face directly at him. Large, brown eyes intimate and captivating, demanding full attention. The bar's loud, swirling noise of music and muffled chatter seemed to have quickly vanished into shadow.
Easily, he closed off everything with total focus only on those liquid-brown eyes. In minutes, he fell completely head-over-heels in love, gobsmacked like a virgin little boy.

However, in just a brief, single tick when he'd once glanced away, she vanished. So astonishingly quick the episode, he never got a name or a telephone number. And other people had seen her in the bar, so she was real. Or was she? Such is the beginning.

In an ensuing couple of days, he tumbles like Alice down the rabbit hole. He's no virgin little boy, but middle-aged and fighting the loose tendrils of a mid-life crisis — divorce, children (for instance, he occasionally smokes pot with his 15-year-old daughter), intense guilt about everything, and booze, all combined for close-call disaster. Yet petty compared to the wondrously-haunting hallucinations he encounters created off that one night with the young woman,

An illusory mystery revealing a murder, though, in an abnormal sequence.
Book the book or not, once again here we are…