Cold and clear this Thursday evening here in California's Central Valley — we continue toward even colder times.
And colder still, one of my most favorite (respected and ethical) journalists around nowadays, Aaron Rupar, has had this Twitter account suspended by the great ass-slip wormhole, Elon Musk (a husk of a human), and maybe it looks like the beginning of the end of tweets of significant and knowledge off the social platform.
I follow Rupar on Twitter and he's always been doing what I really don't want to do — keep up with the nasty and malignant workings of the Republican-asshole political world.
A dish of hypocrisy and malice:
Well guys, it's been real. I'm pretty sure all of us who cover right-wingers will get nuked by the Free Speech Absolutist. You will be able to find me in other places. pic.twitter.com/YXnr4EctFP

— Ron Filipkowski ?? (@RonFilipkowski) December 16, 2022
Some background via the UK's Independent:
Twitter has suspended the account of prominent liberal journalist Aaron Rupar as well as reporters from CNN, The New York Times and The Washington Post.

Rupar, who has more than 788,000 followers, had his account suspended the day after Twitter suspended then restored an account that followed the movements of the billionaire's private jet.

And it came on the same day that Twitter suspended the account of social media rival platform Mastodon.

Also suspended are Donnie O'Sullivan of CNN, Drew Harwell of The Washington Post and Ryan Mac of The New York Times, all of whom have covered Mr Musk in recent months.

Rupar's suspension came a day after he published a Substack article written by Noah Berlatsky criticising Mr Musk, with the headline 'Elon Musk's Reactionary Populism.'

"It's all about punching down at the already marginalized," the article stated.

Mr Rupar was an Associate Editor at Vox Media until 2021, and has been covering national politics as an independent journalist ever since.

Rupar regularly covers right-wing politicians such as Donald Trump, as well as Fox News and hosts such as Tucker Carlson and Sean Hannity.

Mr Musk, who reluctantly bought the San Francisco-based company for $44bn in October, had previously tried to buy the jet-tracking account.
Another brick in the wall on notable public discourse on the facts and reality of what's actually going on in these really,.really fucked-up times. Musk-Husk continues his bullshit twirl downward, pulling us along.
Meanwhile, there's the T-Rump — a wretched piece of shit. Of course, by now you've heard of his "major announcement" today where he grifted a grift onto baseball cards and superman tropes to swindle his idiot followers out of hard-earned cash — money off their Social Security checks.
The InterWebs went carzy.
And what's worse, T-Rump let die hundreds of thousands of Americans die during the bringing of the COVID pandemic — now its official, T-Rump is a butcher, genocidal horror dog:
Trump downplayed drumbeat of intelligence warnings on covid, report finds https://t.co/WbQKVwlCqZ

— Shane Harris (@shaneharris) December 15, 2022
Story from The Washington Post late this afternoon:
Beginning in late January 2020, U.S. intelligence agencies reported to senior Trump administration officials that the coronavirus spreading in China threatened to become a pandemic and spark a global health crisis.

But then-President Trump's public statements over the next two months "did not reflect the increasingly stark warnings coursing through intelligence channels," including the president's daily brief, available to Trump and senior members of his administration, according to a report issued Thursday by the House Intelligence Committee.

By February, the intelligence community "had amply warned the White House in time for it to act to protect the country," committee investigators concluded. Trump claimed in a May 2020 tweet that the intelligence community "only spoke of the Virus in a very non-threatening, or matter of fact, manner," a statement that "simply does not match the record of intelligence analysis published in late January and February," the committee found.

…

Indications that a novel coronavirus might be spreading in China caught the attention of U.S. intelligence as early as Dec. 31, 2019, the committee found, when an analyst at the NCMI reviewed a notice shared on ProMED about a mysterious respiratory illness spreading in China, and that had been discussed on social media. The analyst uploaded the notice from ProMED, a publicly accessible system for monitoring disease outbreaks, into an intelligence database called Horizon, which disseminates reports to military intelligence directorates.
And the rest is horrid history. Go read the whole piece. It's a pisser.
T-Rump might be losing the game, finally. The only good is if he ends up in an orange jumpsuit.
Playing us out, a screech from The Cure:
Crying out loud or not, here we are once again…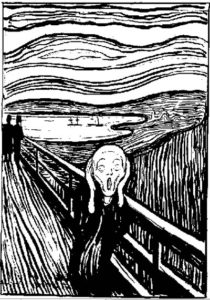 (Illustration out front: Edvard Munch's 'The Scream,' lithograph version, found here.)