Another foggy and chilled-air day here in California's Central Valley, and this Monday evening keeps the shitty-weather ball rolling once again — I'm not too fond of this time of year in these parts.
Spring seems so, so far away.
Nevertheless, today was a kind of footloose, fun day in the new cycle. Beyond the World Cup madness (which I don't understand at all), where another spotlight asshole, Elon Musk, was seen hob-nobbing with other rich, shitty assholes (including Jared Kushner) while all that he touches (like T-Rump) turns rotten and dies.
The Musk-Husk is silent still this evening after Twitter users blew back at him: 'More than 17 million votes were cast and delivered a clear verdict: 57.5 percent said he should quit, in a Twitter "poll" that closed after 12 hours on Monday.'
Elon is such a ranker. Irritates the shit out of society right now.
So, Andy Borowitz at The New Yorker today has the latest:
NEW YORK (The Borowitz Report)—Recognizing him for his "relentless contributions to the weariness of humanity," Time has named Elon Musk the Most Exhausting Person of 2022.

In bestowing the title on Musk, Time cited the Twitter C.E.O.'s "nonstop but fruitless efforts to fill the yawning chasm of his soul by seeking the attention of indifferent strangers."

In order to win the Most Exhausting crown, Musk bested a formidable list of contenders, including Kanye West, Kari Lake, and Senator Joe Manchin.

Most impressive, he wrested the titled from Donald J. Trump, who had won the honor every year from 2016 to 2021.

The Time editors' decision drew no immediate response from Musk, who was preoccupied with a Twitter poll asking his followers what he should have for lunch.
Horror in its dark, satirical tone.
Of course, the big news item of the day (one which I'm sure you've already heard):
— Acyn (@Acyn) December 19, 2022
Noteworthy via The Associated Press this afternoon:
Over its 18-month investigation, the panel laid out evidence that the Jan. 6 attack at the Capitol was not a spontaneous protest, but an orchestrated "scheme" by Trump to try to overturn the 2020 election he lost to Joe Biden.

Trump urged supporters to come to Washington for a "big rally" Jan. 6. He whipped up supporters in a speech outside the White House. Knowing that some were armed, he sent the mob to the Capitol and encouraged them to "fight like hell" for his presidency as Congress was counting the vote. He tried to join them on Capitol Hill.

All the while, Trump stoked theories from conservative lawyer John Eastman to create alternative slates of electors, switching certain states that voted for Biden to Trump, that could be presented to Congress for the tally. Eastman also faces criminal referral by the committee to Justice.

"The central cause of January 6th was one man, former President Donald Trump, who many others followed. None of the events of January 6th would have happened without him," the panel said in its report.
In leaning in toward that rendering, turtle-chin Mitch McConnell could only blubber: '"The entire nation knows who is responsible for that day. Beyond that, I don't have any immediate observations."'
Cheap shit.
Just to lay down the boardwalk, Annie Lennox cries on a blue Monday:
Despite crime or not, once again here we are…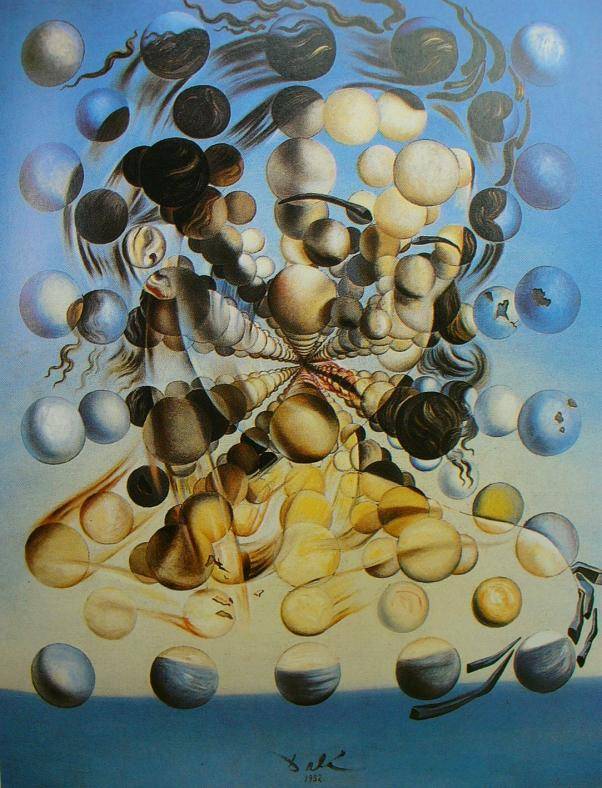 (Illustration out front: Salvador Dalí's 'Galatea of the Spheres,' found here.)