(Illustration found here.)
Drizzling rain and cold this early-evening Monday here in California's Central Valley as wet weather continues on into the new year — we set rainfall records on Friday and Saturday for my area and according to our NWS regional office more heavy rainfall is forecast for this week.
Up to an inch and maybe more is scheduled for Wednesday and Thursday, drenching most-likely through next weekend.
Along with the rain is that before-mentioned cold. You really don't want to get out into the mess right now. California is swamped and the ground is saturated, so there are flooding and road closures and all kinds of shit. (Plus, shakers resumed — yesterday morning in near-about the same spot as a 6.4 earthquake 10 days ago which really, really rattled the North Coast, a 5.4 quake shook buildings and scared the shit out of everyone.)
We've got not only weather up top but shaking below.
Yet we're not alone — middle of the US is about to see some bad shit with a major winter storm bearing down on the Plains and the Upper Midwest, carrying snow and ice.
If that's not enough, add some twister music:
The first Tornado Watch of 2023 has been issued for portions of Texas, Oklahoma, Louisiana, and Arkansas.

2022 ended with 591 total Severe Thunderstorm and Tornado Watches issued. https://t.co/rc2LcWv7ll

— National Weather Service (@NWS) January 2, 2023
Although California shakes and is sloshing wet, tornadoes suck (I grew up in the South, but earthquakes are worse and more frightful because there's no warning) and the country's midsection is in the swirling crosshairs (via CNN this afternoon):
A potent winter storm that turned deadly in California is now threatening powerful tornadoes in the South and heavy snow, sleet and freezing rain in the Midwest.

More than 3 million people are under a tornado watch until 9 p.m. CT in parts of Arkansas, Texas, Louisiana and Oklahoma. Another tornado watch has also been issued for eastern Oklahoma, southeast Kansas and northwest Arkansas, according to the National Weather Service's Storm Prediction Center.

And tornadoes are not the only risk in the region. Large hail – potentially up to 2 inches in diameter – and thrashing winds of up to 70 mph are possible "well into the night across much of the area," the Storm Prediction Center warned.

Anyone in areas at risk of tornadoes should seek safe shelter immediately, said Brad Bryant, meteorologist-in-charge at the National Weather Service office in Shreveport, Louisiana.

"If you wait around for a warning to be issued, it is too late," Bryant said Monday. "You need to have a safe shelter plan in place in advance of these storms."
Supposedly part of the season, though, might be a bit early for twisters, but due to how our climate is quickly shifting and changing, weather worldwide is experiencing a non-seasonal burst of odd — right now it feels like almost summer in parts of Europe:
The intensity and extent of warmth in Europe right now is hard to comprehend.

Warsaw in Poland ?? just smashed its January record by over 5°C. pic.twitter.com/to4Mif70Hn

— Scott Duncan (@ScottDuncanWX) January 1, 2023
Details via the Guardian this morning:
Weather records have been falling across Europe at a disconcerting rate in the last few days, say meteorologists.

The warmest January day ever was recorded in at least eight European countries including Poland, Denmark, the Czech Republic, the Netherlands, Belarus, Lithuania and Latvia, according to data collated by Maximiliano Herrera, a climatologist who tracks extreme temperatures.

In Korbielów, Poland, the mercury hit 19C (66F) – a temperature the Silesian village is more used to in May, and 18C above the 1C annual average for January. In Javorník in the Czech Republic it was 19.6C, compared with an average of 3C for this time of year.

Temperatures in Vysokaje, Belarus, would normally hover around zero at this time of year. On Sunday they reached 16.4C, beating the country's previous record January high by 4.5C.

Elsewhere on the continent, local records were broken at thousands of individual measuring stations, with nearly 950 toppled in Germany alone from 31 December to 2 January, Herrera said.

Northern Spain and the south of France basked in beach weather, with 24.9C in Bilbao, its hottest ever January day, and records broken at stations in Cantabria, Asturias and the Basque region. Only Norway, Britain, Ireland, Italy and the south-east Mediterranean posted no records.

"We can regard this as the most extreme event in European history," Herrera said. "Take the case of July 2022 UK extreme heatwave and spread this sigma (magnitude) in a much huger area, encompassing about 15 countries.

"We can arguably say this is the first time an extreme weather event in Europe (in terms of extreme heat) is comparable to the most extreme in North America."

Alex Burkill, a senior meteorologist at the Met Office, agreed it was an extreme weather event. "It's been extreme heat across a huge area, which is almost, to be honest, unheard of," he said.

Burkill said a warm air mass that developed off the west coast of Africa had travelled north-east across Europe from Portugal and Spain, pulled in by high pressure over the Mediterranean.

"It has been widespread, Denmark, Czech Republic, as well as pretty much the whole of Germany have seen temperatures for January exceeding records," Burkill said.

"It's also worth noting, we had some exceptionally warm weather in the south of England. New Year's Eve, I think about seven sites in southern England recorded their warmest ever New Year's Eve on record."

The meteorologist Scott Duncan said the temperatures across Europe were staggering. "We had a very warm new year last year but this blows that out of the water," he said. "We observed longstanding records broken by large margins across several countries."

Causes were difficult to ascertain, said Duncan, with La Niña and anomalous warmth in sea surfaces playing a role. "None of the above here is new though, so what took extreme to record-smashing status? Our warming atmosphere and oceans are ultimately making records easier to break."

Prof Bill McGuire, who has written about the consequences of climate breakdown, said the high temperatures were a portent of worse to come.

"The most worrying thing about this is that – such is the speed of global heating – it simply isn't a surprise any longer," he said. "It is a small glimpse of a future that will see winter reduced to a couple of months of dreary, damp, and mild weather, with little in the way of frost, ice or snow."
Climate change isn't pretty. And the shift is well underway. Scary, however, is the actual action (or inaction) needed to bring a runaway climate under control before the shit hits the position of no return.
Friederike Otto, a researcher with the only rapid reaction force of climate scientists looking into the apocalypse of extreme weather, noted the difference needed:
"I am an optimistic person. It makes me want to do more to make an impact, to get the message across, so that the changes that we need will happen."

Otto could be likened to Dr Randall Mindy, Leonardo DiCaprio's character in the film Don't Look Up. Mindy warns that an asteroid will hit the planet in six months, but finds no one wants to hear his message.

But Otto disliked the film's metaphor. "I felt the analogy was wrong — that there is this big physical threat, which would be fine if only we could invest in technology to fix it.

"Climate change is not like that. It is a social issue we will only be able to deal with if we invest in social systems, make our societies more resilient, less vulnerable and change our economic system from burning fossil fuels."
In the sad reality of Greta Thunberg's spot-on remark on how nations of the world are responding to climate change, '"blah, blah, blah,"' we're in serious trouble.
Our major problem here in the US the Republican party. As the chaos of House Republicans attempts to take power starting tomorrow, we're reminded of asshole Lindsey Graham's bullshit from last summer — which pretty-much summed up the GOP climate-change talking points: '"I don't want to be lectured about what we need to do to destroy our economy in the name of climate change … The Democratic Party has made climate change a religion and their solutions are draconian … The point to me is to get the world to participate, not just us."'
Shit-heel!
If you have the time, a good review of how our climate-change agenda stands per CBS News yesterday:
And in another sad, but a spot-on way to play us out of this depressing shit — a tear-stained cry to a rainy today:
Whether having bad weather or not, once again here we are…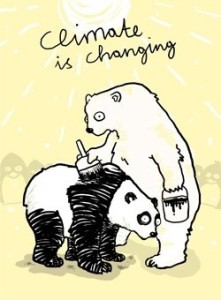 (Illustration out front by Handoko Tjung, found here.)