Dark-gray overcast this late-afternoon Tuesday here in California's Central Valley — a contrast to a beautiful morning we had with blue skies and way-plenty of sunshine. Although it started deteriorating about noonish, it still for a while was about as good as it gets for this time of year.
Now just sooty and depressingly sad. Add to the attitude — more rain is expected tomorrow.
Meanwhile, in DC Republicans experienced some political bad weather and revealed their well-known governing style — chaos.
Nutshell via The New York Times:
As the 118th Congress convened on Tuesday, the election for House speaker devolved into a pitched floor fight, with a mutiny among hard-right lawmakers creating political chaos not seen in the chamber in a century. Just before 5:30 p.m., after three votes failed to produce a winner, the House adjourned until noon on Wednesday.

Representative Kevin McCarthy of California, the Republican leader, failed to win the speakership on the first three votes, turning what was to be a triumphant moment for the new G.O.P. majority into a political crisis that exposed the fissures within the party just as it assumed control of the House. And since the chamber cannot swear in members or perform actual work until the speaker is chosen, the nation's legislative process was at a standstill.
A crowd of nit-twits (from the same above link):
Hakeem Jeffries, standing with Democratic leadership, derided the far right wing of the House G.O.P. Tuesday night after McCarthy's three failed bids for speaker.

"Today for the first time in 100 years, the House of Representatives failed to organize on opening day," he said. "A sad day for the House of Representatives as an institution, sad day for democracy — It's a sad day for the American people."
A situation of notorious giggles played out in real-time:
Wow. The Democrats already have an ad out hammering the Republican Party for their disastrous first day. pic.twitter.com/hkqnTfUiiA

— MeidasTouch (@MeidasTouch) January 4, 2023
Even the T-Rump walked back the K-Mac (NBC News): '"I got everybody calling me wanting my support. But let's see what happens and we'll go — I got everybody calling, wanting my support … That's all I can say. But we'll see what happens. We'll see how it all works out."'
Yeah, right.
K-Mac is a hypocritical asshole and T-Rump will burn him down — David A. Graham at The Atlantic late this afternoon unspools K-Mac's hitch to the T-Rump's wagon, a long-term, terrible-ass move, with a notable conclusion:
Yet McCarthy's speaker bid turned into a mess, because Trump's magic turned out not to be the help he thought it would be. First, the forces that Trump marshaled were not really his own but borrowed; his genius was harnessing a sentiment already in the GOP that others were not willing to embrace, which meant he had limited power to command MAGA representatives who opposed McCarthy. Second, backlash against Trumpism helped make the new GOP majority thin and precarious, rather than producing a robust one where McCarthy might have won the speakership easily, despite defections on the far right. Third, Trump is weaker than he once was, in part because of the underwhelming midterm results and in part because of his legal travails.

McCarthy's struggles today are yet another example of how casting in with Trump tends to leave candidates casting around for a lifeline. Trump can certainly break his enemies: If McCarthy had opposed Trump, it must be said, he would never have been in position to lose the speaker vote. But Trump's ability to make his allies is limited, and not merely because he's only ever really looking out for himself. Republicans who have flocked to Trump for aggrandizement have repeatedly suffered for it, whether Jeff Sessions (unceremoniously fired) or Mike Pence (hunted by a mob). Some, like McCarthy's former lieutenant Liz Cheney, have thought better of their alliance and been punished for that too. The fate of others, such as the 2024 hopefuls Mike Pompeo and Nikki Haley, is yet to be written, but McCarthy stands as a warning.
And it couldn't happen to an asshole of a nicer person. This entire episode is an absolute view of how Republicans will run the House this session — a chaotic blend of bullshit and whining about Hunter Biden's laptop and drag queens in libraries,  Actual governance is on the back burner.
And most likely, along with hearings on Anthony Fauci and others, the GOPer/MAGA shits will defang the Office of Congressional Ethics (OCE), especially with George Santos sitting in the wings waiting to be sworn in as a liar above liars. Even as the Senate adjourned for nearly a month — John Fetterman was among 35 either newly elected or reelected senators sworn in today by Kamala Harris — the House has to wait at least until tomorrow to see any action.
What an absolute mess.
An idiot's game with the sound of hysteria playing loud and clear:
Despite the shame, here we are once again…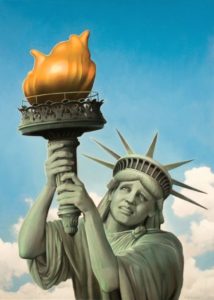 (Image out front by illustrator and portrait painter, Tim O'Brien, and can be found here.)