In honor of MLK Day tomorrow, some music in reflection.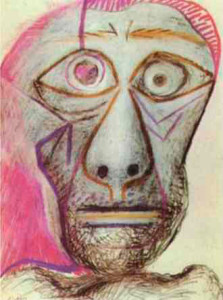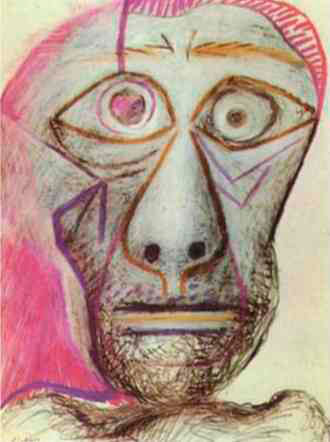 (Illustration: Pablo Picasso's 'Self Portrait Facing Death' [June 30, 1972], was originally found here.)
I'm not familiar at all with MLK and music so we'll go with UDiscover Music from last year:
On April 4, 1968, the assassination of Martin Luther King, Jr, who was shot while standing on a balcony outside his second-?oor room at the Lorraine Motel in Memphis, Tennessee, stunned the world. The man who had led the civil-rights movement for more than a decade had a huge influence on musicians. Songs have been written about him ever since that shocking day, with the best Martin Luther King songs being penned by musicians as diverse as Neil Diamond, Public Enemy, U2, and Nina Simone.

King's celebrated "I have a dream" speech has been sampled by dozens of singers, including Bobby Womack ("American Dream"), Grandmaster Flash And The Furious Five ("The King") and Michael Jackson ("HIStory"). Elvis Presley was moved to tears when he heard the song "If I Can Dream," written by W Earl Brown, in the immediate aftermath of the killing.

King himself was a fan of jazz and gospel. The wonderful singer Mahalia Jackson sang "Precious Lord, Take My Hand" at his funeral, because it was the last song he requested before his death.

In particular, King was a big fan of bebop. "Jazz speaks for life," King wrote in his opening address to the 1964 Berlin Jazz Festival. His friend Reverend Sampson Alexander recalls them debating the merits of trumpeters Clifford Brown and Miles Davis. "King preferred Miles Davis on that instrument. But he thought the absolute greatest was Bird, that is, Charlie Parker," recalled Alexander. In his speech at The Lincoln Memorial, in August 1963, King used the refrain "now is the time," referencing the title of Parker's classic 1945 tune, "Now's The Time."
So let's start with that last song of note:
Followed by Mahalia Jackson's gospel song:
Next, Marvin Gaye:
Via the link above:
"It seems the good, they die young" is just one of the memorable lines of Dick Holler's song about assassinations in America, prompted by the deaths of Presidents Lincoln and Kennedy, and Martin Luther King. This moving song was first recorded by Dion and subsequently covered by dozens of artists, including Smokey Robinson, Ray Charles, Emmylou Harris, and even Star Trek's Leonard Nimoy. Arguably the finest version is Marvin Gaye's 1970 single, which was a Top 10 hit in the UK. A year later, jazz star Oliver Nelson dedicated a whole album, Black, Brown And Beautiful, to King.
Continuing onward with Bobby Womack:
Ensuing forward, Nina Simone:
Link:
"We want to do a tune written for today, for this hour, for Dr. Martin Luther King. This tune is written about him and for him," said Nina Simone as she introduced one of the best Martin Luther King songs in history, "Why (The King Of Love Is Dead)," to the audience at The Westbury Music Fair in Long Island, New York, just three days after King was murdered. The song, honouring the courage and compassion of "this great man," was written by Simone's bassist Gene Taylor. Even quicker to emerge was the tribute from Otis Spann. On the day after King's assassination, the blues pianist, a member of Muddy Waters' band, performed two newly composed blues for the fallen civil-rights leader: "Blues For Martin Luther King" and "Hotel Lorraine."
Now, Stevie Wonder:
Same link as above:
Stevie Wonder met King when he was a teenage singing sensation. Wonder remembers crying at the news of the assassination, which he heard on a car radio as he was being driven home from Michigan School For The Blind. In 1980, Wonder joined with the members of the Congressional Black Caucus in the US Congress to speak out for the need to honor the day King was born. He went on a nationwide tour – along with Gil Scott-Heron – performing "Happy Birthday," a song that was instrumental in helping to establish the national holiday commemorating King's birth, for which reason it will forever remain one of the best Martin Luther King songs. Above soaring keyboard synthesizers, Wonder sings, "There ought to be a time/That we can set aside/To show just how much we love you."
James Taylor:
James Taylor's gentle and stirring tribute to King was inspired by his desire to honor a 20th-century titan. Taylor said: "To me, King is really one of the central heroes, you know, just in our time, a real exceptional, rare person who contributed the right things at the right time. You know, I think my parents, they led me into an awareness of what was going on. You know, they felt amazingly strongly about the civil rights struggle, and I guess it stayed with me. It always stayed with me. So it came out in a song."
And to play us out of this sad, though, beautiful-sounding remembrance, Brook Benton, and the sorrowful sense of this particular day as a rainy night in Georgia:
Farewell again.
On a political note of nowadays, Yastreblyansky has a great post up this afternoon on the asshole Republicans and how how they have utterly re-fashioned one aspect of MLK's Dream into a counter view of race — King was speaking of 'his' children, not 'white' children in that skin color and content of character reference
Way-worth a read.
Even so, here we are once again…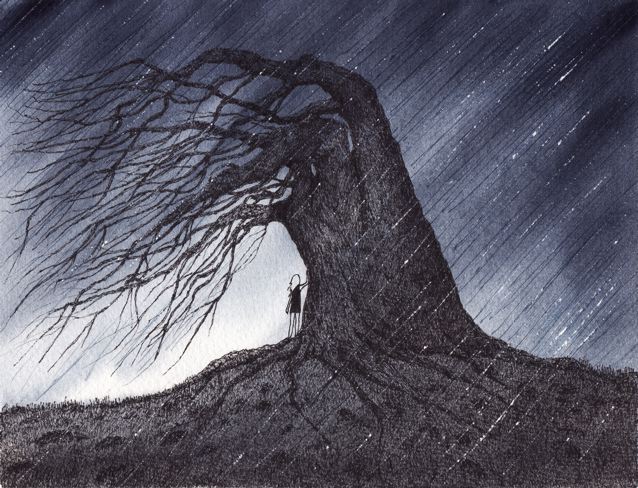 (Illustration out front: 'Shelter in the Storm," found here.)