Rainy, dark and ominous, and cold as shit this near-noon Friday here in California's Central Valley — the big winter storm we expected yesterday came crashing down on us during the night, with heavy winds and a lot of rain. Blustery day and week ahead no doubt now.
Our forecast ringing true:
A strong storm system will impact Central California today and tonight. In the Sierra Nevada foothills, snow levels will rise to near 3,000 feet this morning. In Kern County, snow levels will rise to near 5,000 feet this morning. Most of this precipitation will fall today. #CAwx pic.twitter.com/8OD5Eyryya

— NWS Hanford (@NWSHanford) February 24, 2023
Big burst of winter weather in unlikely places — via The LA Times earlier this morning:
A rare winter storm continued to pound California with snow and rain early Friday, shutting down freeways, including Interstate 5 through the Grapevine, as blizzard warnings took effect in the region's mountains.

Scattered showers and snow at unusually low elevations started snarling commutes and creating dangerous mountain driving conditions Thursday as the storm system, which is unusual not just in its ferocity but also in its origin from southwest Canada, is forecast to increase in intensity through Saturday.

On Friday morning, the 5 was closed in both directions through the Tejon Pass because of heavy snowfall, the California Highway Patrol and Caltrans said, advising motorists to use U.S. 101. There was no estimate for when it might reopen. The weather conditions also led to a temporary closure along Highway 138 by Palmdale between Highway 14 and the 5, where snow was falling at low elevations.

[…]

Overnight, more than an inch of rain showered the Santa Monica Mountains, and the Los Angeles metro area received less than a quarter of an inch, the weather service said.

The temperature at Los Angeles International Airport plummeted to 41 degrees Thursday morning, tying a previous record low set in 2019, according to the weather service. The mercury dropped 10 degrees in less than an hour as a heavy rain squall moved into the area.

Moderate to brief heavy rains, including the potential for thunderstorms, are forecast for Friday, with snow falling at elevations above 2,500 feet. The storm system is expected to grow more powerful as it picks up more moisture, the National Weather Service said, and snow levels are predicted to rise above 4,000 feet throughout the day.

"It is transitioning to warmer air, and that is lifting the snow levels," said Eric Boldt, a meteorologist with the National Weather Service office in Oxnard.
Meanwhile, some visuals from an unusual snowy California:
?????? Got swaying palm trees ?? AND snow covered hills at 1000 feet elevation #CAwx Milpitas ?? in sunny California? @RobMayeda – snowshoeing or snowball fights anyone ??? pic.twitter.com/8rmpdvif0T

— SnowPals.org SF, CA ?? (@SnowPalsDotOrg) February 24, 2023
Milpitas is located between San Francisco and San Jose, in the Bay Area, which is mostly non-snowy.
A little bit further north:
Angwin #snow and Howell Mnt Rd from College Ave to Clark way. #cawx #napasnow #napa pic.twitter.com/Az7Nxtcoyj

— craig philpott (@CphilpottCraig) February 24, 2023
White all around.
And southwest of San Jose in the foothills of the Santa Cruz Mountains, near forbidding, huh:
Heavy and sustained snowfall with close to 1' accumulation so far at ~2200ft above Los Gatos. Thunderstorms, power is out and trees snapping all around. Wild! #CAwx @NWSBayArea pic.twitter.com/47GKDPQ6oH

— Bart Giordano (@bgiordan) February 24, 2023
And from yesterday where I used to live, near the coast of Northern California, Humboldt County:
Frosty was seen in Arcata, CA too! pic.twitter.com/F3JQF0uEfx

— NWS Eureka (@NWSEureka) February 23, 2023
Rare and yet expected. Climate change makes for weird, chaotic weather. And it's been like that recently, and just look at the contrasts in this country just in the last few days — from The Washington Post this afternoon:
Hundreds of warm and cold records have fallen this week as a volatile weather pattern overtook the Lower 48.

The Eastern United States is finishing up what has been a wintertime heat wave for the ages. In addition to the slew of daily records for warm highs and warm lows — temperatures more like late spring than February — a number of monthly and wintertime warmth values were also exceeded.

In the West, there have been comparatively few all-time cold marks reached, but still a whole lot of cold high-temperature and daily low-temperature records, nonetheless.

Sometimes it feels hyperbolic to say there are too many records to count, but in this case it's quite true when it comes to the wacky winter warmth in the East.

Climate expert Maximiliano Herrera called it the "harshest winter heat wave in history" for the region.
On target as climate change is, as I wrote above, shit as weird — from Inside Climate News this morning:
Much of the United States is being battered by bizarre winter weather this week, which trapped snowbound drivers in their cars, prompted airlines to cancel thousands of flights and knocked out power for at least one million properties across the country. It's the latest disruption to the planet's typical winter weather patterns caused by a teetering of the northern polar vortex—something researchers say is happening more frequently in part because of global warming.

That's because the Arctic is warming some four times faster than the rest of the Earth, which destabilizes a fast, high-altitude current of air called the jet stream. That current encircles the Arctic, essentially containing the frigid air in that region and preventing it from creeping down into lower latitudes, including most of the United States. When the jet stream weakens, its pathway can wobble, much like a spinning top losing momentum, and pockets of cold Siberian air can then break out and scramble weather patterns in unpredictable and radical ways.

The swirling mass of freezing air that hangs above the North Pole is known as the polar vortex. Another polar vortex spins above Antarctica. And while disruptions to the northern polar vortex occur somewhat regularly—two out of every three winters on average, with many occurrences yielding mild consequences—some researchers have linked climate change to more extreme and persistent swings in the jet stream.

"Not everybody agrees with us. It's still contested science, but I am confident that we'll see more and more examples of these stretching events in the stratosphere followed shortly after by cold snaps in the midlatitudes as the Arctic climate warms and changes," Judah Cohen, an atmospheric scientist who published a 2021 study that found polar vortex events have become more common since 1980, told SciTechDaily last month. "The stretching of the polar vortex we saw in December 2022 definitely fits that pattern."
And will continue if humankind doesn't get its shit together.
Worse yet and not CGI:
Snow, or tidal wave, or what, yet here we are once again…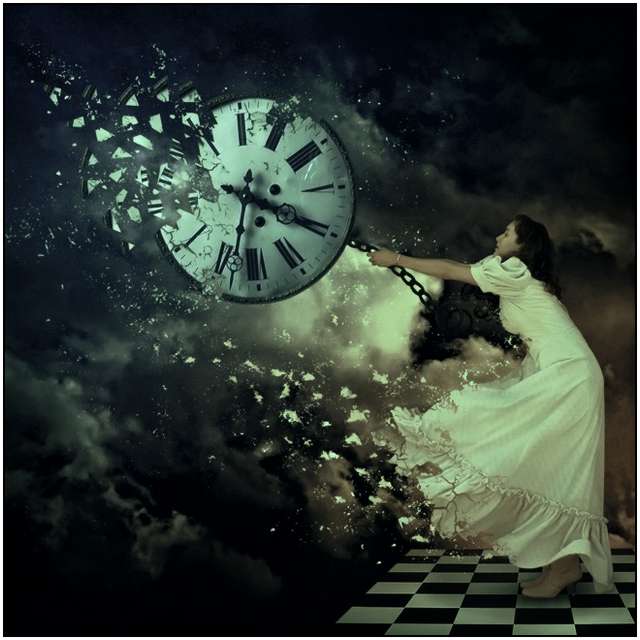 (Illustration out front: 'A Break in Reality,' by Xetobyte, found here.)