Clear skies and fading sunshine this late-afternoon Thursday here in California's Central Valley.– a wildly gorgeous day compared to the last week, especially this morning when it might have been considered almost warmish, an interlude between cold-ass rain.
And of the cold-ass land, we're in a comfort zone compared to the rest of California, which is undergoing a rare weather phenomenon — snow, deep and paralyzing.
Maybe a bit beyond even 'rare' — from the Guardian this afternoon:
The west coast of the US, from Oregon to the mountains of California and the golf courses of Phoenix, has received nearly unprecedented levels of snowfall this week in what officials are calling a "once-in-a-generation" event.

The mountainous regions of California have received so much snowfall – more than 40ft of snow since the start of the season – that entire towns have shut down as they are virtually cut off from the rest of the state. The governor has declared a state of emergency in 13 counties due to the unusual snowfall.

Portland, Oregon's largest city, saw its second snowiest day in history with almost a foot of snow, while further south in Arizona the suburbs of Phoenix received a dusting of snow.

"This rain and snow bucked the trend, and it's highly unexpected," said Ryan Maue, a meteorologist and former National Oceanic and Atmospheric Administration chief scientist. "It's like once in a generation."

[…]

With respect to human-induced climate change, meteorologists say it is challenging to nail down what part it is playing in the west coast's peculiar winter season.

But increasingly extreme weather is expected as global temperatures rise. "Heat produces moisture, moisture produces storms, and heat and moisture bind to produce even more severe storms," Feldkircher said.

Forecasting technology keeps getting better. So much better, it may even soon be able to forecast extreme events with higher accuracy. "In the near future, I do not think climate will cause issues with our weather forecasting capabilities," said Maue.
And that future still looks really bad, despite some lopsided good news — carbon emissions might have flattened, though, at a high, high watermark, and is not a happy-camper episode:
Global CO2 emissions from energy rose by under 1% in 2022 – less than initially feared.

The growth of solar, wind, EVs, heat pumps & energy efficiency helped offset emissions from increased coal & oil use amid the energy crisis

Read more ?? https://t.co/NrR9C5BaP7 pic.twitter.com/e2DAasp2F0

— International Energy Agency (@IEA) March 2, 2023
Science in IEA's grist report: 'Global carbon dioxide (CO2) emissions from energy combustion and industrial processes1 grew 0.9 percent or 321 Mt in 2022 to a new all-time high of 36.8 Gt. This estimate is based on the IEA's detailed region-by-region and fuel-by-fuel analysis, incorporating the latest official national statistics and publicly available data on energy use, economic indicators, and weather.'
Less dense details on this situation via The Washington Post, also this afternoon:
Global emissions of carbon dioxide related to energy production grew by 0.9 percent in 2022, reaching a new high of more than 36.8 billion metric tons, according to a report by the International Energy Agency.

The growth was slower than expected and slower than last year's global GDP growth rate of 3.2 percent as renewable energy growth offset much of the impact of greater coal, oil and natural gas use.

But climate experts stressed that global CO2 emissions must be turned around and shrink on a sustained basis if climate targets are to be met. The IEA said that "emissions still remain on an unsustainable growth trajectory."

"The apparent slowdown in carbon emissions last year is no cause for celebration," said Antoine Halff, a founding partner of Kayrros, an energy consulting firm that makes extensive use of satellite imagery. "This is not a positive achievement flowing from virtuous climate policies, but rather a byproduct of Russian aggression and its adverse effect on European energy-intensive industries on the one hand, and on the other hand the nefarious effect of China's public health policies on its economy."

"I think the headline is: Emissions are still going up," said Nathaniel Keohane, the president of the Center for Climate and Energy Solutions. Although carbon dioxide emissions grew more slowly than GDP, Keohane said, "What drives global warming is not carbon intensity. It's total emissions, and those are going up."

[…[

U.S. emissions grew by 0.8 percent, with extreme temperatures leading the building sector into the highest emissions growth. The main cutbacks in emissions came from unprecedented increases in solar- and wind-energy output. Many other countries, including Germany, reduced their natural gas use, but the United States increased its use of the fuel by 89 million metric tons.

"A smaller increase than 'initially feared' is a far cry from the rapid emission reductions the world needs to see to avoid the worst impacts of global warming," said Daniel A. Lashof, the director of the World Resources Institute in the United States.

According to the Intergovernmental Panel on Climate Change, global emissions need to be reduced by more than 40 percent by 2030 to align with the goal of global temperature increase of no more than 1.5 degrees Celsius above preindustrial levels, Lashof added.

"So, any increase in emissions, even a small one, means we are getting further and further off course," he said.

Coal is a big factor in the rise observed in 2022. Before the pandemic, coal seemed to be on its last legs — which was part of why many scientists in 2020 thought global CO2 emissions might have reached their peak. But in the past couple of years, coal has made a resurgence, largely because of the war in Ukraine and the resulting increase in natural gas prices.
Some not-so-good news, huh, but it's all the same with climate change. Despite the actual 'once in a generation' weather shit taking place, the overall vibe is a yawn. Despite the sectional obstacles, people are flocking to climate-risked zones — deserts, coastal regions, hot, humid locations — and even in the face of really bad shit, just keep on doing what they have been doing for years and years.
Will we regret it? Doubtful:
In this farewell
There's no blood, there's no alibi
'Cause I've drawn regret
From the truth of a thousand lies
Regrets or not, here we are once again…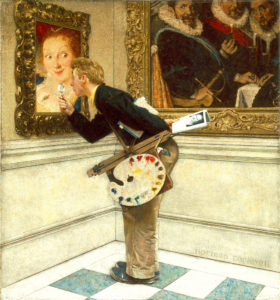 (Illustration out front: 'Art Critic' by Norman Rockwell, found here.)