Overcast with occasional slivers of sunshine this early afternoon Tuesday here in California's Central Valley — a contrast to this morning's gorgeously clear and warm environment, but right now a seemly preview of the days to come.
Supposedly, we're heading into a way-wet period starting maybe tomorrow, with another 'atmospheric river' due by the weekend — an immediate future of rain and more rain.
Sunshine might be history for a couple of weeks, anyway:
Atmospheric Rivers (AR), also known as "Pineapple Express," are capable of bringing moisture from the tropics near Hawaii over to the U.S. West Coast. Central California will experience another AR by the end of the week as possible flooding impacts the area. #CAwx pic.twitter.com/G1wnRLNcGG

— NWS Hanford (@NWSHanford) March 6, 2023
Details via AccuWeather yesterday:
A storm system with milder air that was brewing over the Pacific Ocean at the start of the week will impact California from Friday to Saturday and generate a high risk of flooding, including in areas accustomed to receiving heavy snow, AccuWeather meteorologists warn. This storm will follow an ongoing winter storm that was producing heavy snow across the Sierra Nevada and is forecast to keep affecting the region into Wednesday.

The high-impact storm could potentially unleash flooding rainfall, mudslides, feet of mountain snow, and very strong wind gusts between Thursday night and Saturday.

"People and businesses are already cleaning up from previous storms, meaning that the latest storm has the potential to become a disaster upon previous disasters, further compounding any impacts," AccuWeather Chief Meteorologist Jonathan Porter said. "Additional storms are expected into next week – which also may tap into a 2,000-plus-mile feed of deep subtropical Pacific moisture yielding heavy rain at lower elevations and heavy snow in the mountains."

[…]

"The stormy pattern this winter hasn't only put a dent in the drought, it will eliminate it by the time spring evolves into summer," AccuWeather Chief On-Air Meteorologist Bernie Rayno said, noting that the drought's reduction has already been significant across the state.

"By the time this week comes to an end, San Francisco may have more than 30 inches of rain for the wet season," Rayno said. From July 1 through March 5, San Francisco International Airport picked up 24.68 inches of rain. The rain year lasts from July 1 to June 30 in California, and the historical average annual rainfall for the airport is 19.64 inches.

"This is a staggeringly positive development, especially given the severity of the drought across California as recently as a few months ago," Porter added. "Some longer-term drought impacts, including the recharging of deep aquifers, can persist despite the major short-term drought turnaround."
Our days ahead — I'm located just north of Fresno:
Drought is a whiplash — an op/ed from The LA Times this morning:
After more than two months of atmospheric rivers and bomb cyclones, amid a supersized Sierra snowcap, and with more precipitation forecast for the rest of the month, isn't California's drought over?

The U.S. Drought Monitor reports that yes, 17 percent of California is now out of drought. Most of the rest of the state is quite wet as well, although it remains in some level of "drought" as the term is defined by the Drought Monitor.

Only 17 percent? How is that possible? We've had more rain and snow than in the entire winter of 2019, when the state was last declared drought free.

The cognitive dissonance is the result of the word "drought," which scientists use to describe a set of measurable conditions in the soil, the atmosphere, plant life, rivers and reservoirs. For most of us, though, drought ends when it rains.
Wrong! We here in California have developed a wet habit of almond groves and way-green lawns, both of which use a shitload of water — this situation is coming to an end, however. And as the LA Times editorial notes we have to work on storing water than using it.
Further into the subject of dry vs way-wet — from The Washington Post last week:
The amount of snow that has fallen on California is rivaling some of the most bountiful years on record. Just in the past two weeks, more than a dozen feet of snow fell in this area, pushing the snowpack in the Central and Southern Sierra Nevada Mountains to roughly twice the amount of a normal year. The whiteout shut down national parks and interstates, buried neighborhoods, collapsed roofs, stranded motorists, trapped residents and knocked out power to thousands in mountain communities throughout the state.

For a parched populace coming out of three consecutive years of extreme drought — the flakes have also felt miraculous.

"We could not be more fortunate to have had this kind of precipitation after three very punishing years," Karla Nemeth, the director of California's Department of Water Resources, told a briefing Friday after the latest snow survey in the state.

Just last fall, California's biggest reservoirs had dropped to dangerously low levels. A record number of wells in the Central Valley had run dry. Farmers were fallowing hundreds of thousands of acres. Residents in the Los Angeles area were being told to stop watering lawns. State officials were projecting that dry La Niña conditions would persist; California was headed for a fourth year of drought.

"And then, after Christmas, something interesting happened," Michael Anderson, the state climatologist, said during the briefing. "We began a rather amazing set of atmospheric rivers."

A parade of nine drenching storms marched in off the Pacific, swamping the state. After a dry spell in February, another deluge of precipitation has fallen over the past week. This time, it came in the form of an unusually cold storm moving south from the Gulf of Alaska, dropping snow even at low altitudes and down toward the Mexican border. Flurries dusted the Hollywood sign.

[…]

"It takes more than a single wet year to really recover a lot of those groundwater basins that have been critically overdrafted for so many years," said Sean de Guzman, manager of the snow surveys and water supply forecast unit at the California Department of Water Resources.

On Friday morning, de Guzman and his colleagues trudged across a snowy field south of Lake Tahoe and plunged a hollow metal pole into the depths, part of the monthly snow surveys that take place across the state. They found snows over 9 feet deep, or 177 percent of average for that date.

The state's record snowpack came in the winter of 1982-83. The snows this year have nearly matched those heights from four decades ago.

"With the next few storms here, throughout this month, we could actually surpass that," de Guzman said.
A weatherman's primer on the incoming ARs:
Rain, or snow, or a bit of both, yet once again here we are…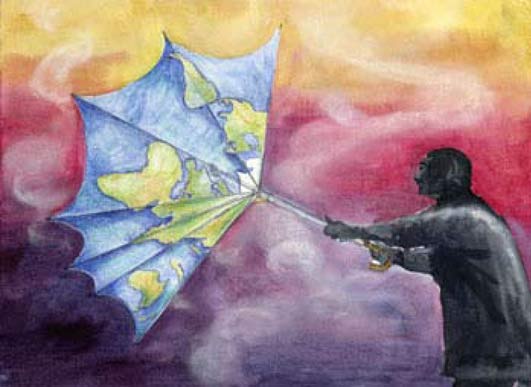 (Illustration out front from the UN's International Children's Painting Competition, and found here.)