Rain and cold wind this early-evening Thursday here in California's Central Valley as we engage in the front edge of a supposedly massive storm cruising our way out of the south Pacific — an 'atmospheric river,' or 'Pineapple express,' will reportedly crash into So Cal later tonight and tomorrow soaking the region.
Including us here in mid-state with flooding and water-induced aggravation — oversoaked ground can absorb so much, and the rest has to go somewhere. Right now the rainfall is gentle, though, the wind makes it appear worse.
One more time, we'll have to weather the weather.
Meanwhile, back east light in the darkness of the T-Rump — I don't like to even check these stories out due to the past likelihood of it being false or a letdown. However, there seems to be some indication the NY DA might follow through:
"The Manhattan district attorney's office recently signaled to Donald J. Trump's lawyers that he could face criminal charges for his role in the payment of hush money to a porn star" https://t.co/J8D34g7Jzn

— Judd Legum (@JuddLegum) March 9, 2023
Details/background from The New York Times late this afternoon:
The Manhattan district attorney's office recently signaled to Donald J. Trump's lawyers that he could face criminal charges for his role in the payment of hush money to a porn star, the strongest indication yet that prosecutors are nearing an indictment of the former president, according to four people with knowledge of the matter.

The prosecutors offered Mr. Trump the chance to testify next week before the grand jury that has been hearing evidence in the potential case, the people said. Such offers almost always indicate an indictment is close; it would be unusual for the district attorney, Alvin L. Bragg, to notify a potential defendant without ultimately seeking charges against him.

In New York, potential defendants have the right to answer questions in the grand jury before they are indicted, but they rarely testify, and Mr. Trump is likely to decline the offer. His lawyers could also meet privately with the prosecutors in hopes of fending off criminal charges.

[…]

The Manhattan inquiry, which has spanned nearly five years, centers on a $130,000 payment to the porn star, Stormy Daniels, who said she had an affair with Mr. Trump. The payment was made in the final days of the 2016 presidential campaign by Michael Cohen, Mr. Trump's former fixer, who was later reimbursed by Mr. Trump from the White House.

Mr. Cohen, who has long said that Mr. Trump directed him to pay Ms. Daniels to keep her quiet, is expected to testify in front of the grand jury, but has not yet done so.
Further from the Guardian, also late this afternoon:
Last Saturday, speaking at the Conservative Political Action Conference in Oxon Hill, Maryland, Trump hurled insults and railed against Bragg as a "racist DA" being pushed by "radical left Democrats, the fake news media, and the department of injustice to bring charges against me for now ancient, no affair story of Stormy Horseface Daniels".

He continued: "No attraction, no affair, I call it no affair, where there's no crime anyway. And charges have never been brought in such a case before, and this case has been looked by every prosecutor – they're all looking, they've looked at it for years now … and all they do is they cause anger and problems for our country, because our people aren't going to take this stuff."

Trump's other legal problems continue to mount. The former president also faces justice department special counsel investigations over classified documents seized from his Mar-a-Lago estate in Florida last summer, and his efforts to undo the results of the 2020 presidential election.

In Georgia, the Fulton county district attorney is investigating whether Trump interfered in the 2020 election in the state. The New York attorney general, Letitia James, is suing Trump and the Trump Organization, saying it misled banks and tax authorities about the value of assets like golf courses and skyscrapers to get loans and tax benefits.
Indicments or not, getting the T-Rump into a jail cell where he belongs might be another shitty-hard matter.
And from MSNBC:
Orange jumpsuit, or just continuing as an orange-faced turd, yet once again here we are…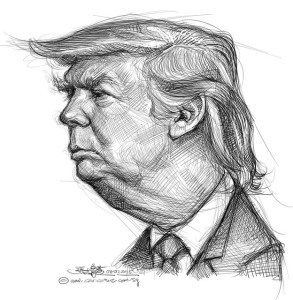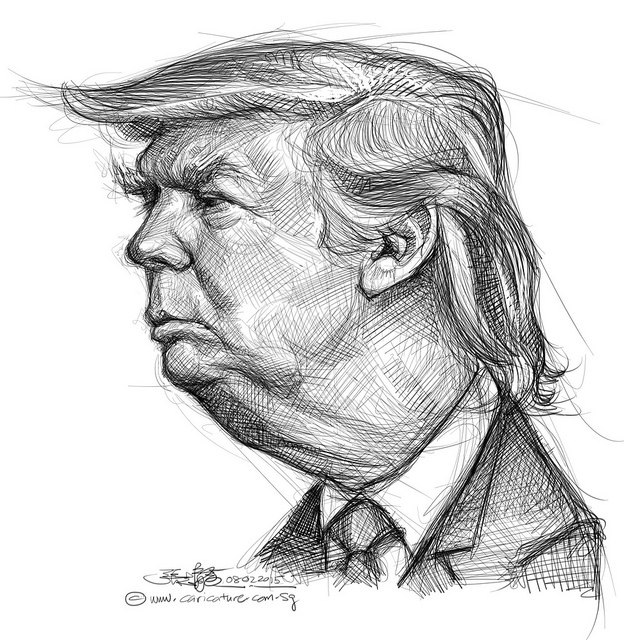 Image out front is my favorite of the T-Rump mugs, though, 'favorite' does not mean in any form or fashion, as in, 'my favorite movie,' or 'my favorite song.' It's more of an anti-appreciation/like.
And aptly titled, 'Basic Shapes,' by caricaturist/illustrator Chong Jit Leong (and found here), it's an image that displays the elemental form of a purloined sociopath — a bloated profile of flatulent bile and arrogant ignorance.