Rain and more rain this mid-day Friday here in California's Central Valley as we feel wet from a 'pineapple express,' which blew in from the south Pacific last night — although our rainfall is steady and not so heavy, the apparent blunt of the storm is featured south of us with flooding and more flooding.
Seemingly, playing on a loop:
The atmospheric river has arrived in the West.

The system brings dangerous, flooding rain and heavy snow. pic.twitter.com/pLfHozHzRc

— CIRA (@CIRA_CSU) March 10, 2023
Background via NPR a short time ago:
After a series of unrelenting winter storms, California is forecast to see another slate of grueling weather, including heavy rain and snow through the weekend.

The severe downpour will be a result of back-to-back atmospheric rivers, the first of which arrived on Thursday. The second is expected to make landfall on Monday afternoon, according to Brian Ochs, a meteorologist for the National Weather Service based in Hanford, Calif.

The coming storm is expected to be warmer, creating a dangerous combination of excessive rain and snowmelt in some areas that could pose serious risk of flooding.

"Lately we've had snow levels as low as 1500 feet, but since we have warmer air, we're seeing snow in elevation as high as 7,000 feet and above," Ochs told NPR.

Earlier this week, California Gov. Gavin Newsom proclaimed a state of emergency in 21 counties. Newsom also has requested federal assistance in anticipation of the state's need to respond to the extreme storms.

Also known as "rivers in the sky," these meteorological phenomena develop when a relatively long, narrow channel of wind transports water vapor from the tropics. The current atmospheric river pummeling California is called a "Pineapple Express," because the moisture arrived from the tropics near Hawaii.
Although this shit has come before, this time it's rare — further via the LA Times, also this morning:
By Friday morning, the "Pineapple Express" storm — which is gathering warm, subtropical moisture from Hawaii — had made landfall in several communities as it carved a path from the Central Coast toward the southern Sierra.

"This is an unrivaled, unparalleled weather event not experienced in several decades," Kris Mattarochia, science and operations officer with the National Weather Service in Hanford, said during a briefing in Fresno. "There will be high water and areas that are usually not impacted. So everyone needs to be ready. … Combined with snow melt, the Kings River, along with smaller streams like Mill Creek, will be pushed to limits which are unimaginable."
Dramatic, though, not unusual today — about three hours south of where I'm located, east of Bakersfield:
Impacts of the latest atmospheric river in Kernville, CA pic.twitter.com/G1XB1mGvUA

— Brittney Beck (@brittney_beck) March 10, 2023
In the advance of climate change, California is a prime flooding center, especially in the Valley where I am huddled at my laptop  — from Yale Climate Connections in January:
The Golden State has a long history of cataclysmic floods, which have occurred about every 200 to 400 years — most recently in the Great Flood of 1861-62. And a future warmer climate will likely significantly increase the risk of even more extreme floods. In particular, a 2022 study found that, relative to a century ago, climate change has already doubled the risk of a present-day megastorm, and more than tripled the risk of a trillion-dollar megaflood of the type that could swamp the Central Valley.

Given the increased risk, it is more likely than not that many of you reading this will see a California megaflood costing tens of billions in your lifetime.

[…]

One of the best-understood impacts of global warming on weather is that it increases the odds of heavy precipitation events. A warmer atmosphere can hold more water vapor, which leads to an increase in the heaviest downpours — including those in California's atmospheric rivers: "The frequency and severity of landfalling 'atmospheric rivers' on the U.S. West Coast … will increase as a result of increasing evaporation and resulting higher atmospheric water vapor that occurs with increasing temperature," according to a medium-confidence conclusion of the 2017 Fourth National Climate Assessment, a sweeping government report that outlines how climate change is affecting the U.S.

Wetter atmospheric rivers are already being observed. A 2022 case study found that human-caused climate change increased the amount of rainfall from two February 2017 atmospheric rivers by about 11% and 15%, respectively. As discussed in Part Two of this series, the Oroville Dam spillway nearly suffered a catastrophic failure because of these heavy rains, prompting the evacuation of over 180,000 people.

If the same events were to take place in an even warmer world with 541 parts per million of carbon dioxide in the atmosphere — projected to occur in the second half of the 21st century — the researchers found rainfall quantities in the two atmospheric rivers would have been another 9% and 26% higher, respectively.
We learn and adapt — California has a most-ambitious plan for climate change:
Daniel Sperling on the new environmental plan via The Conversation, also from January — nutshell:
The new Scoping Plan lays out in considerable detail how California intends to reduce greenhouse gas emissions 48% below 1990 levels by 2030 and then achieve carbon neutrality by 2045.

It calls for a 94% reduction in petroleum use between 2022 and 2045 and an 86% reduction in total fossil fuel use. Overall, it would cut greenhouse gas emissions by 85% by 2045 relative to 1990 levels. The remaining 15% reduction would come from capturing carbon from the air and fossil fuel plants, and sequestering it below ground or in forests, vegetation and soils.

To achieve these goals, the plan calls for a 37-fold increase in on-road zero-emission vehicles, a sixfold increase in electrical appliances in residences, a fourfold increase in installed wind and solar generation capacity, and doubling total electricity generation to run it all. It also calls for ramping up hydrogen power and altering agriculture and forest management to reduce wildfires, sequester carbon dioxide and reduce fertilizer demand.

This is a massive undertaking, and it implies a massive transformation of many industries and activities.
Go read the whole piece, goes into the nuts-and-bolts of what really the whole world needs to do, and quickly, too.
Rain, rain forever, so, here we are once again…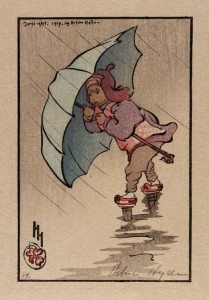 (Illustration out front: 'The Blue Umbrella," (1914), color woodcut on paper, by Helen Hyde, and found here.)