Darkly gray overcast, freaky-still, and gloomy this late-afternoon Sunday here in California's Central Valley as bad weather has become more than just white-out snow drifts and rain rivers as the environment has conjured up even twisters into the meteorological mix.
Our skies preview the next "pineapple express" heading our way early this week with another deluge of warm, heavy rainfall expected to inundate our lives with flooding, and at minimum, a horrid, nasty, wet outdoors. Although this next wave of ARs ('atmospheric rivers') expected was supposed to be less in force than the previous ones, weather people are now saying it might e shitty, too. And I can hear thunder as I type this shit — California indeed seems to have it all.
Add to the weather ingredients are tornadoes — yesterday a twister was reported a half-mile wide touching down near Sonora, a small foothills town about an hour northeast of where I'm located. Apparently, there was enough spark in the air here, too, that we were under a tornado watch for a while this afternoon.
It's been lifted since:
A #tornado warning has been issued for #Merced County east of Los Banos and parts of Madera County after confirmed funnel clouds by spotters. Seek shelter immediately in an inner room without windows! #CAWx pic.twitter.com/qltqcwdwbA

— NWS Hanford (@NWSHanford) March 12, 2023
And to make it fun — this storm coming tomorrow won't be easy:
New Weather West post on upcoming Mon-Tue storm. Thoughts on why this "moderate to strong" AR may "outperform" in terms of flood/wind impacts (relative to what strict interpretation of weather models would suggest). #CAwx #CAwater https://t.co/SjogvYOZoQ

— Daniel Swain (@Weather_West) March 12, 2023
Details from Daniel Swain's Weather West blog this morning:
There is an unusual amount of uncertainty for such a short-range forecast regarding exactly how the Mon-Tue atmospheric river will look at the point of landfall, and this has some pretty consequential implications for flood and wind damage-related impacts. Here's a quick overview:

A moderate to strong atmospheric river, once again with deep subtropical origins (i.e., the "Pineapple Express") will make landfall in northern and/or central California–bringing a period of widespread moderate to heavy rainfall to a wider swath of the state than the Friday event (i.e., some moderate to locally heavy rainfall will extend into most of SoCal as well). Unlike the previous event, this AR will be associated with a rapidly deepening surface low rather close to the NorCal coast. This will raise the potential for widespread and possibly damaging winds well beyond what was observed in the previous storm. It will also potentially amplify the AR on final approach, depending on precisely how much the surface low deepens.

[…]

Either way, this storm appears to have better dynamics (thanks to overhead jet streak and proximity of deepening nearby surface low). While I do not expect precipitation totals from this storm to be exceptional, peak hourly rainfall *rates* may well be higher with this storm (including the possibility of embedded thunderstorms in a subtropical airmass). Additionally, soils are now supersaturated everywhere across the northern 2/3 of CA (at least) and rivers are running high/actively flooding. So the higher rain rates, plus exceptionally wet antecedent conditions, pose a threat of more widespread and serious urban, stream, and flash flooding on small rivers than the Friday storm in most places. Additionally, I expect a larger number of northern and central CA rivers to flood on Tue or Wed as a result of the heavy precipitation (along with a small amount of additional snowmelt) from this storm. I *still* don't expect widespread major river flooding with this event, though we are getting to the point that there may be some isolated major river flooding along the Central Coast and in the San Joaquin Valley (especially places that are already having problems).

[…]

I don't have much time to discuss the long range except to say that it will probably still be active to some extent, but there are decent ensemble signals suggesting attenuation of the high amplitude flow pattern and a slowing/weakening of the California snow parade. Following the Mon-Tue storm, I don't see any obvious candidates to produce major flood/wind impacts for the foreseeable future despite ongoing episodes of light to moderate precipitation at times–so storm and flood recovery prospects improve quite a bit after Wednesday. Stay safe out there!
And for even more detail go read the entire post. Swain is the go-to guy for weather in California (and climate change situations, too).
A good primer for 'pineapple express' from three years ago — which goes to show nothing's changed except the freaking intensity and redundancy:
And to play us out of this storm, a couple of classic songs — first in sad, sorrowful rain:
And then a cry to just pause the downpour:
Umbrella loose in a twister or not, yet here we are once again…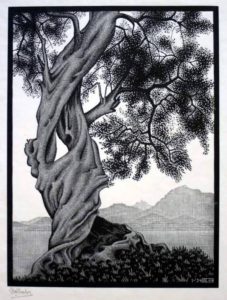 (Illustration out front: MC Escher's 'Old Olive Tree, Corsica' (1934). and found here)