Overcast and warm this late-afternoon Monday here in California's Central Valley as we wait for the next 'atmospheric river' due tonight or Tuesday sometime. Although forecast to not be a massive gully-washer, there will still be flooding and rainfall galore. My area is predicted to catch three-quarters-to-an-inch of wet stuff.
Weathering the weather is the cry.
As we also await the possible indictment/arrest of the T-Rump tonight, tomorrow, or hopefully sometime this week — the InterWebs are aflame with the possibility the asshole could be 'cuffed and forced to perform a perp walk (only if) — there was issued a terrible UN climate report this morning which once again blared a red-light warning on our quickly-warming planet.
Hoesung Lee, the chair of the UN climate panel (NYT): '"The pace and scale of what has been done so far and current plans are insufficient to tackle climate change … We are walking when we should be sprinting."'
Actually, the future is today, and we're more into a stroll than a walk:
"New #IPCC Report Shows the 'Climate Time Bomb Is Ticking,' Says UN Secretary General António Guterres" by Bob Berwyn (@BBerwyn) for @InsideClimate News: https://t.co/A0GGT7XczX

— Prof Michael E. Mann (@MichaelEMann) March 20, 2023
Prof. Mann is a most-noted climatologist and geophysicist, currently director of the Center for Science, Sustainability and the Media at the University of Pennsylvania.
Details behind the UN report via Inside Climate News:
National governments haven't done nearly enough to stop global warming in the seven years since they signed the Paris Climate Agreement, the Intergovernmental Panel on Climate Change concluded in a major report released on Monday.

As a result, the world is running out of options to defuse the "ticking climate time bomb," United Nations Secretary General António Guterres said, describing the report as an urgent call for leaders to decarbonize developed countries by 2040, and developing countries by 2050.

The new report shows that "the 1.5-degree limit is achievable … But it will take a quantum leap in climate action," he said. "In short, our world needs climate action on all fronts—everything, everywhere, all at once."

The IPCC's affirmation of the 1.5 degree Celsius target is important in the context of recent studies and news reports suggesting that it's already too late. But every additional increment of warming will amplify impacts that already threaten the lives and livelihoods of millions worldwide, the report concludes.

It cites evidence that global warming drives extreme and deadly climate disasters like "heatwaves, heavy precipitation, droughts, and tropical cyclones," the international science panel wrote.

The 6th Assessment Report (AR6) punctuates a periodic cycle of climate science reviews by the IPCC, which was tasked by national governments in 1988 to deliver regular science updates to guide ongoing global climate talks under the United Nations Framework Convention on Climate Change (UNFCCC).

The report released today was delayed by the Covid-19 pandemic and marks the first full update since 2014, when the 5th Assessment Report (AR5) was published in time to provide a scientific framework for the Paris Agreement, under which 196 countries agreed to cut emissions in an effort to avert global climate mayhem.

[…]

The key message remains the same, but the urgency is greater because greenhouse gas emissions have continued to increase since the last round of reports, all but ensuring that the average global temperature will exceed the 1.5 degrees Celsius limit at least temporarily in the next few years.

The report shows that preventing Earth's fever from staying above that level and from climbing even higher requires drastic cuts in emissions from fossil fuels, Greenpeace climate expert Kaisa Kosonen said after her early review of the new report.

"The fossil fuel reduction numbers have been hidden in many brackets and assumptions," she said. "But what you can conclude is that, in pathways that limit warming to 1.5 degree C … the global use of coal is projected to decline by up to 100 percent, oil by up to 90 percent, and gas by up to 85 percent by 2050."
And what to do? Reality vs civic bullshit:
The problems start when science meets politics, said Walther Baethgen, a senior research scientist also with the Columbia Climate School's International Research Institute for Climate and Society.

The IPCC assessments "produce the best science possible, but the question is what do people do with that information," Baethgen said. But even the summary documents are so complex that government policy experts have to translate the information "into something that is actionable that can inform policy."

"But to be honest, today, I don't feel very optimistic," he said. "You have a Biden administration that seems to be very conscious about working against climate change, but then, again, you have a war, and the United States is making billions of dollars exporting energy to Europe."

Meanwhile, climate impacts are multiplying, he added, describing the trail of destruction in parts of eastern Africa in just the last few weeks caused by the unusually persistent and powerful Tropical Typhoon Freddy. The new report "shows that human induced climate change is increasing the frequency and the intensity of these extreme events, which are really affecting people and society's production systems," he said.

Furlow also said he doesn't see it as an abstract problem.

"As we keep blowing through these goals, I think the real question is, do you want more and more summers like last summer, where things are on fire or washing away?" he said.
He's not alone:
Scientists have delivered a "final warning" on the climate crisis in today's IPCC report.

Governments must stop expanding fossil fuels while telling us they can ensure public safety. Today's report showed, in no uncertain terms, they cannot. pic.twitter.com/esgyKWuFWB

— Tzeporah Berman (@Tzeporah) March 20, 2023
Berman is a Canadian environmental activist,
Meanwhile, Prof. Mann echoes the sentiment on the report's science, but adds a 'however,' to the mix (the ICN link):
Climate scientist Michael Mann, director of the Center for Science, Sustainability and the Media and the University of Pennsylvania, said many IPCC projections have, in fact, been "accurate and even prescient," especially concerning overall average planetary warming.

"However," he said, "when it comes to certain important consequences of the warming, including ice sheet collapse, sea level rise, and the rise in extreme weather events, the reports in my view have been overly conservative, in substantial part because of processes that are imperfectly represented in the models."

But even if some of the individual predictions are off, the report captures the dire state of the planet's climate, concluding that "rapid and far-reaching transitions are necessary to achieve deep and sustained emissions reductions and secure a livable and sustainable future for all."
UN chief António Guterres tried to soften the warnings with mankind/humanity-like hope, but cast out some scary shit:
"This report is a clarion call to massively fast-track climate efforts by every country and every sector and on every timeframe … humanity is on thin ice—and that ice is melting fast .. Today's IPCC report is a how-to guide to defuse the climate time bomb … It is a survival guide for humanity. As it shows, the 1.5-degree limit is achievable. But it will take a quantum leap in climate action … By the end of COP28, I count on all G20 leaders to have committed to ambitious new economy-wide nationally determined contributions encompassing all greenhouse gases and indicating their absolute emissions cuts targets for 2035 and 2040.

"Partial pledges won't cut it. We have never been better equipped to solve the climate challenge—but we must move into warp-speed climate action now. We don't have a moment to lose."
Heavy words from The Washington Post story on the UN report:
Beyond that threshold, scientists have found, climate disasters will become so extreme that people will not be able to adapt. Basic components of the Earth system will be fundamentally, irrevocably altered. Heat waves, famines and infectious diseases could claim millions of additional lives by century's end.

Human activities have already transformed the planet at a pace and scale unmatched in recorded history, the IPCC said, causing irreversible damage to communities and ecosystems. Yet global emissions continue to rise, and current carbon-cutting efforts are wildly insufficient to ward off climate catastrophe.
Sarah Kaplan, the Post reporter on the UN climate-report story, is interviewed about it:
Or we'll be Jenny  confronted by a slow-coming (but not!) all-destructive E.L.E 'round the bend:
Despite another dramatic, dastardly-dire warning, once again here we are…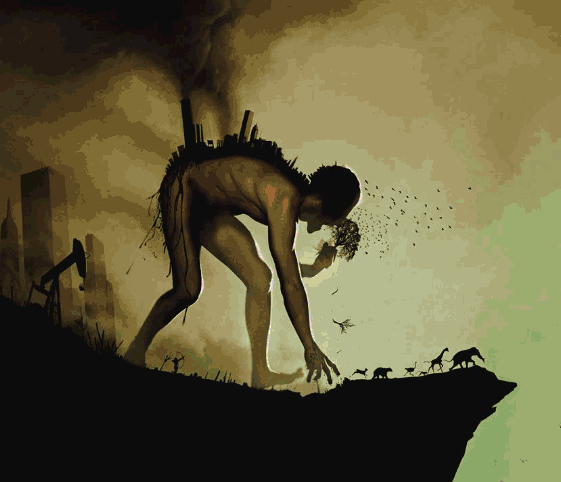 (Illustration out front found here.)