Overcast with occasional rain showers this near-noon Tuesday here in California's Central Valley with all the moisture buffered by some heavy winds blowing through the trees, making more frightful noises beyond the weather-minded environment. This season has been the shits.
Currently, we're feeling the thrust of the 12th 'atmospheric river' to have stormed the state since December, and apparently, this shit won't ever end.
Our immediate now and future:
? Bands of heavy rain continue to push through the Southern San Joaquin Valley this morning. Continue to watch for ponding of water on roads, and leave extra time for travel if you will be out and about today. #CAwx pic.twitter.com/lqXPS6urOh

— NWS Hanford (@NWSHanford) March 21, 2023
Background on this shit via CNN this morning:
But the storms kept coming. California is now facing its 12th significant atmospheric river since the parade of strong storms began in late December.

"This is an unusually high number of storms this winter in California," said Daniel Swain, climate scientist at the University of California at Los Angeles. "No matter how you slice it, no matter how you make these formal definitions, this is unusually many."

Determining how to count atmospheric rivers is an ongoing conversation in the scientific community.

While Swain said California has seen 12 significant atmospheric rivers so far this season, Chad Hecht, a meteorologist with the Center for Western Weather and Water Extremes (CW3E) at Scripps Institution of Oceanography, said the center has tallied of 29 so far, including some weaker systems and systems that only clipped California. Six of the storms fell into the category of what Hecht described as severe or extreme.

"These numbers are likely higher than a lot of the numbers you are seeing from news outlets because their criteria for an atmospheric river is likely stricter and considers the impacts that they bring," Hecht said. "There are [also] instances when an atmospheric river is primarily targeting the Pacific Northwest, but clips the far northwestern portions of California, say Del Norte County, with weak conditions."

Weak and low-end moderate storms tend to be less impactful and primarily bring beneficial precipitation to the state, he said. Meanwhile, the high-end atmospheric rivers are the big rain and snow producers, which lead to more severe impacts.

Hecht said this year has already outpaced the state's average annual number of atmospheric rivers. Many of them came in a rapid series of storms in early January.

"We typically refer to these successive types of atmospheric rivers as 'AR families,'" Hecht told CNN. "While AR families are not all that uncommon, we don't see them every year and the stretch of nine we had around the turn of the New Year was a more active family than we typically see."

While the barrage of rain and snow has alleviated the drought, the storms have also been destructive and deadly.

An atmospheric river is like a conveyor belt of moisture that originates over the tropical water of the Pacific Ocean. They can carry more than 20 times the amount of water the Mississippi River does, but as vapor. As these storms pummeled the state in quick succession, the soil became over-saturated and vulnerable to flooding and mudslides.
Daniel Swain is my go-to guy for California weather shit — here he tracks an oddball event in the Bay Area:
Why is it not a hurricane? Tropical cyclones (called hurricanes, typhoons, and just "cyclones" in different parts of the world) derive their energy from warm, tropical oceans. "Extratropical" cyclones, like this one, form due to sharp air temperature differentials. #CAwx

— Daniel Swain (@Weather_West) March 21, 2023
Further:
Tropical hurricanes have a higher "intensity ceiling" than extratropical cyclones. But there can be some overlap in intensity & impacts at lower end of scale. (They are both spinning wind and rain storms, after all). Still, they have completely different mechanics of formation.

— Daniel Swain (@Weather_West) March 21, 2023
Background on this per CBS BayArea, also this morning:
A spinning low pressure parked just off the California coast Tuesday morning, threatened the Bay Area with 60 mph wind gusts and storm cells containing intense downpours and possibly thundershowers.

The system was developing a hurricane-like eyewall as it spun offshore.

[…]

"It appears two bands of especially strong winds, extending out like the arms of a pinwheel, will rapidly move through from off the Big Sur coast," the weather service said. "The first Tuesday morning and the second Tuesday afternoon. Highest wind speeds in both cases look to be focused over the southern half of our district, with highest gusts in windiest locations potentially reaching up into the 65-75 mph range."

Forecasters warned Bay Area residents of the dangers the winds with the saturated soils and weakened trees present.

"People should avoid being outside in forested areas and around trees and branches," forecasters said. "If possible, remain in the lower levels of your home during the windstorm, and avoid windows."

Forecasters also warned that with the projected accompanying strong lower tropospheric vertical wind shear, you "can't rule out the possibility of a waterspout, or local spinup over land, and will need to carefully monitor the radar. Small hail could also occur."
Down south is catching it too — LA County area is under a flood watch right now:
Close out this wet-shit post with some acoustic-vibed The Rain Song:
Umbrella in high wind, or not, yet here we are once again…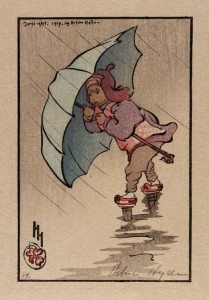 (Illustration out front: 'The Blue Umbrella," (1914), color woodcut on paper, by Helen Hyde, and found here.)