Apparently, as we head into the evening, Trump was not arrested today or booked or indicted or much of anything, except for the case of not many of his MAGA-hatter mad-hatters paraded; some did in Flordia, but in New York City where the legal action is supposed to take place was fairly quiet.
This offering that the T-Rump can be indicted/charged, endure a trial, found guilty, then handcuffed, and put into a jail cell is a long shot — one of those believe it or not, only until actually witnessed kind of things. Although the Stormy Daniels hush money case is the least heavy, there seems a viable shot at hitting the orange turd's criminal ass.
Despite no arrest, there were other legal movements today to be celebrated:
BREAKING: Special Counsel Jack Smith has seen enough evidence to conclude that Donald Trump committed even more crimes by intentionally misleading his lawyers in the Mar-a-Lago documents investigation, according to new reporting. This is huge. Trump is about to go down fast.

— Victor Shi (@Victorshi2020) March 21, 2023
Background/details via ABC News earlier this afternoon:
Prosecutors in the special counsel's office have presented compelling preliminary evidence that former President Donald Trump knowingly and deliberately misled his own attorneys about his retention of classified materials after leaving office, a former top federal judge wrote Friday in a sealed filing, according to sources who described its contents to ABC News.

U.S. Judge Beryl Howell, who on Friday stepped down as the D.C. district court's chief judge, wrote last week that prosecutors in special counsel Jack Smith's office had made a "prima facie showing that the former president had committed criminal violations," according to the sources, and that attorney-client privileges invoked by two of his lawyers could therefore be pierced.

[…]

In her sealed filing, Howell ordered that Evan Corcoran, an attorney for Trump, should comply with a grand jury subpoena for testimony on six separate lines of inquiry over which he had previously asserted attorney-client privilege.

Sources added that Howell also ordered Corcoran to hand over a number of records tied to what Howell described as Trump's alleged "criminal scheme," echoing prosecutors. Those records include handwritten notes, invoices, and transcriptions of personal audio recordings.

In reaching the so-called prima facie standard to pierce Corcoran's privilege, Howell agreed prosecutors made a sufficient showing that on its face would appear to show Trump committed crimes. The judge made it clear that prosecutors would still need to meet a higher standard of evidence in order to seek charges against Trump, and more still to prove his guilt beyond a reasonable doubt.

"It is a lower hurdle, but it is an indication that the government had presented some evidence and allegation that they had evidence that met the elements of a crime," Brandon Van Grack, a former top national security official in the Justice Department who is now in private practice, told ABC News.

Howell found that prosecutors showed "sufficient" evidence that Trump "intentionally concealed" the existence of additional classified documents from Corcoran, sources said, putting Corcoran in an unwitting position to deceive the government.

It's unclear what evidence Howell may have reviewed under seal from both DOJ and Trump's attorneys to help her arrive at her decision.
She saw the crime: 'In her order last Friday, Howell was unsparing in her criticism of Trump's actions since early last year in response to the government's attempts to retrieve all classified documents taken from the White House. At one point she described Trump's interactions with officials from the National Archives as a "dress rehearsal," sources said, for his later efforts at misdirection in response to the grand jury subpoena.'
Absolutely, of course, the T-Rump's people slapped back, sounding fretfully similar to a lot of other half-baked, all-CAPs, low-intelligence bullshit cranked out lately by the ton:
In response to ABC News, a Trump campaign spokesperson said, in part, "Shame on Fake News ABC for broadcasting ILLEGALLY LEAKED false allegations from a Never Trump, now former chief judge, against the Trump legal team."

"The real story here, that Fake News ABC SHOULD be reporting on, is that prosecutors only attack lawyers when they have no case whatsoever," the spokesperson said.
And also today a most delightfully potent legal/judicial ruling in a case being brought by New York AG Letitia James against the whole T-Rump clan for fraud — via BusinessInsider this morning:
State Supreme Court Justice Arthur Engoron told a courtroom full of attorneys that he will hold firm to his original October 2 trial date for James' lawsuit, which, if successful, would result in her pulling the company's corporate charter, a move that would bar the former president's Manhattan-based real-estate and golf-resort company from doing business in New York.

"This case is not that complicated. It's complex, but it's not complicated," the judge said of the lawsuit, which also seeks a $250 million penalty.

The suit alleges that Trump repeatedly deceived banks, insurers, and tax authorities by lying about the value of his assets in annual statements of worth called "Statements of Financial Condition."

"Essentially, it all boils down to whether the Statements of Financial Condition are true or false," Engoron told the parties in sticking to his trial date.

"The rest, as Hillel has said, is all commentary," the judge added, referring to a Talmudic story.

Engoron also repeated on Tuesday the phrase that he uttered after first setting the firm date, when he warned attorneys for Trump and the lawsuit's 15 co-defendants — including his three eldest children, some of its top executives, and multiple separate corporate entities — that the case will go on trial on October 2 "come hell or high water."
Flooding has become a natural state around here. Yet there's hope in the rain.
The wheels of justice, as they say, grind slowly — but at least now they're showing some grinding.
Last week, an MSNBC panel reflected on the T-Rump ending up in a jail cell:
Despite the long-time obvious guilty-as-shit routine, once again here we are…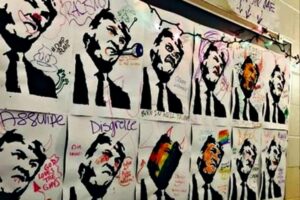 (Illustration out front is of a New York state high-school student exhibit: 'The piece was displayed during student-driven art show at Shenendehowa High School. It consisted of at least 12 identical black-and-white pictures of Donald Trump. There was also a sign above the pictures that read, "Draw on Me." Using markers from the art classroom, some students opted to scribble critical messages and profanities on the pictures' — and found here.)