Overcast and windy with way-little or no rain this late-afternoon Wednesday here in California's Central Valley — rain not forecast until at least next Monday, which will be a relief from all the wet and wind we've experienced seemingly forever.
Weather continues to plague our state, although it's toasted by irony — we need the water due to a massive drought the last three/four years, yet it's causing some weird-ass hijinks to our usually sedate environmental system. And on the subject of wind, just today a rare event of a tornado in Montebello, down in LA County.
As a person growing up in Alabama — tornado country — this sight is scary as shit:
This is a pretty significant tornado by CA standards since it hit a populated area, clearly caused damage, and may have caused injuries. (It's very hard to assess tornado strength from footage like this, but at the very least it appears stronger than a marginal/EF-0 event). #CAwx https://t.co/Minrv5t54Q

— Daniel Swain (@Weather_West) March 22, 2023
A year of strange — from the LA Times this afternoon:
"I've seen the videos so it's definitely possible that a weak tornado hit down there," said Kristen Stewart, a meteorologist with the National Weather Service.

The weather service is sending a survey team to Montebello to examine the scene and determine whether a tornado touched down, Stewart said. The agency is also investigating a similar weather event that caused damage in Carpinteria.

The weather event may also be determined to be a landspout, which is simply a weaker tornado formed by slightly different conditions than the powerful twisters seen in the Midwest, Stewart explained.

"We don't have that type of environment that they have in the Plains," Stewart said.

The possible tornado hit as Southern California was bracing for more rainfall after a wet and stormy day Tuesday set daily rainfall records in the area, including 1.53 inches at Long Beach Airport, which surpassed the previous record of 0.82 inches set in 1983.

Downtown Los Angeles received 1.43 inches, breaking its 130-year record of 1.34 inches set in 1893.

The region largely fared better than the San Francisco Bay Area, where at least five people were killed, although roadway flooding, debris flows and strong winds were reported.
Although the NWS forecast for my area calls for rain at the beginning of next week, there's a daily  'partly sunny' on the schedule, too. I'm getting way tired of all the rain, and however the drought, we need a break, at least I do — I need my walks with Leroy to continue.
Meanwhile, bask east in New York, legal shit continues to infect the T-Rump — Manhattan DA Alvin Bragg gave the grand jury probing the T-Rump hush-money/Stormy Daniels case the day off today, but has called them back for tomorrow. There's talk of possible indictment early next week.
Also today: 'A federal appeals court ruled on Wednesday that a lawyer representing former President Donald J. Trump in an inquiry into his handling of classified materials had to return to a grand jury investigating the case to answer its questions and give prosecutors what are likely to be dozens of documents related to his legal work for Mr. Trump.'
In the realm of hard-to-believe, there are 23 pending legal cases currently pending against the T-Rump, from up and down the east coast — from New York to Georgia to Florida — read about them all with a good explanation of each at Just Security from February (updated continuously).
And one wonders if T-Rump's nasty mouth can reach back and bit him on his fat ass:
"She'll be under investigation for years. She'll be with trials. Our country, we have to get back to work," Trump said of Hillary Clinton on Nov. 4, 2016.
 
He added the next day, "If she were to win, it would create an unprecedented constitutional crisis."

— Kyle Griffin (@kylegriffin1) March 22, 2023
Anticipation is near overwhelming, but we'll just have to wait and see what happens. Fingers crossed for indictment. arrest,  found guilty in court, and then spend some time in a nasty jail cell. Yeah, right!
And it never rains in California dreaming time:
Tornado to T-Rump, yet here we are once again…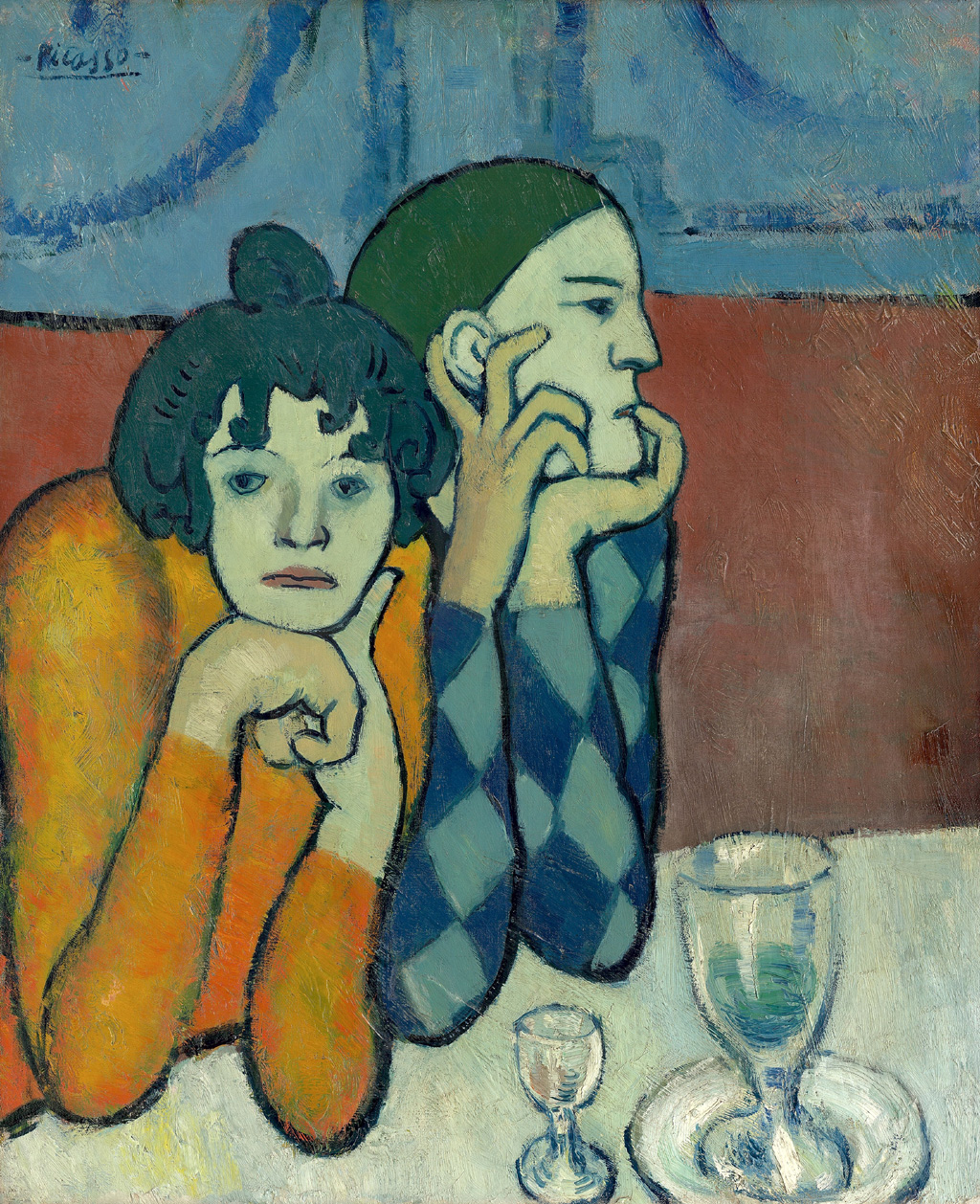 (Illustration out front: Pablo Picasso's 'Les Deux Saltimbanques: l'Arlequin et Sa Compagne,' found here.)