Sunshine amidst billowing, white clouds this late-afternoon Thursday here in California's Central Valley — reportedly some nice weather (i.e., sunshine and warmth) for the coming weekend and beyond.
As they say, about time.
Doomscrolling the news (you don't have to seek bad, ugly news, it's everything, everywhere, all at once), I came across a couple of items epitomizing our current era, mini-era, or just the all-around nowadays —- the T-Rump and his childish-bully incitement to violence.
First, however, a silly, wonderous look under the skin of most likely the biggest piece-of-shit in America in the above-mentioned nowadays (h/t Daily Kos):
Funny! And way-too-scary real. The business of lying is that after a while a liar has trouble with the ability to continue with a straight face for the moment or the subject matter — the truth is never part of the plan.
And the loser, scaredy-cat incitement to install the prone to violence:
Jack, ad batulum was right there. ? pic.twitter.com/Z2l7O6GVsZ

— Jennifer Mercieca (@jenmercieca) March 23, 2023
Aaron Blaker at The Washington Post this afternoon:
Donald Trump's history of suggestive allusions to endorsing violence by his supporters is well chronicled. But rarely have his comments been this unvarnished at such a fraught time.

With his potential indictment looming in Manhattan, the former president on Thursday criticized those who have called for his supporters to remain peaceful.

"EVERYBODY KNOWS I'M 100% INNOCENT, INCLUDING BRAGG," Trump said on Truth Social, referring to Manhattan District Attorney Alvin Bragg. "BUT HE DOESN'T CARE. HE IS JUST CARRYING OUT THE PLANS OF THE RADICAL LEFT LUNATICS. OUR COUNTRY IS BEING DESTROYED, AS THEY TELL US TO BE PEACEFUL!"

While not explicitly urging his supporters to get violent, the seeming message here is that a peaceful response might be insufficient. To label it a dog whistle would be an understatement. Trump is standing next to a tinderbox and casually lighting a match.
Calling out into the open, making obvious the cruel kickback:
Law and order guy, right? https://t.co/6VCf5bIouV

— David Corn (@DavidCornDC) March 23, 2023
And the use of such foul shit can come back to kick your orange-coated ass — via CNBC, also this afternoon:
Citing former President Donald Trump's history of verbally attacking people in the legal system, a federal judge ruled Thursday that a jury will be anonymous at his upcoming civil trial for allegedly defaming a writer after she accused him of raping her.

"Mr. Trump repeatedly has attacked courts, judges, various law enforcement officials and other public officials, and even individual jurors in other matters," Manhattan U.S. District Judge Lewis Kaplan wrote in his order.

Kaplan noted that Trump's recent calls for public protests over his belief that he will soon be indicted in an unrelated criminal probe in New York "has been perceived by some as an incitement to violence." Trump in that probe is being eyed for a hush money payment to porn star Stormy Daniels in 2016.

"If jurors' identities were disclosed, there would be a strong likelihood of unwanted media attention to the jurors, influence attempts, and/or of harassment or worse of jurors by supporters of Mr. Trump," Kaplan wrote.

[…]

Writer E. Jean Carroll accuses Trump of slandering her after she wrote a 2019 magazine article that said he raped her in a dressing room of the Bergdorf Goodman's department store after a chance encounter there in the mid-1990s.

Her lawsuit also makes a claim of battery for the purported assault under a new New York law that temporarily lifts the statute of limitations for old rape and molestation claims.

[…]

Kaplan also wrote that some of the 1,000 people arrested for the Jan. 6, 2021, Capitol riot "have argued that their actions were attributable to" what was perceived "as incitement by Mr. Trump."

The ruling noted that the upcoming trial in Carroll's suit is likely to get even more media attention than the the case already has received and that Kaplan was obliged to consider "the likely effect on jurors."

"And [the judge] cannot properly ignore the significant risk that jurors selected to serve in this case will be affected by concern that they could be targeted for unwanted media attention, outside pressure, and retaliation and harassment from persons unhappy with any verdict that might be returned," Kaplan wrote.
The next week or so is going to get hairy, or maybe not. T-Rump's MAGA crowd are sissies, and chickenshits, remember. They don't like to get smash mouthed, or arrested and sentenced to prison for being violent or attempting an insurrection.
And then in order to play us out, an actual Smash Mouth:
In jail or not, once again here we are…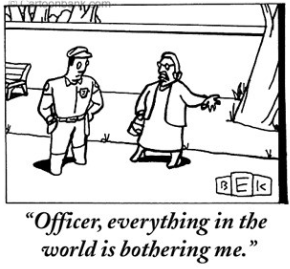 (Illustration out front: New Yorker cartoon by Bruce Eric Kaplan, found here.)