Clear-blue skies and a shitload of sunshine this midday Friday here in California's Central Valley — a bit of a cold wind, though, but still way-enjoyable more than an avalanche of atmospheric rivers that's poured onto the state the last couple of months.
A dozen ARs since December to make a fine weather point with fact.
Meanwhile, and playing off my post from last evening, the T-Rump again reveals his pure shitness, and scared, baby thuggishness:
Taking "we don't read his tweets" to new levels of shamelessness https://t.co/cbHoSEaJtm

— Aaron Rupar (@atrupar) March 24, 2023
Background/details via The Wrap this morning:
After previously calling on his supporters to protest and "take our country back" ahead of his possible indictment and arrest, Donald Trump stepped up his incendiary rhetoric on Friday, warning that there will be "potential death & destruction" if he is charged with a crime.

"What kind of person can charge another person, in this case a former President of the United States, who got more votes than any sitting President in history, and leading candidate (by far!) for the Republican Party nomination, with a Crime, when it is known by all that NO Crime has been committed, & also known that potential death & destruction in such a false charge could be catastrophic for our Country?," Trump posted on Truth Social. "Why & who would do such a thing? Only a degenerate psychopath that truely hates the USA!"

The latest rant comes after the former president previously called out Manhattan district attorney Alvin Bragg in a Thursday morning post, writing: "EVERYBODY KNOWS I'M 100% INNOCENT, INCLUDING BRAGG, BUT HE DOESN'T CARE. HE IS JUST CARRYING OUT THE PLANS OF THE RADICAL LEFT LUNATICS. OUR COUNTRY IS BEING DESTROYED, AS THEY TELL US TO BE PEACEFUL!"
And as for the nasty, no-coat-ever-for-me Gym Jordan, he continues to be an asshole of the highest level — middle-school antics: 'Republican Rep. Jim Jordan, one of Donald Trump's most stalwart defenders on Capitol Hill, said Friday that he couldn't comment on Trump's recent social media post stating that there could be "death" and "destruction" if he's indicted in New York. NBC News' Sahil Kapur reported that he asked Jordan about his thoughts on Trump's warning, but Jordan said he hadn't seen the former president's Truth Social post. Kapur added that when he showed Jordan Trump's post, the Ohio congressman replied that he couldn't read it well without his glasses.'
Jordan wearing a coat?
Amanda Marcotte at Salon earlier this week took a glance at GOPers playing shitty with the T-Rump's violent rhetoric, and like the rest of Marcotte's stuff, worth a full read — some snips:
So one would think that Republicans would be a little more upset that Trump is doing it again, issuing all-caps posts on Truth Social demanding that his followers "PROTEST, TAKE OUR NATION BACK!" in response to reports of an impending criminal indictment for the former president. "THEY'RE KILLING OUR NATION AS WE SIT BACK & WATCH. WE MUST SAVE AMERICA! PROTEST, PROTEST, PROTEST!!!"

While Trump hasn't explicitly called for violence in his relentless online screaming, there's no good faith denial that violence is his desire. Even mainstream media sources are pointing out that this language is, if anything, more over-the-top than the rhetoric he used to gin up a mob on January 6. Yet despite knowing how bad things can get, Republican leaders are giving Trump's incitement a boost of sweet, sweet validation. But hey, this time he's aiming his cannon of unhinged MAGA types at Manhattan District Attorney Alvin Bragg, not Congress, so I guess their attitude is "YOLO!"

To be certain, many Republicans who are defending Trump are including ass-covering calls for non-violence. McCarthy told reporters, "We want calmness out there." Pence said he wanted people to protest in a "peaceful and in a lawful manner. Even the top Republican troll in the House, Rep. Marjorie Taylor Greene of Georgia, tweeted, "We don't need to protest."

None of these calls for peace should be taken at face value, however, because they are embedded in a larger rhetorical strategy of affirmation for Trump's lies and excuse-making for any violence that results. If McCarthy was serious about opposing violence, he would criticize Trump's unsubtle encouragement of terrorism. Instead, he's running cover for Trump with rambling comments claiming Trump was trying "educate people about what's going on" and that anyone who sees the obvious threat in Trump's comments is just "misinterpet[ing]" Trump.
And Jordan:
The gaslight is thick, as usual, with Jordan. Not only did Trump almost certainly break the law, but his co-conspirator and former lawyer, Michael Cohen, was sentenced to three years in prison for this crime. But the larger issue here is that Jordan is doing this in the midst of Trump doing everything he can to instigate violence against Bragg. He called Bragg, who is Black, "A RACIST, SOROS BACKED D.A., WHO LETS MURDERERS, RAPISTS, AND DRUG DEALERS WALK FREE" and repeatedly, falsely accused Bragg of being corrupt and on the take. The main impact of forcing Bragg to testify in a kangaroo hearing would be to spread his photo even further in the MAGA world, making him an even bigger target. Jordan and other Republicans no doubt know they're endangering Bragg's safety, but they simply don't care.

It cannot be stated enough: These Republicans are winking at and excusing violence on behalf of a man who nearly got them killed by sending a violent mob after them on January 6. They know he's chaotic and sociopathic and would sacrifice any one of them if he thought it would get him more power. Hell, he'd probably trade any of their lives for a free burger at McDonald's. But since they're all so convinced their own route to power goes through Trump, they will empower him to get away with crimes — even if he tries to use violence to escape accountability.
This country is in the near-grip of such shitty people.
Despite the obvious-as-shit language, here we are once again…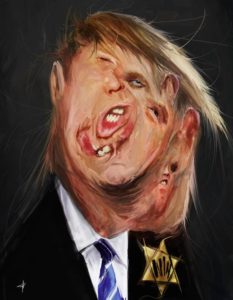 (Illustration out front: 'President Trump,' by Jonathan Bass, found here.)