Clear with a ton of sunshine tempered with a chilly breeze just past the noon hour here Thursday in California's Central Valley — another glorious, beautiful day.
And among a goodly batch of news stories this morning, a seeming follow-up on Clarence Thomas and his fraud-laced life with a mega-rich asshole Republican — the situation has gotten even worse:
NEW: Billionaire Harlan Crow bought property from Clarence Thomas in undisclosed real estate deal.

Crow netted two vacant lots and the house where Thomas' elderly mother was living. It's unclear if he paid fair market value.https://t.co/j9byPGpUnI

— Justin Elliott (@JustinElliott) April 13, 2023
Details via ProPublica this morning:
In 2014, one of Texas billionaire Harlan Crow's companies purchased a string of properties on a quiet residential street in Savannah, Georgia. It wasn't a marquee acquisition for the real estate magnate, just an old single-story home and two vacant lots down the road. What made it noteworthy were the people on the other side of the deal: Supreme Court Justice Clarence Thomas and his relatives.

The transaction marks the first known instance of money flowing from the Republican megadonor to the Supreme Court justice. The Crow company bought the properties for $133,363 from three co-owners — Thomas, his mother and the family of Thomas' late brother, according to a state tax document and a deed dated Oct. 15, 2014, filed at the Chatham County courthouse.

The purchase put Crow in an unusual position: He now owned the house where the justice's elderly mother was living. Soon after the sale was completed, contractors began work on tens of thousands of dollars of improvements on the two-bedroom, one-bathroom home, which looks out onto a patch of orange trees. The renovations included a carport, a repaired roof and a new fence and gates, according to city permit records and blueprints.

A federal disclosure law passed after Watergate requires justices and other officials to disclose the details of most real estate sales over $1,000. Thomas never disclosed his sale of the Savannah properties. That appears to be a violation of the law, four ethics law experts told ProPublica.

The disclosure form Thomas filed for that year also had a space to report the identity of the buyer in any private transaction, such as a real estate deal. That space is blank.

"He needed to report his interest in the sale," said Virginia Canter, a former government ethics lawyer now at the watchdog group CREW. "Given the role Crow has played in subsidizing the lifestyle of Thomas and his wife, you have to wonder if this was an effort to put cash in their pockets."

[…]

Thomas' financial disclosure for that year is detailed, listing everything from a "stained glass medallion" he received from Yale to a life insurance policy. But he failed to report his sale to Crow.
This will really ignite late today. Thomas is really now in deep shit.
SCOTUS ethics or not, yet once again here we are…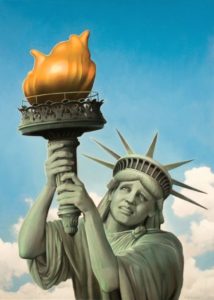 (Image out front by illustrator and portrait painter, Tim O'Brien, and can be found here.)