Sunshine with clear skies, so it's really bright outside this late-afternoon Sunday here in California's Central Valley.
And what's really obviously bright, too, is the massive, humungous, killing-with-guns problem we have (CBS last week): 'Nearly one in five American adults say they have had a family member who was killed by a gun, including suicides, according to a new study from the Kaiser Family Foundation. Roughly the same number (21 percent) said they have been personally threatened with a gun, the study found.'
Fast forward to last night and the action that could come after the threat — death.
And this from my own original neck-of-the-woods:
More than 20 shot, 4 killed at Alabama birthday party. I'm starting to post gun violence events because we must act. #EnoughIsSufficient. Time to act. https://t.co/dMl2fViHv2

— Jill Wine-Banks (@JillWineBanks) April 16, 2023
I was born in southeast Alabama, and my first journalism job in the mid-1970s was at The Montofgmyery Advertiser in Montgomery, about 50/60 miles southwest of that birthday party — via The Daily Beast this afternoon:
A beloved high school football player was tragically shot dead at his sister's Sweet 16 birthday party in Alabama Saturday night, reports said. The teen, who was committed to play Division 1 college ball next season, was one of four killed and 28 injured as a result of the incident.

The shooting took place around 10:34 p.m. at the Mahogany Masterpiece Dance Studio in Dadeville, Alabama. The small town sits roughly an hour outside the state capital of Montgomery and has a population of just over 3,000 people.

Community leaders named Philstavious "Phil" Dowdell–a star receiver at Dadeville High School who planned to attend and play football at Jacksonville State University in the fall–as one of the dead, according to AL.com. His sister, Alexis, and the pair's mother were both injured as well, the siblings' grandmother told NPR.

The other victims were not immediately named.

[…]

"It's a small town. We don't have too many crimes like this, at all. So it's shocking, very shocking. Very shocking," said Michael Taylor, who also coached Dowdell in basketball and track.

Keenan Cooper, who was the DJ at the party when the shooting started, told CNN that Dowdell was "kind of like the hometown hero."

"Seeing all those bodies at the front door, all those kids are probably going to be traumatized," Cooper said.
No shit! And from all the news sources I could scroll after this afternoon, apparently, local cops haven't anyone in custody, or even if there are any suspects. The case appears completely open without any explanation so far: 'Cooper told CNN he didn't hear a fight or disturbance prior to the shooting.'
The story on that one will most-likely be weird, and horrific.
And also last night without any yet known explanation:
When is enough sufficient to pass commonsense gun rules in place? https://t.co/cSuL4WZGN4

— Jill Wine-Banks (@JillWineBanks) April 16, 2023
Details from NPR, also late this afternoon:
An unidentified suspect fired a gun into a crowd of hundreds in a Kentucky park, leaving two people dead and four wounded Saturday night, police said.

Police were called around 9 p.m. to Chickasaw Park in Louisville, authorities said.

"Hundreds of people were in the park at the time of the shooting, when someone started shooting into the crowd, hitting at least six people," Louisville Metro Police Department Deputy Chief Paul Humphrey said.

There were no suspects in custody immediately after the shooting and police asked anyone with information to contact investigators.

"As of right now we have no witnesses," Humphrey said.

"This has been an unspeakable week of tragedy for our city," Mayor Craig Greenberg said at the scene Saturday night, referring to a shooting on Monday in which a gunman killed five Louisville bank employees while livestreaming the attack on Instagram.
Humphrey continued: '"I know Monday was a very high-profile event, but for LMPD, for EMS, for fire, for University hospital, for this community — this is every night … This is not OK. This has to change. We can talk about the politics of guns, we can talk about mental health issues, we can talk about the breakdown of the family — it is all of it."'
And, of course, actually, the guns.
Due to the fact that somehow we're getting even more hard-cased and crazy:
The country reached 150 mass shootings on:

-April 25th in 2022
-April 18th in 2021
-May 31st in 2020
-May 31st in 2019
-June 26th in 2018
-June 13th in 2017
-June 23rd in 2016 https://t.co/Nf3BSSKqWz

— The Gun Violence Archive (@GunDeaths) April 14, 2023
Yet the NRA continues to hold the GOP by the nuts as witnessed at its convention last week within sight of mass, public killings with guns– from The New York Times:
"This is not a gun problem," insisted former President Donald J. Trump in a dark and meandering speech on Friday afternoon. "The only way to stop these wicked acts is to ensure that any sicko who would shoot up a school knows that within seconds, not minutes, they will face certain death." He also nodded to the party's focus on crime, saying that the issue is not too many guns, but "too many thugs, hoodlums and savage criminals on our street."

Mike Pence, Mr. Trump's vice president, who faced boos as he took the stage, also toed the line.

"Stop trampling on the God-given rights of the American people every time tragedy happens," Mr. Pence said, directing his comments at "gun control extremists."

And to warm applause, Gov. Kristi Noem of South Dakota signed an executive order onstage "to protect the God-given right to keep and bear arms from being infringed upon by financial institutions."

In many ways, the gathering was part of a pattern — a devastating mass shooting, followed by Republican displays of fealty to a group that rejects even many modest efforts to curb gun violence — that underscores a central and deepening tension in the broader American culture wars.
Despite the carnage.
As long as there's a warm-gun happiness, what can be done:
Or maybe, at the way-very minimum, bullet control:
Even bullet by single bullet, yet here we are once again…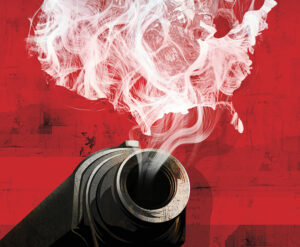 (Illustration out front by Taylor Callery, and found here.)