Thinly overcast with an occasional sliver of faded-yellow sunshine this late afternoon Monday here in California's Central Valley — deep, glaring sunshine earlier, but the outside all dwindled down to a brownish-gray ambiance as we're getting now closer to evening.
Tomorrow's slated for a return to full sun, so we'll wait and see.
Despite other newsworthy bullshit today, guns are still in a fever dream of a stranglehold on American life — disturbing piece on America's gun fetish at Vox this morning. Snips:
No other high-income country has suffered such a high death toll from gun violence. Every day, 120 Americans die at the end of a gun, including suicides and homicides, an average of 43,375 per year. Since 2009, there has been an annual average of 19 shootings in which at least four people are killed. The US gun homicide rate is as much as 26 times that of other high-income countries; its gun suicide rate is nearly 12 times higher.

Gun control opponents have typically framed the gun violence epidemic in the US as a symptom of a broader mental health crisis. But every country has people with mental health issues and extremists; those problems aren't unique. What is unique is the US's expansive view of civilian gun ownership, ingrained in politics, in culture, and in the law since the nation's founding, and a national political process that has so far proved incapable of changing that norm.

"America is unique in that guns have always been present, there is wide civilian ownership, and the government hasn't claimed more of a monopoly on them," said David Yamane, a professor at Wake Forest University who studies American gun culture.

[…]

One estimate from the Small Arms Survey, a Swiss-based research project, found that there were approximately 390 million guns in circulation in the US in 2018, or about 120.5 firearms per 100 residents. That number has likely climbed in the years since, given that one in five households purchased a gun during the pandemic. But even without accounting for that increase, US gun ownership is still well above any other country: Yemen, which has the world's second-highest level of gun ownership, has only 52.8 guns per 100 residents; in Iceland, it's 31.7.

American guns are concentrated in a tiny minority of households: just 3 percent own about half the nation's guns, according to a 2016 Harvard and Northeastern University study. They're called "super owners" who have an average of 17 guns each. Gallup, using a different methodology, found that 42 percent of American households overall owned guns in 2021.
Duke University professor Jeffrey Swanson, who examines policies to reduce gun violence: '"Other countries look at this problem and say, 'People walking around in the community with handguns is just way too dangerous, so we're going to broadly limit legal access to that and make exceptions on the margins for people who might have a good reason to have a gun' … Here we do just the opposite: We say that, because of the way that the Supreme Court interpreted the Second Amendment, everybody has the right to a gun for personal protection, and then we tried to make exceptions for really dangerous people, but we can't figure out who they are."'
Not only are the humongous amount of guns creating mass shootings, but people with guns are also killing people quickly, easily, and with the least amount of pressure. The shooting last week in Kansas City, MO, of a teenager trying to pick up his brothers knocked on the wrong door — he was extremely quickly shot twice. Of course, he was black and the asshole shooter was an old, asshole white guy:
UPDATE: The man who allegedly shot 16-year-old Ralph Yarl will be charged with two felonies.https://t.co/zT4EmsVKCJ

— Mother Jones (@MotherJones) April 17, 2023
Nutshell update: 'Andrew Lester, 85, will be charged with assault in the first degree and armed criminal action, both felonies, a Clay County prosecutor said. Ralph Yarl has been released from the hospital, according to his family.'
Meanwhile, also over the weekend:
Sadly, we are a heavily-armed, 'shoot first and ask questions later' society. Too many people die who shouldn't. pic.twitter.com/ZKZEnSM2tD

— Ron Filipkowski ?? (@RonFilipkowski) April 17, 2023
Horror details per NBC New York this afternoon:
A 20-year-old woman was shot to death by a homeowner in upstate New York after pulling into the wrong driveway, investigators said on Monday.

Kaylin Gillis was in a car with three friends looking for another friend's house in the rural area of Hebron, New York, on Saturday night when they mistakenly turned down the wrong driveway.

After the vehicle had been in the driveway for a "very short time," Kevin Monahan came out of the residence and fired two shots as the group of friends was exiting the property, police said. One of the shots struck Gillis.

The group then drove to the neighboring town of Salem to get cell service and call for help. Emergency responders performed CPR on Gillis, but she was pronounced dead.

"There was clearly no threat from anyone in the vehicle," Washington County Sheriff Jeffrey Murphy said at a press conference. "There was no reason for Mr. Monahan to feel threatened, especially as it appeared the vehicle was leaving at the time."

Monahan, 65, refused to come out of his house when officers arrived to investigate reports of shots being fired, police said. After authorities spoke with Monahan through a 911 dispatcher and in person for roughly an hour, he was taken into custody.

Monahan has been charged with second-degree murder. He was being held in the Warren County Jail.
A couple of tales becoming way-too familiar.
And to close out this armory tale, some Enigma Sadeness:
Yet fetching, or not, once again here we are…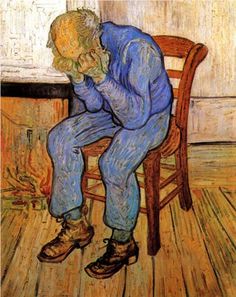 (Illustration out front: Vincent van Gogh's 'Old Man in Sorrow (On the Threshold of Eternity)' found here.)