In the crush of the limpid Friday night news dump — the biggest single dump probably was another revealed-escapade in the shitty-ethical lifestyles of SCOTUS — was an example of dip-shitty, hands-on stupidity.
Republicans are so anti-reality it'd be a wondrous comical farce if the stakes weren't so frightening.
In this case, marijuana usage and bulk. Down in the tale of a normal trip of a bill legalizing marijuana as it moves through another state's legislature — 23 states already legalize pot –there's epic dumbassery. In Minnesota today a final vote (per the Associated Press): 'The Minnesota Senate voted Friday to legalize recreational marijuana for adults, but the bill requires more work and negotiations before it can become law. The vote was 34-33, with all Democrats voting yes and all Republicans voting no. There are several differences between the Senate bill and the companion version that passed the House 71-59 on Tuesday, so a House-Senate conference committee will need to resolve them before final votes in each chamber.'
Democratic Gov. Tim Walz has pledged to sign the bill once it reaches his desk. However, there's a baffler of Republican ability to show some decent sense:
No wonder Cheech & Chong are trying to do business in MN. https://t.co/FnubWX9xXf

— Michaelangelo Matos (@matoswk75) April 28, 2023
Nutshell via Yahoo! this afternoon:
We don't know what kind of joints Republican Minnesota State Senator Warren Limmer has encountered, but they sound like the fattest j's in the lower 48.

During debate on a proposed bill that would legalize marijuana in the state of Minnesota, Limmer stated that "just two ounces is equivalent to three joints."

The bill would allow adults 21 and older to purchase and sell cannabis, possess up to 1.5 pounds of flower, and grow up to 8 plants in their homes. Up to two ounces can be carried while in public places.

"Now I've seen videos of DEA raids," said Limmer, "some of these plants are 8, 10 feet tall. You can have 8 of them. You can have a privacy fence made of these products in your backyard."
What can you say? Not only are Republicans liars and incompetent assholes, but ignorant, too.
In the real world, an ounce of weed goes a fairly long way, depending on how many people partake and what/how the pot is smoked — I do a small pipe, so a little for me goes a long way. Joints are different.
One view per the Insider from last year:
An ounce is 28 grams of cannabis, and it's the legal limit to purchase in many states. An ounce is commonly called a "zip," which is slang for a large amount of weed that usually fills up a small Ziploc bag.

An ounce lasts regular cannabis consumers a few weeks to a month. You can roll a significant amount of joints with an ounce of weed, about 28 or so.
Unless, of course,  there are mitigating circumstances:
Joint toking, or not, here we are once again…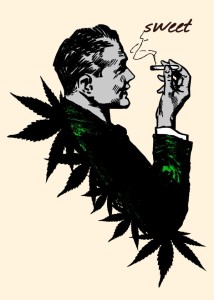 (Illustration out front created by Dennis Marsili, and found here.)