Labor the big story right now with a full-blown strike of entertainment writers — late-night TV goes black tonight.
Nutshell per Variety: 'The breakdown of the Writers Guild of America's contract negotiations with the Alliance of Motion Picture and Television Producers has unleashed a torrent of emotion not seen among Hollywood union members since the last time the WGA went on strike, in 2007. The strike promises to bring even more upheaval to a marketplace that is already grappling with the fallout from technological disruption and still rebuilding from the pandemic. Six weeks of tense negotiations made it clear that the industry faces a reckoning after a decade of the Peak TV content boom that has strained Hollywood's creative infrastructure to its breaking point.'
Motives the same as all low-paying jobs — shitty money for the work:
This is why we're striking. The studios are trying to turn writing into a gig job. Eliminating the writers room, forcing screenwriters to work for free, paying late night writers a "day rate." If we don't fight back, writing will cease to exist as a livable career. https://t.co/CLxweCbR68

— Adam Conover (@adamconover) May 2, 2023
Some fine points from the Associated Press this afternoon:
Some 11,500 film and television writers represented by the union put down their pens and laptops after failing to reach a new contract with the trade association that represents Hollywood studios and production companies.

The union is seeking higher minimum pay, more writers per show and shorter exclusive contracts, among other demands — all conditions it says have been diminished in the content boom driven by streaming.

"There's too much work and not enough pay," said demonstrator Sean Crespo, a 46-year-old writer whose credits include the former TBS show "Full Frontal With Samantha Bee."

The labor dispute could have a cascading effect on TV and film productions depending on how long the strike lasts, and it comes as streaming services are under growing pressure from Wall Street to show profits.

Late-night television was the first to feel the fallout, just as it was during the 2007 writers strike that lasted for 100 days.

All of the top late-night shows, which are staffed by writers that pen monologues and jokes for their hosts, immediately went dark. NBC's "The Tonight Show," Comedy Central's "Daily Show," ABC's Jimmy Kimmel Live," CBS's "The Late Show" and NBC's "Late Night" all made plans for reruns through the week.

NBC's "Saturday Night Live," which had been scheduled to air a new episode Saturday, will also go dark and air reruns instead.

"Everyone including myself hope both sides reach a deal. But I also think that the writers' demands are not unreasonable," host Stephen Colbert said on Monday's "Late Show."

"This nation owes so much to unions," Colbert said. "Unions are the reason we have weekends, and by extension why we have TGI Fridays."
Everyone is joining:
?????????? https://t.co/LiFQIuCoaF

— Molly Jong-Fast (@MollyJongFast) May 2, 2023
A good background/detail view by Michael Schulman at The New Yorker from Saturday, including this collective snip:
For people outside the industry, the woes of TV writers can elicit a boo-hoo response: it is, after all, a more lucrative form of writing than most, right? But the economics of streaming have chipped away at what was previously a route to a middle-class life, as the cost of living in Los Angeles has crept upward. "It feels like the studios have gone through our contracts and figured out how to Frankenstein every loophole into every deal, which means that, at the very best, you can keep your head above water," Jacqmin said. "You can maybe maintain the amount of money you made the year before, but more than likely you will be asked to cut your quote. It just feels really grim." She added, "I'm on Twitter every other day, and I'm seeing writers who are, like, 'Please Venmo me some grocery money. I am desperate, and I have not worked in three months. Help!'"
Whoa!
Tina Fey in the 2007 strike:
Sixteen-years later,  or not, here we are once again…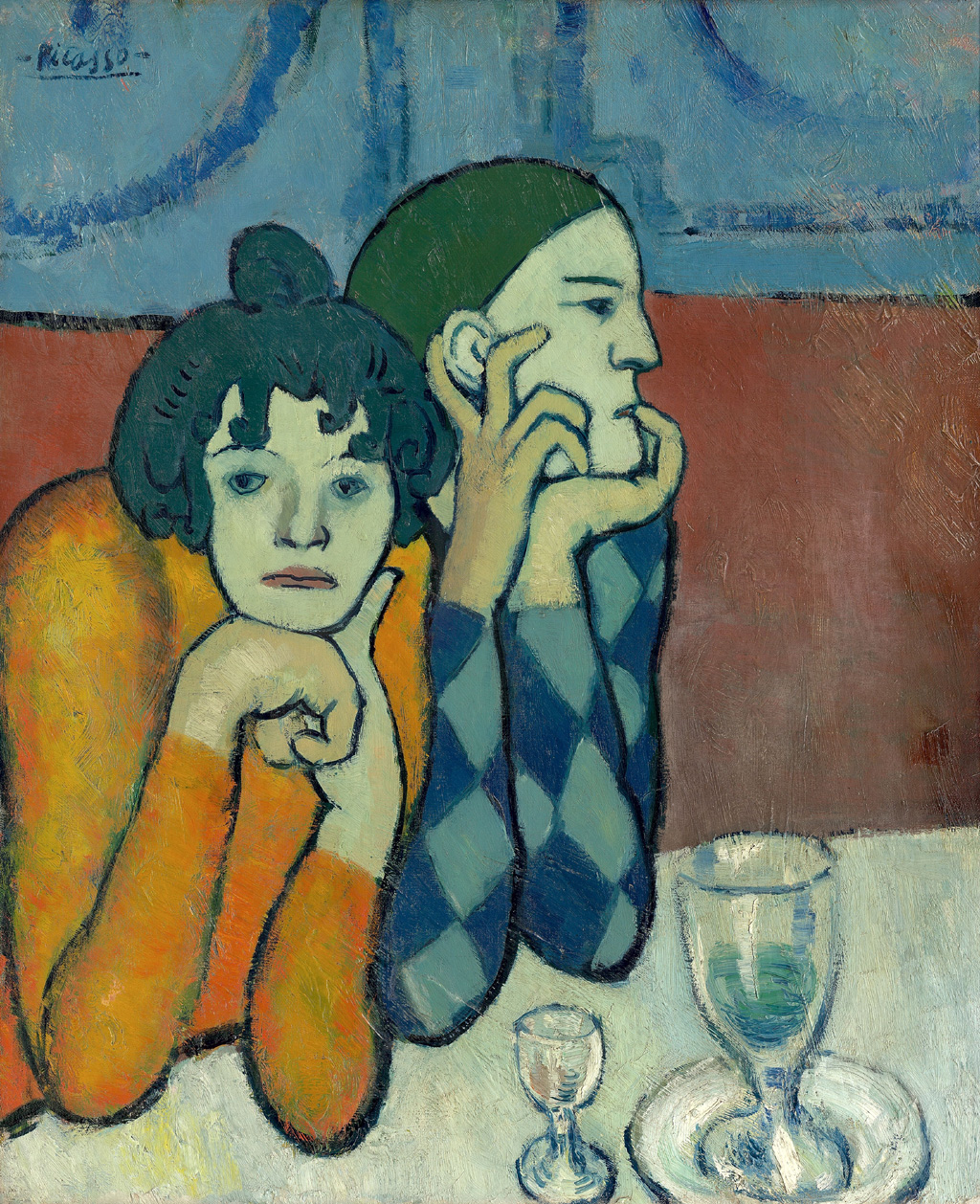 (Illustration out front: Pablo Picasso's 'Les Deux Saltimbanques: l'Arlequin et Sa Compagne,' found here.)