Gray clouds and weather-wise hints of possible rain showers this near-noon Wednesday here in California's Central Valley — life continues.
Yet that's about normal. What infuriatingly continues, too, is how the MSM treats one of the most gosh-awful people who's ever lived, the T-Rump, despite how shitty the prick actually operates. Prime example is the story I noted yesterday of an incident from last March between T-Rump and a reporter (see Vanity Fair), but although I wondered how the story didn't surface until this week, it's part and parcel of the media structure..
Not only is the T-Rump a shitheel, piece-of-shit, but mainstream journalists are also in awe of him for it:
good stuff from @owillis on how weird it is that Trump tossing a reporter's phone didn't make news for more than a month https://t.co/q9F4SvU7Kr pic.twitter.com/Ex51Tnt2qm

— Aaron Rupar (@atrupar) May 3, 2023
Imagine this following scenario: President Joe Biden is upset after a speaking event, and a reporter asks him a question.

Perturbed by the question, Biden grabs the reporter's phone that they were recording on and throws it aside. Now, imagine that such an event occurred in full view of multiple reporters and that instead of breaking into the 24-hour news cycle to report it, the journalists sat on the story for 37 days.

This actually happened, but it didn't happen with Joe Biden — it happened with Donald Trump. The decision to suppress this event says a lot about the mainstream media, and it isn't anything good.

[…]

According to the Post, the following reporters were in attendance and apparently witnessed the attack: "The journalists traveling on the plane with Trump included Vaughn Hillyard of NBC, Brian Glenn of Right Side Broadcasting Network, Sophia Cai of Axios, Rob Crilly of the Daily Mail, and Evan Vucci, a photographer with the Associated Press, according to photographs taken on board the plane and audio recordings of the gaggle."

They didn't bother to report this physical altercation involving the former President of the United States and the current, leading Republican candidate for the presidency.

Even Hillyard himself gave Trump a pass. In his report on the back-and-forth aired on MSNBC, Hillyard didn't mention any of this.

Hillyard: "Donald Trump bristled at any specifics and instead called us fake news, that we were not telling the truth."

He didn't indicate that Trump grabbed his phone. He didn't play any recording of the incident, which we now know exists thanks to the Vanity Fair and Post reports.

This is profoundly strange and disturbing behavior. It is hard to imagine any politician in America getting such deferential treatment, and I definitely can't see the press letting someone like Biden or Hillary Clinton or John Kerry and definitely not President Barack Obama get away with this.

But as always, there is a Trump exception.

The mainstream media has a symbiotic connection to Donald Trump. They profit handily from his continued prominence as a significant political figure in America.
Willis, one of the original political bloggers from way back in the day, hits the point right on the nail. Add all the T-Rump/MAGA/Republican lying, bullshitting and just generally being nasty and cruel, with a media that gives cover to the asshole, America, and democracy have a hard row to hoe the next 18 months or so.
Possible in the end result, as furnished by collusion journalism:
Journalists doing their job, or not, yet once again here we are…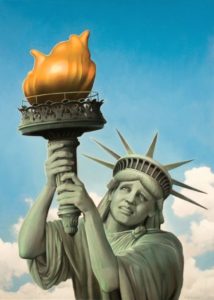 (Image out front by illustrator and portrait painter, Tim O'Brien, and can be found here.)