Overcast with interment drizzling rain this near-noon Thursday here in California's Central Valley.
Still hiding in absolute pain sight, Fox News' gone–but-not-forgotten wonder boy:
So, in addition to being a racist, misogynist, liar and Putin fan, he's also just a really creepy f*cking weirdo. I'm surprised he hates Trump, they are so much alike. https://t.co/53OsqhQtHi

— Ron Filipkowski (@RonFilipkowski) May 4, 2023
Deep-dive into the Tucker mindset via Jezebel a couple of days ago:
A little over a week after we learned Tucker Carlson had been terminated from Fox News, telling details are trickling in about what may have led to his exit. Media Matters for America obtained several behind-the-scenes videos of Carlson making creepy, sexist comments about women and sex—all amid a former staffer's lawsuit against the network alleging a misogynistic work environment on Carlson's show.

In one of the videos MMFA surfaced and published on Tuesday, Carlson, while appearing on Piers Morgan's show last April, tells Morgan before going on-air: "If we're going to talk about sex, I'd love to hit some of the fine points of technique." Morgan replies, "We can certainly talk about your sexual technique, especially after your tanning testicles last week," in reference to a bizarre special Carlson filmed last year in which he advocated for testicular tanning as a solution to the decline of American masculinity.

In other footage obtained by MMFA, Carlson refers to another man's girlfriend as "kind of yummy" and then, in a truly meta moment, seems conscious that he's being filmed: "Just kidding, in case this is being pulled off the bird—hey, Media Matters for America, go fuck yourself," he said, jokingly. "I don't even know what his girlfriend looks like. And if I did, I would not find her yummy."

And in another video, Carlson, right before going on air, says, "I can never assess my appearance. I wait for my postmenopausal fans to weigh in on that." MMFA also obtained a snippet of Carlson positively referencing misogynist influencer, alleged human trafficker, and accused rapist, Andrew Tate, as Carlson mentions "speaking to an exile in Romania and welcoming him back into the brotherhood of journalists"—a nod to his interview with Tate last summer.

Theories abound about Carlson's sudden departure from Fox; some attribute it at least in part to the alleged disparaging comments he made about Fox and its executives amid the corporation's Dominion lawsuit. But it's now widely believed the former Fox employee's lawsuit speaking on the alleged misogyny on Carlson's show may have played a more significant role, especially as more is leaked about Carlson's history of sexist behaviors. Last week Abby Grossberg, the former Tucker Carlson Tonight booker, told NPR of her experience on the show: "They don't care about telling the truth and they don't care about women. All they care about are ratings and revenue."

In Grossberg's suit, she claimed Fox News "subjugates women based on vile sexist stereotypes, typecasts religious minorities and belittles their traditions, and demonstrates little to no regard for those suffering from mental illness." Grossberg said this mistreatment she faced stemmed from Carlson's own behavior. "I ultimately went and complained to one of my supervisors about the abuse and the bullying and the gaslighting and misogyny that I was putting up with at Tucker," she told NPR. "And his response to me was, 'We're just following Tucker's tone. That's Tucker's tone.' And I do really believe that it all trickles down from the top."
And losing one asshole doesn't change the shit flow:
Can you believe there were people who said the Dominion fiasco would chasten Fox about lies? Lol. https://t.co/WEAzyATFc0

— Helen Kennedy (@HelenKennedy) May 4, 2023
Even pathetic Fox hounds know the score (The Daily Beast):
Fox News host Geraldo Rivera sparked conservative fury on Wednesday after expressing doubts about allegations of President Biden being involved in a bribery scheme. Senior Republicans Sen. Chuck Grassley of Iowa and James Comer, chairman of the House Oversight Committee, on Wednesday said a whistleblower claimed the FBI and DOJ are in possession of a document describing an "alleged criminal scheme involving then-Vice President Biden and a foreign national relating to the exchange of money for policy decisions."
The top congressional Republicans issued a subpoena to FBI Director Christopher Wray demanding the release of the purported document.
"Does anybody really believe President Joe Biden was involved in a criminal bribery scheme?" Rivera tweeted in the wake of the subpoena. "Dollars to donuts it's another bogus, blowhard, pretend whistleblower. Hint: If the person announcing a would-be criminal scheme is a partisan politician, it's a partisan political event." His post was inundated with replies from Twitter users denouncing him and saying they did believe the claims, generating so much heat that "Geraldo" was trending on Twitter early Thursday.
Not down the memory hole — Republican 'whistleblowers' are notorious fraudsters. As if: Gym Jordan's version a couple of months ago with a set of supposedly super-charged whistleblowers were actually 'exposed as conspiracy theorists, insurrection supporters, and far-right pundits paid by Trump associate,' and thusly, total bullshit:
Despite the obvious, or not, here we are once again…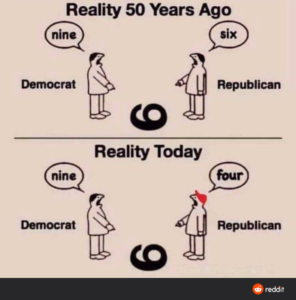 (Illustration out front found here.)
: