As time moves along, the civil trial of the T-Rump on rape charges brought by E. Jean Carroll continues to roll rapidly along with the case exposing the piece-of-shit as a lying, nasty piece of shit — via a TPM wrap this afternoon:
The jury in the civil trial in which author E. Jean Carroll is accusing Donald Trump of rape was finally shown video of Trump's taped deposition Thursday where he mixes up a photo of Carroll with one of his ex-wives, Marla Maples.

During that same deposition which was recorded at Mar-a-Lago in October, Trump goes to incredibly strange places, telling Carroll's lawyer that, just like her client, she's not his "type," either.

According to reports from inside the courtroom, the deposition features an agitated Donald Trump growing snarky and exasperated as Roberta Kaplan questioned him seven months ago. Trump has chosen not to attend the civil trial, but the jury saw the footage Thursday. Carroll is suing Trump for battery and defamation, alleging he raped her in a dressing room at Bergdorf Goodman in the 1990s.

Trump has denied the accusations since Carroll first came forward and his main defense has been claiming that Carroll is not his "type." But during the deposition, Trump poked holes in his own defense. When Kaplan showed Trump a picture of himself talking to Carroll at a party in the past, Trump confused Carroll with Maples.

"It's Marla," he said, according to reports. "That's Marla, yeah. That's my wife."

Later, Kaplan reportedly asked Trump questions about other women who have accused him of sexual assault. That's when the former president grew heated, telling Kaplan "you wouldn't be a choice of mine, either, to be honest."

"I wouldn't in any circumstances have any interest in you," he said, bringing in the rejected dude at a bar defense.
Supposedly, the T-Rump is heading back from Scotland to make an appearance at trial, I don't believe it — his lawyers know it would be a disaster. The T-Rump is a horror.
Molly Jong-Fast at Vanity Fair from yesterday has a most-excellent analysis of the Carroll case and how America stands under the weight of such a despicable character as the T-Rump — noted:
It's hard to listen to Carroll's testimony and not be moved by just how lonely and painful it is to be a plaintiff in something like this. She is brave and almost quixotic in her quest for justice. But it's even harder to watch Tacopina's questioning and not wonder about all the women who will watch this testimony or read about this trial and decide not to come forward with their own stories. That Carroll is in a courtroom able to make these accusations in front of a jury shows we as a society have made progress around feminism. Yet knowing that Republicans, who are still showing their fealty to Trump, will almost certainly fail this "moral test" yet again, as The New Republic's Michael Tomasky wrote, is a measure of the damage Trump has done to our culture.

I grew up with a feminist mother, Erica Jong. I always thought we'd eventually get the Equal Rights Amendment ratified. I always believed that progress was a straight line. Then the 2016 presidential election happened, becoming a demarcation line in my outlook about the country. The American people had a choice between the first woman president and a man who, one month before the election, they'd heard bragging on the Access Hollywood tape that he could "grab 'em by the pussy." Yet, 62,979,879 people did not find boasting about sexual misconduct to be disqualifying. They elected him; there was even a woman who wore a "Trump Can Grab My" T-shirt.

Even if Trump is forced to pay Carroll great sums of money, she will spend the rest of her life afraid, looking over her shoulder, worried. The vitriol and misogyny and hatred that Trump gave permission to won't ever be put back in Pandora's box
Horror indeed is the thought of how many Americans love them some T-Rump.
Paul Campos at Lawyers,Guns&Money this afternoon with the righteous conclusion on this era: 'The irony or paradox of our age is that it's precisely that Trump is such an unambiguously horrible human being that makes him so attractive to the Republican base.'
And we could be up shit creek without a paddle — we'll let The Temptations close up out:
Yet despite the horror, or not, once again here we are…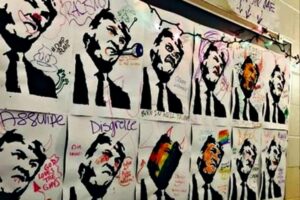 (Illustration out front is of a New York state high-school student exhibit: 'The piece was displayed during student-driven art show at Shenendehowa High School. It consisted of at least 12 identical black-and-white pictures of Donald Trump. There was also a sign above the pictures that read, "Draw on Me." Using markers from the art classroom, some students opted to scribble critical messages and profanities on the pictures' — and found here.)